SEO for Personal Injury Lawyers in Washington DC
Besides being home to lots of attorneys and the capital of the United States, Washington DC is home some of the nation's most popular attractions which include the Smithsonian, The Capitol, The White House, The Lincoln Memorial, Arlington National Cemetery and many more.
For those of you here looking to expand your personal injury law firm in the Washington DC area, welcome. We're glad to have you.
If you're to a point where you're spending 8 to 10 percent of your gross revenues on marketing then you're in a very good spot to compete.
We're sharing our research so that you can see for yourself just how powerful and profitable SEO for personal injury lawyers in Washington D.C. can be.
We hope you enjoy…
Personal Injury SEO Meets Big Data
The thing that many SEO firms leave out is just how powerful and profitable a properly executed search engine optimization campaign can be for your personal injury law firm.
Washington DC is a fantastic market to compete in. Most would think the competition is too tough to be beat because of the size of the city itself. We're going to show you why that's a fallacy.
If SEO has been on your mind it's going to be beneficial for you to understand just how much of an impact it can have on your law firm. Knowing information about your competition is going to be a factor not to ignore. Knowing how many cases you can add to your books is even more important.
In order to give you an idea of the competitive landscape in the Washington D.C. area we've analyzed five different personal injury law firms local to the DC area. Some of them operate in other local areas and some in different niches but all are competitive in personal injury.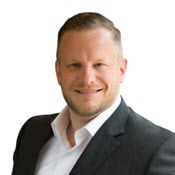 Chris Walker, Founder
Law Firm SEO Expert
We're giving you access to the information we use to base campaigns on, both from an initial market analysis standpoint and then to analyze each competitor in order to have a deeper understanding of exactly what it will take to compete and win in a market like Washington D.C.
Good news for you is that even though the local area is competitive it's really not out of reach for even smaller firms to come in and compete. If I were wanting to setup shop and compete in DC this is the exact data I would want to see from a competitive standpoint.
We hope you enjoy our findings.
SEO for Personal Injury Lawyers in Washington DCPaulson & Nace, PLLCPrice Benowitz LLPCohen & CohenThe Cochran FirmKoonz McKenney Johnson & DePaolis LLP
Paulson & Nace, PLLC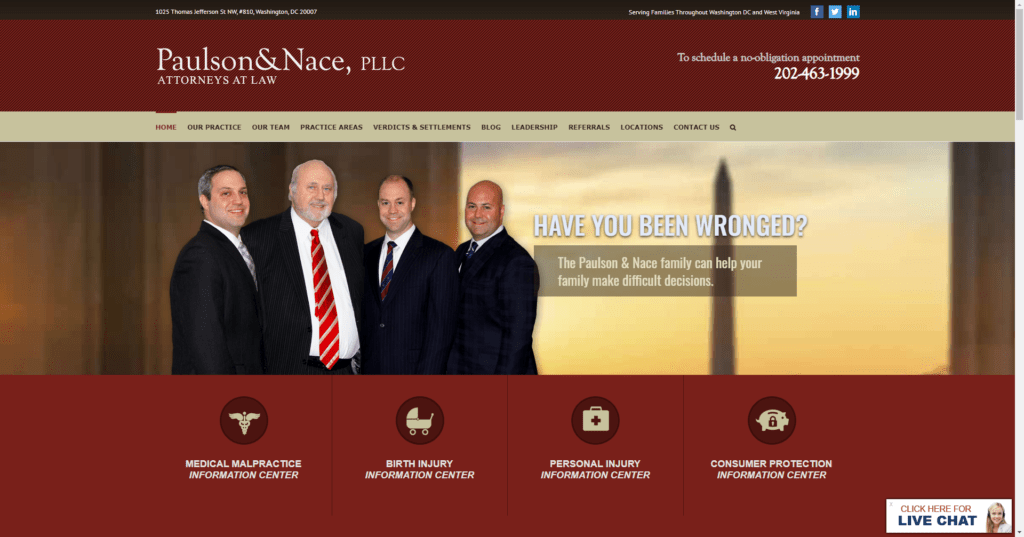 Paulson & Nace, PLLC
1025 Thomas Jefferson St NW, #810
Washington, DC 20007
website: https://www.paulsonandnace.com/
phone: (202) 463-1999
Award for one of the ugliest websites out there goes to Paulson & Nace, PLLC. It may just be that the CSS design skills they are using are about a dozen years old or so and it may very well just be me that it bothers because I've been in the industry for so long.
Keep in mind that ugly has nothing to do with SEO performance even though many law firm marketing companies will tell you that it does. What ugly can have an impact on is conversions which should be top of mind when you're driving organic and/or paid traffic.
Either way they are driving about 3500 visits per month from their organic search engine optimization efforts. Not bad for a team of three personal injury lawyers.
Assuming they are converting traffic in the lower tier of law firm websites they are still looking at capturing more than 70 leads per month. Assuming they are converting case leads into clients at an average rate they could very well be adding more than a new case per day to the books.
If we're looking at the on-page SEO objectively we have to wonder why they've put their practice areas into a folder considering they seem to only handle personal injury cases. Maybe this was from long ago and maybe it's just a common on-page SEO mistake.
Looking at their off-page SEO strategy you quickly notice that there's not much of one. All this means is that anyone can come in and compete in Washington DC as a personal injury law firm. Most of their referring domains have come over time and very few from a total percentage standpoint are from what Google would consider high quality pages.
You would think a city like Washington D.C. with the population and the number of attorneys there would have a much more competitive landscape for personal injury law but you would also be wrong.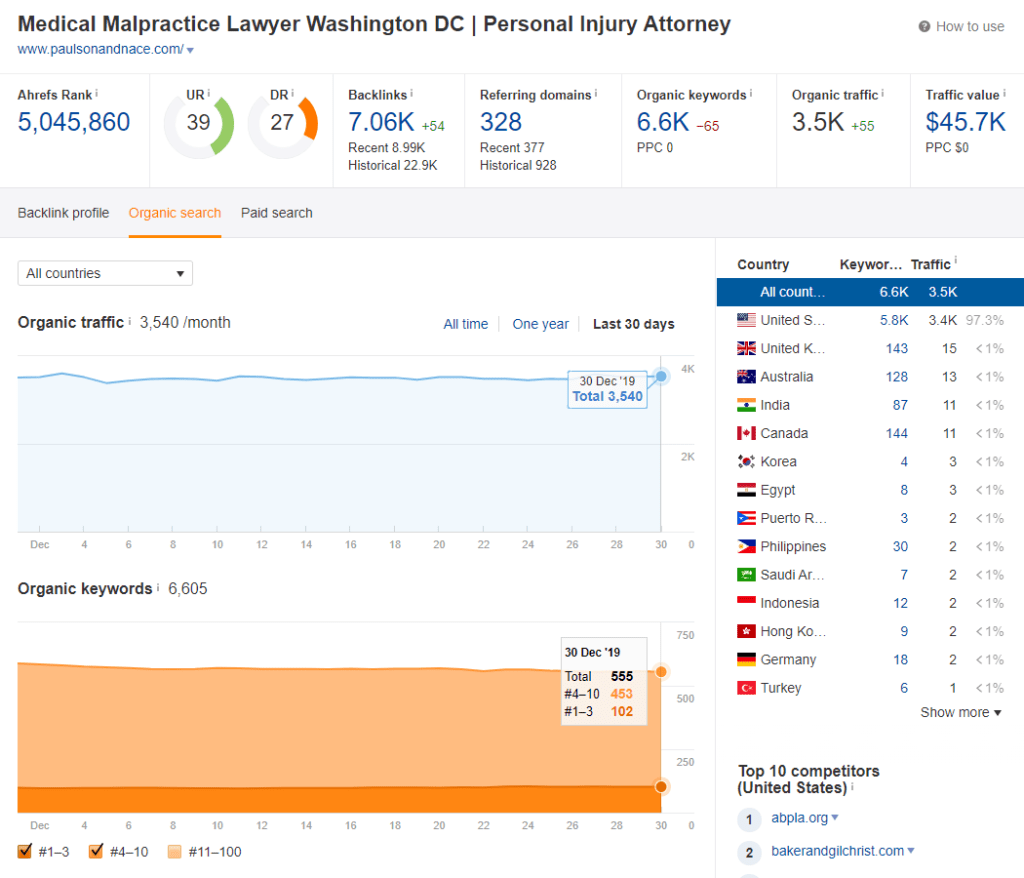 Price Benowitz LLP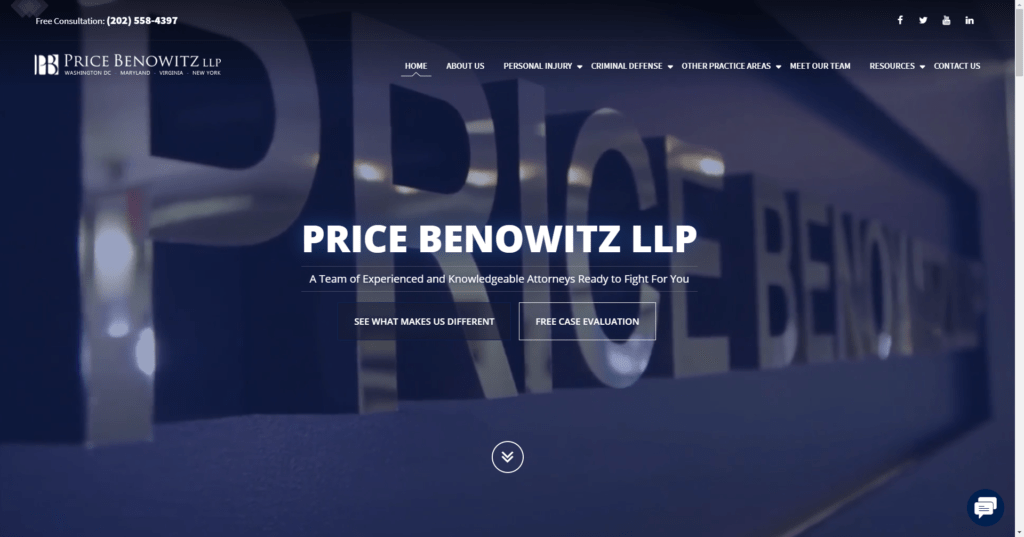 Price Benowitz LLP
409 7th St NW #100
Washington, DC 20004
website: https://pricebenowitz.com/dc-injury/
phone: (202) 600-9400
One of the firms that stand out to us in the Washington D.C. area is that of Price Benowitz LLP. They practice in several different areas of law but their personal injury rankings do stand out among the crowd. We typically try to avoid covering law firms that are more than just personal injury but this firm is an exception because of their strong foothold on the organic rankings in the DC area.
Their on-page SEO strategy is nothing short of aggressive and it seems to be working with compartmentalized specialties focused on giving the user the information they came for. There are a few spots they are lacking in but the performance of what they do have is good enough for the Washington DC market. They could definitely make better use of their blog by focusing on a more effective SEO strategy.
Their off-page SEO is decent but could definitely use some more focus by putting together a link building strategy that would power up more of their internal pages around personal injury. They could hold and defend their position more easily if this were more of a focus. As of right now, this is anyone's market to take.
With thirty four attorneys in total only three of them look to handle personal injury cases and only one in the Washington DC area. This means that they get their pick of some of the top cases in the DC area.
Assuming they are converting leads at a top-tier rate, they are most likely bringing in more than 150 leads per month. With the number of attorneys they have you can safely assume that they are taking only the strongest cases and are most likely handing out cases to trusted partners in the area. They even have a co-counsel page setup for just this.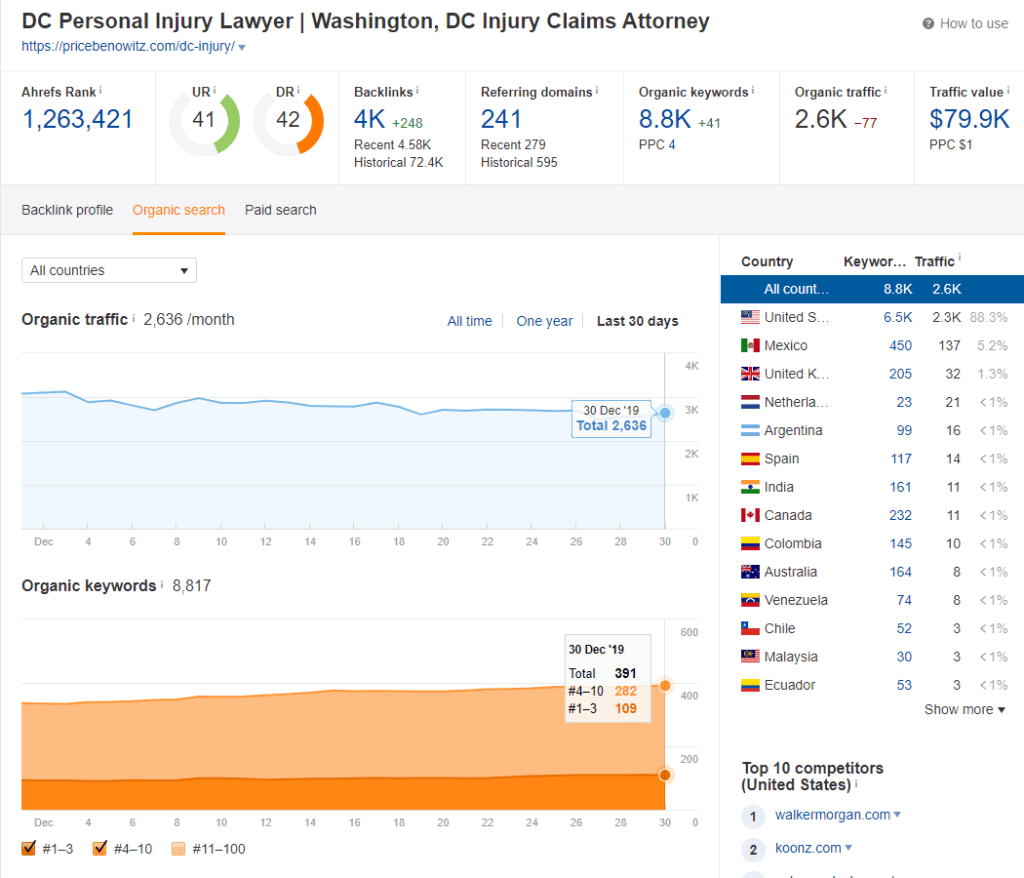 Cohen & Cohen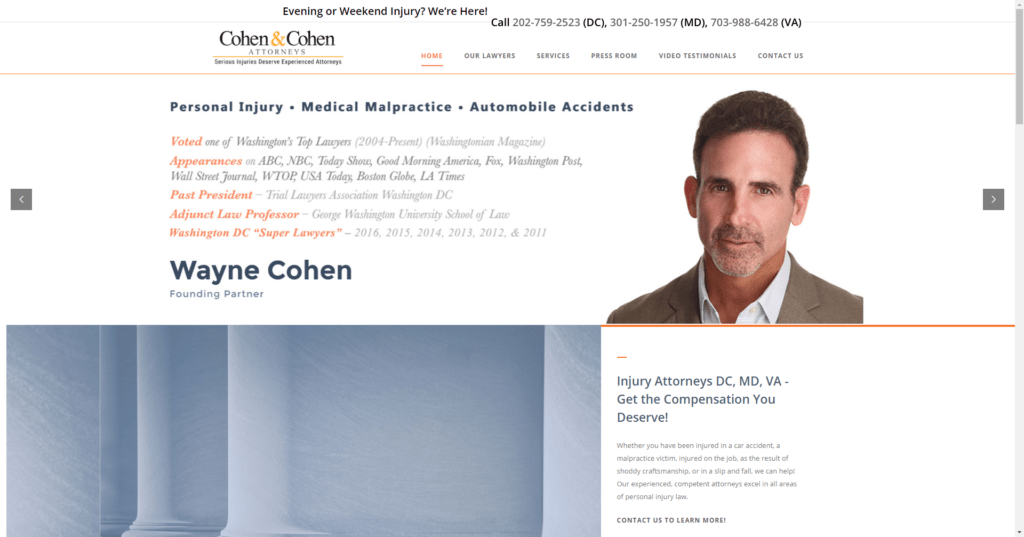 Cohen & Cohen
1220 19th Street NW, Suite 500
Washington, DC 20036
website: https://cohenandcohen.net/
phone: (202) 955-4529
The first thing that I see when I hit the Cohen & Cohen website is the antiquated SEO strategies in play. This is troubling considering the issues it can cause with rankings.
Another issue I notice is with their off-page search engine optimization strategy or lack thereof. They clearly have a network of attorney websites linking to them from other lawyer site footers. I can see about fifty of them right away. The only issue with this is that it's not sustainable and if it were not for the SEO firm placing these links it's highly unlikely that they would be ranking for much of anything.
Upon further inspection it seems that their entire strategy is made up of other attorney websites cross linking with each other. This can be powerful but it can also be dangerous. What happens if you decide to stop working with this firm? This tactic is very outdated and should be used sparingly in my opinion.
As far as traffic goes it looks like they are seeing around eighteen hundred visits per month from their organic campaign. Assuming they are converting at the low-tier rate for law firm websites we can guesstimate that they are realizing just over a lead per day via organic search.
They would need those leads to support their staff of seven personal injury attorneys. With a cleaned up website and a cleaned up SEO strategy they could be driving a lot more of them. I'm not sure a lot of SEO firms would want to touch this one though considering the loss of rankings that could come if those links are tied to a contract.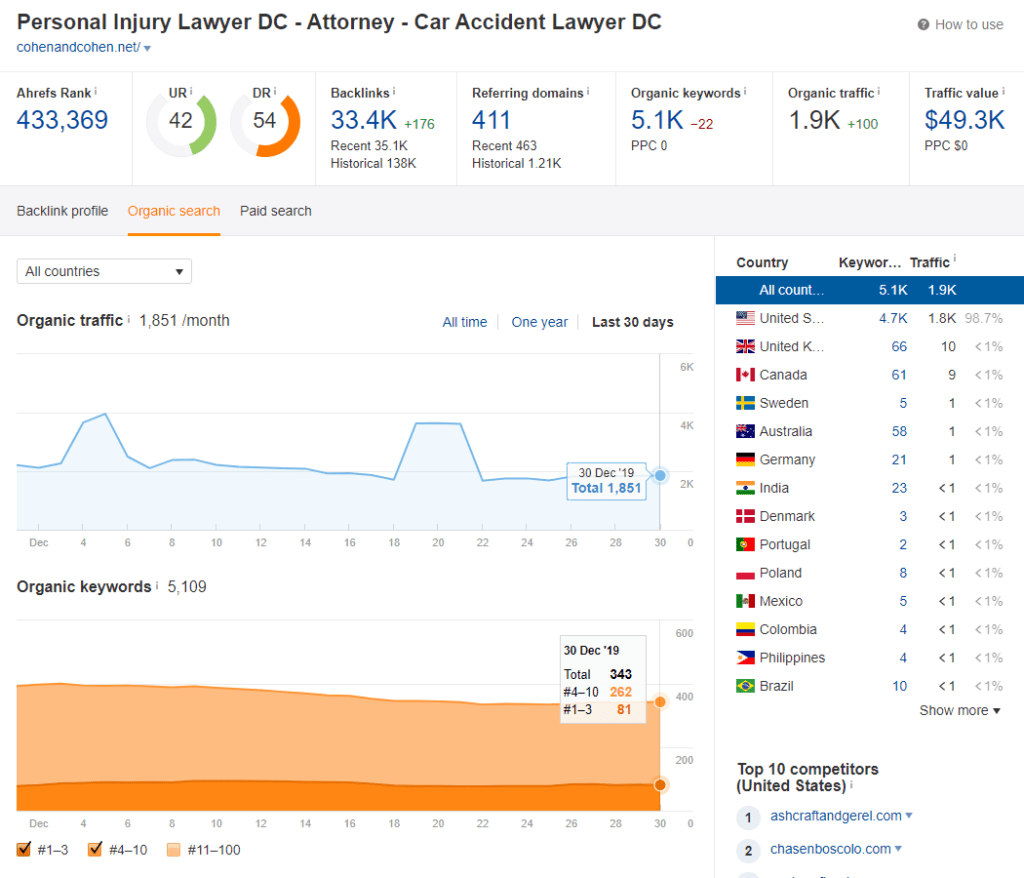 The Cochran Firm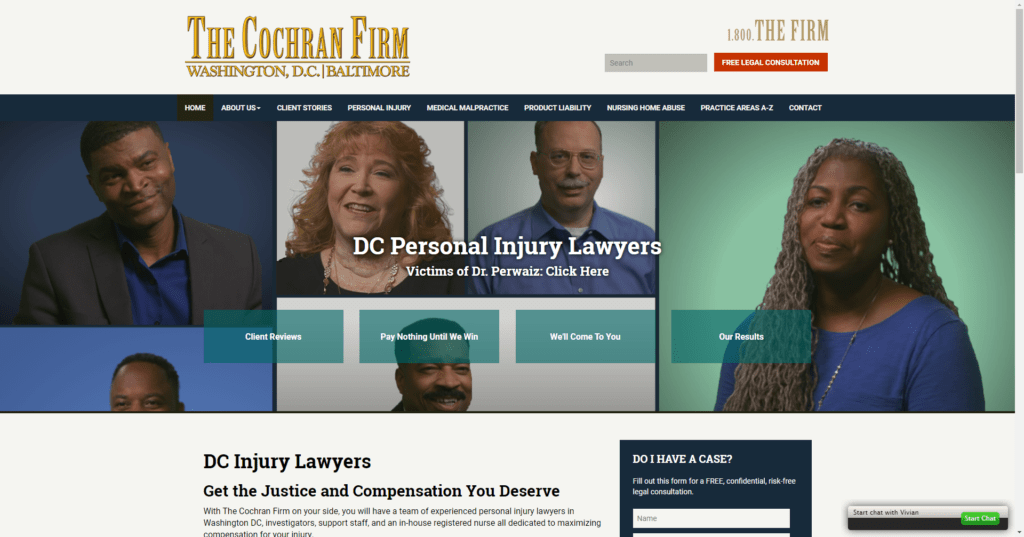 The Cochran Firm
1100 New York Avenue NW, Suite 340
Washington, DC 20005
website: https://www.cochranfirmdc.com/
phone: (202) 682-5800
One of the most recognizable names on this list is that of The Cochran Firm. That's probably because I and many people across the country remember the O.J. Simpson case where the namesake of The Cochran Firm, Johnnie Cochran himself became somewhat of a national celebrity and highly recognized trial attorney.
If you take a look at their reviews page you will see that they have the experience necessary to go up against the largest of competitors to win verdicts for their clients. If you visit their client stories page you will get a sense that the clients they have helped are very happy with the representation they received from The Cochran Firm.
Assuming they are getting around sixteen hundred organic visits per month to their website and that they are converting somewhere near a mid or top-tier rate we can guesstimate anywhere from 65 to more than one hundred leads per month flowing through the website. This would be sufficient to support a team of six attorneys plus staff assuming their firm conversion rate is strong.
When analyzing their on-page SEO we've spotted some clear gaps in linking strategy that would not only be easy to clean up but would make almost immediate impact on the firm's lead generation ability. This is common across the board with law firms and is something that should be addressed with this website in order to make the most of the work that's already been done.
This is likely the side effect of choosing a creative firm over an SEO firm to handle your SEO although most SEO agencies don't fully grasp the most important on-page concepts either. SEO strategy is much more complex than most design firms would have you believe and that's because they don't have a clue what SEO strategy even means.
With only a bit over 250 referring domains pointing to the website they are still doing fairly well. Imagine if one were to focus on a high quality link building campaign to increase those numbers. Doing just this could have a huge impact on the number of leads The Cochran Firm in Washington D.C. could be bringing through their doors.
Combine an increased focus on high quality backlinks along with a more clearly defined internal linking strategy and this firm could easily be driving double the number of leads they are right now. It's time for them to focus on SEO.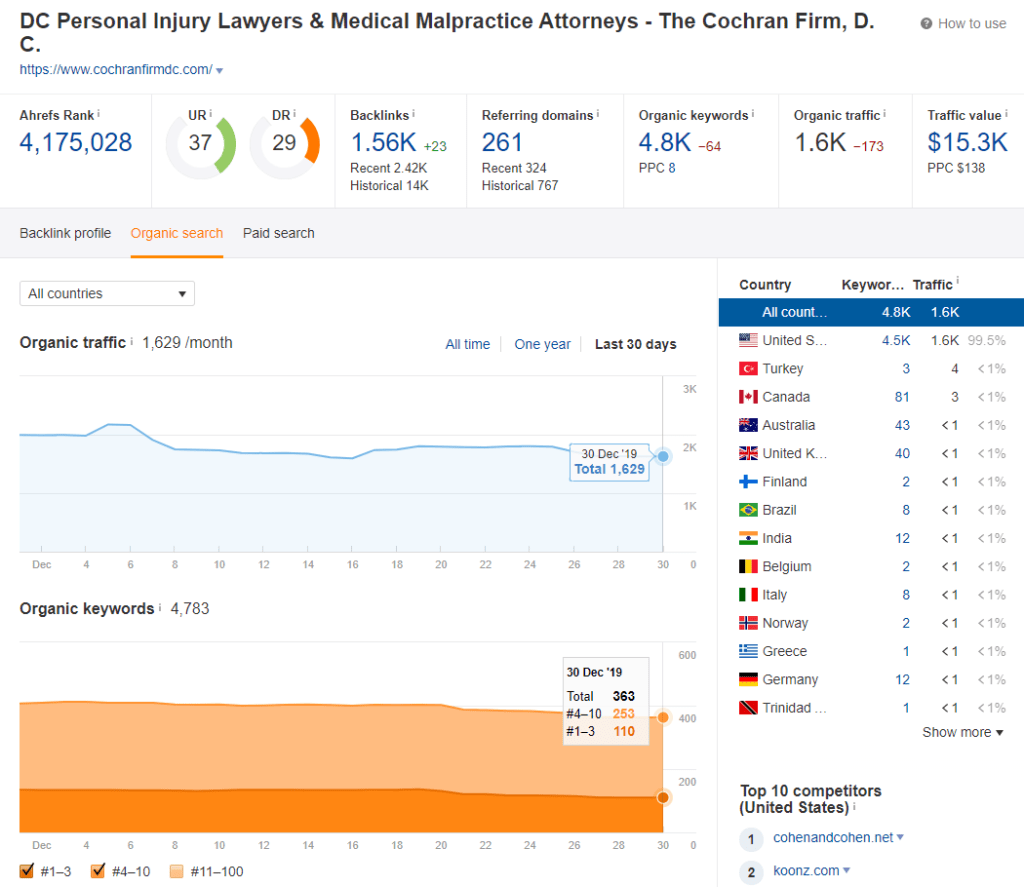 Koonz McKenney Johnson & DePaolis LLP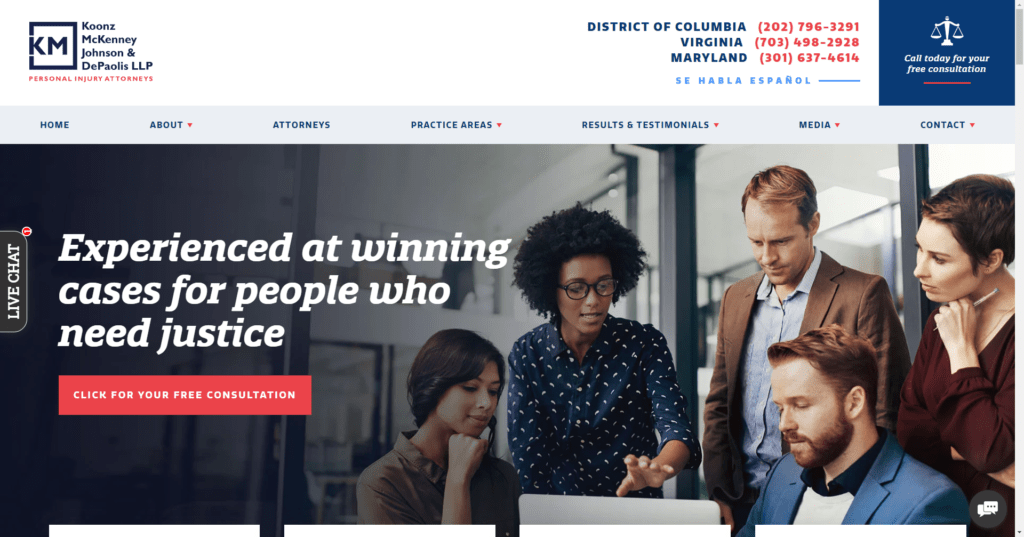 Koonz McKenney Johnson & DePaolis LLP
2001 Pennsylvania Ave NW, #450
Washington, DC 20006
website: https://koonz.com/
phone: (202) 796-3291
When analyzing the backlinks of the Koonz McKenney firm it's obvious to me that there's someone building their links that has absolutely no idea what they are doing. It looks like it could be a very well known law firm marketing company but it could also be someone else so I'm not out to point fingers, other than to say it's not doing the firm itself any favors.
This type of SEO is commonplace across many law firm marketing companies. The problem is that companies are setup to say they market for lawyers when in reality it's a marketing scheme. True SEO professionals know and understand not only the niche they work in but SEO to an extent that others do not. Unfortunately this is about one percent of firms.
Upon further inspection the posts that are actually decent don't have what it takes for them to even count towards rankings. This is a disaster of a campaign from an off-page SEO or link building perspective.
From an on-page SEO perspective it's a different story. The website is clean which probably leads to well, more leads. The content is thorough and the internal linking looks to be decent from what I can tell although there are definitely some gaps that could be filled with the proper strategy.
The big gap here is link building. If they were to put an actual focus on link building strategy they would easily be able to double the number of leads they are getting on a monthly basis.
Currently they are driving around fourteen hundred visitors a month which would translate to nearly two leads per day assuming the traffic is somewhat decent quality. When you look at the traffic value compared to similar firms in the area you would actually assume the opposite.
This means that their traffic probably isn't converting at mid-tier or even low-tier. They may very well be below one lead per day from their organic search campaign.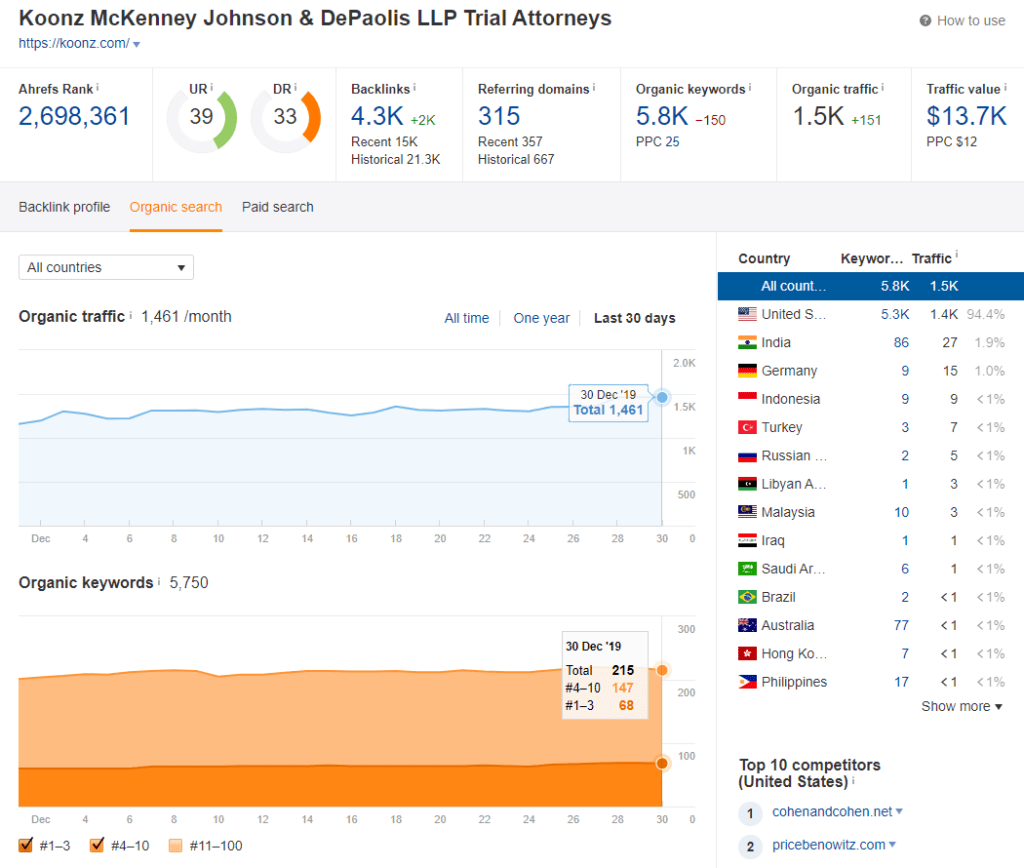 SEO for Personal Injury Lawyers in Washington DC
We offer full and exclusive SEO campaign management services for select personal injury attorneys and currently have an opening in Washington DC. We price our services on a monthly basis. If you're interested in learning more about the local Washington DC market please call us today at 800-405-0060.