SEO for Personal Injury Lawyers In Seattle
Seattle is a fast growing city and is known for having great people. At least the ones I know.
If you're running an established personal injury law firm in Seattle and you're contemplating an SEO campaign to boost your lead intake then welcome.
Our goal is to lay out some golden nuggets for you so that you know what to expect from a well thought out SEO strategy and campaign.
Our research is free of charge so dig in and see exactly what your competition is up to. If you happen to be one of the firms listed in our study then pick up on some key advice for free.
We are going to expose you to big data so that we can show you just how So, we are breaking out the big data to show you how dynamic a personal injury lawyer SEO campaign in Seattle can be.
Our goal is to provide you some key takeaways and enormous value…
Personal Injury SEO Meets Big Data
From our research we can see that Seattle is a great place to setup shop and practice personal injury law, even though the size of the market is substantial.
There's room for competition is what we're saying.
If you're in the Seattle/Tacoma area and you are looking at organic search engine optimization as a viable option for your firm then we've got good news. The market is wide open for the taking. That's great because not all markets are like this.
Our goal is to give you a good idea of just how many cases a personal injury SEO campaign could drive to your website on a monthly basis.
To do this effectively we've chose five of the local law firms that stand out to us, those with some kind of organic footprint in the Seattle area.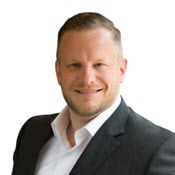 Chris Walker, Founder
Law Firm SEO Expert
So, like any good SEO firm would we're going to use big data to lay out the numbers for you. We want to show you what kind of traffic you can expect to drive with your SEO campaign, assuming the strategy is sound.
Every single month there are a substantial number of cases created in the local area and you as an attorney may be missing out. The goal is for you to be able to grab your share of the leads and if you're really good, grab more than your share.
Our findings are powerful and we hope you enjoy the research we've put in. If anything it will help to make you more informed on marketing decisions that can have a key impact on your firm's financials.
Let's get started.
SEO for Personal Injury Lawyers in SeattleDavis Law Group, PSPhillips Law Firm, PLLCDubin Law Group, PSEmerald City Law GroupThe Advocates Injury Attorneys
Davis Law Group, PS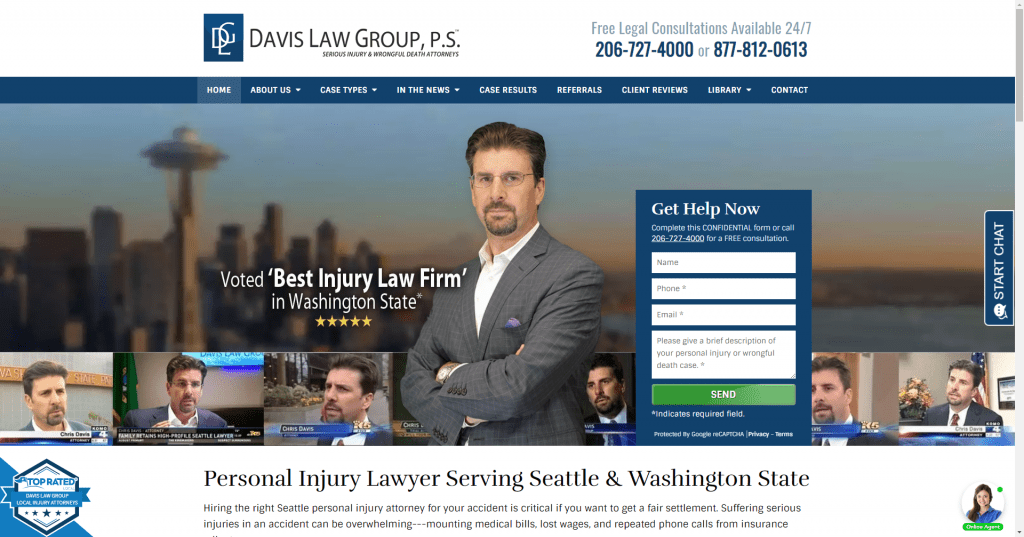 Davis Law Group, P.S.
2101 4th Ave #1030
Seattle, WA 98121
website: https://www.injurytriallawyer.com/
phone: (206) 727-4000
The Davis Law Group is no stranger to organic search engine optimization as they've definitely created lots of content on their site. They are driving well over 9000 visits per month to their website but is that translating into new cases?
Assuming their websites is performing well at mid-tier legal website conversion rates, they are driving at least a dozen new personal injury case leads per day.
That's assuming their SEO strategy was well laid out in the first place and that the website itself and the branding are both performing effectively. If either of those things are off then the performance numbers could be much lower.
All things considered and upon further analysis this could very well be the case. The total traffic value is quite low compared to that of what high performing personal injury attorney websites would see for the number of visits they are racking up.
My estimate is that their conversion rates are probably even lower than bottom tier rates considering the low quality (non-targeted) search traffic they seem to be driving. If they are not driving at least a dozen new leads per day then they should definitely look at hiring someone that's skilled at SEO strategy as it's not too late to turn this ship around, considering their other metrics and drive high quality case leads on a daily basis.
Fact is, if their strategy is off in the first place then the leads just aren't going to be there no matter how many visitors you're sending to your website per month. This is why it's important to first identify search terms that are as close as possible to the bottom of the funnel and then work your way out from there as your website grows.
If you don't pay attention to this, you'll be stuck with a website that just will not perform at a high level. That could be the situation here. If so it's unfortunate because it looks like this is the type of lawyer you would definitely want handling your case.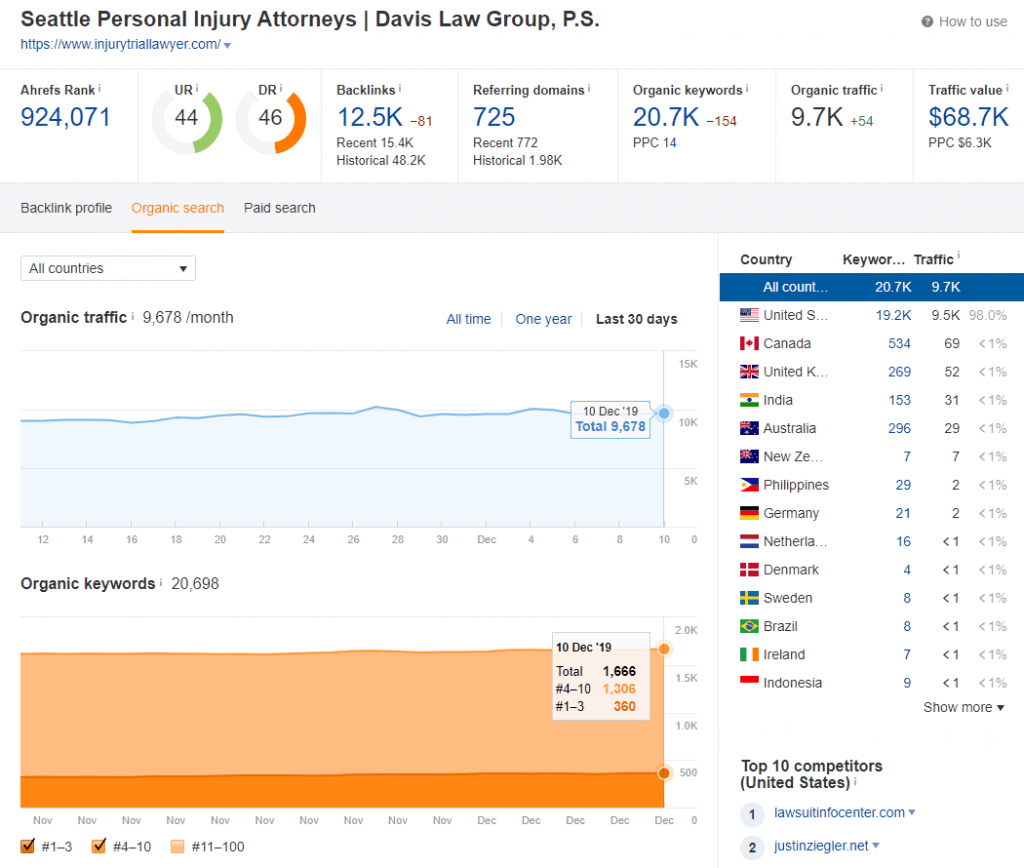 Phillips Law Firm, PLLC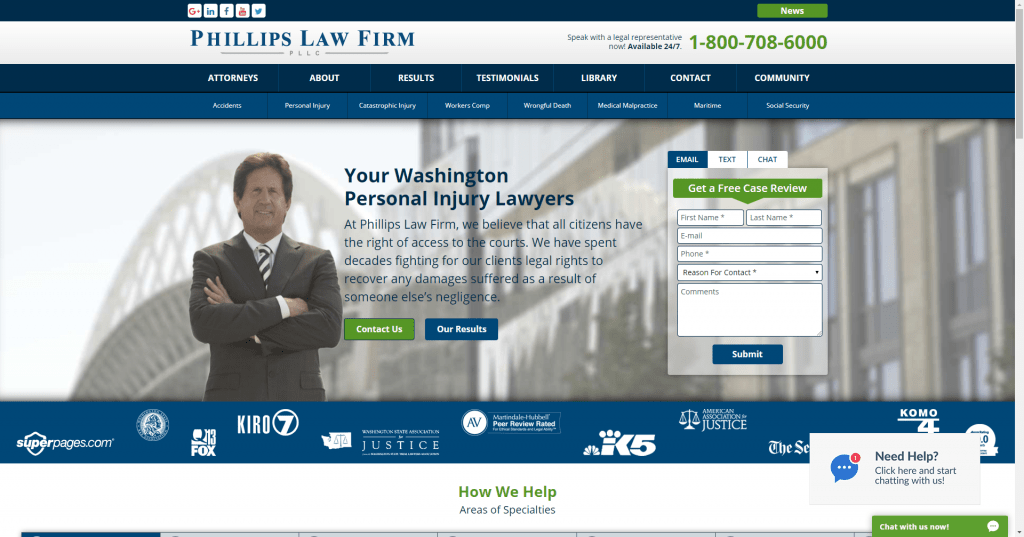 Phillips Law Firm, PLLC
1420 Fifth Ave, Ste 2200
Seattle, WA 98101
website: https://www.justiceforyou.com/
phone: (425) 984-2500
The Phillips law firm looks to have a decent organic traffic presence even though they do look to be on somewhat of a decline. Even with 2700 visits per month to the website you can expect bottom tier conversion rates to account for almost a couple leads per day.
But if you do some deeper research on this firm you will see that they have a few negative reviews on Google and Yelp. Now this could be an attack from a vengeful competitor or it could be legitimate. We don't know either way.
Full disclosure is that we haven't looked at all of the reviews for this firm because they haven't reached out to us asking for SEO services. If they did we would analyze them deeper before deciding on whether or not to take on their firm.
When you have negative reviews it makes converting website leads to cases that much more difficult. If they call you on a whim and decide to do some digging afterward, the potential client could back out due to these types of reviews.
And if they are searching for reviews before they call then you'll never even get the chance to talk to them. It just makes converting visitors into cases that much more difficult.
Luckily for us we have access to the big data that shows us just how many people per month are searching for the term "Phillips Law Firm reviews" so we understand this impact up front. In case you were wondering, it's 60 people per month.
That's quite a few considering that when you perform a search out of Seattle, WA the first thing you see is the Yelp review page with a two star rating.
Considering the current state of their reviews I would say that they are probably converting well below the bottom tier of just above a two percent website conversion rate.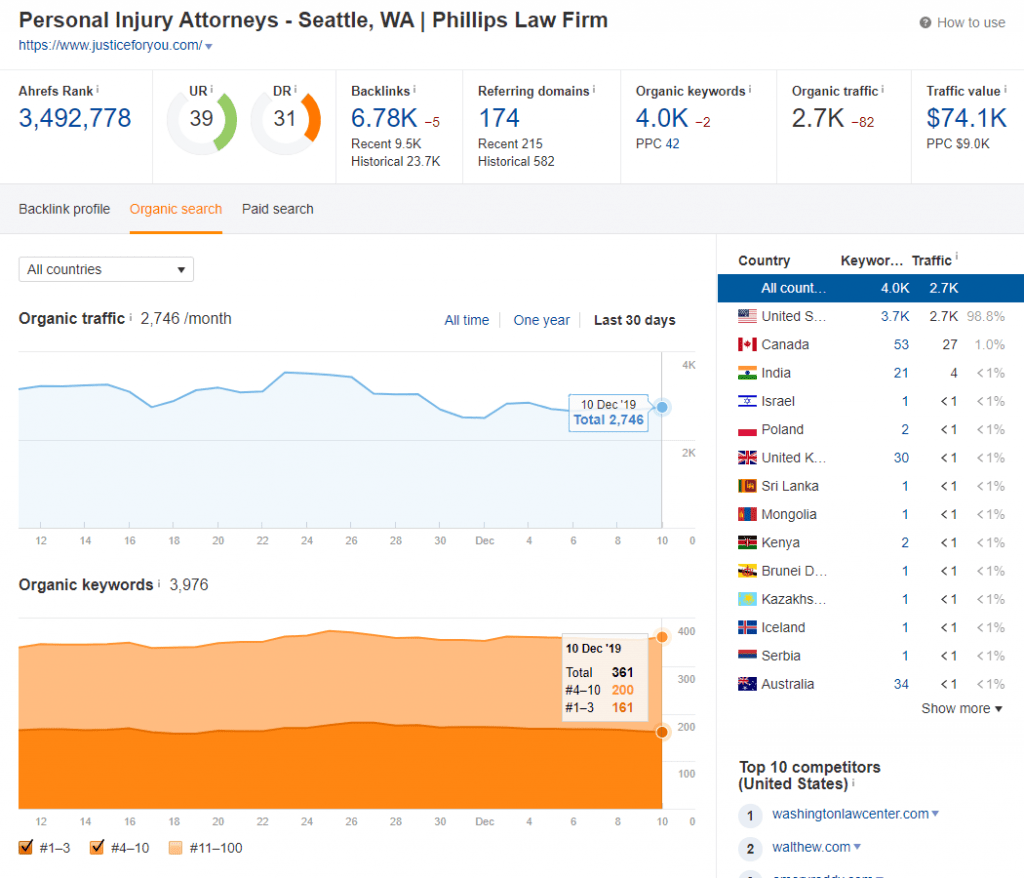 Dubin Law Group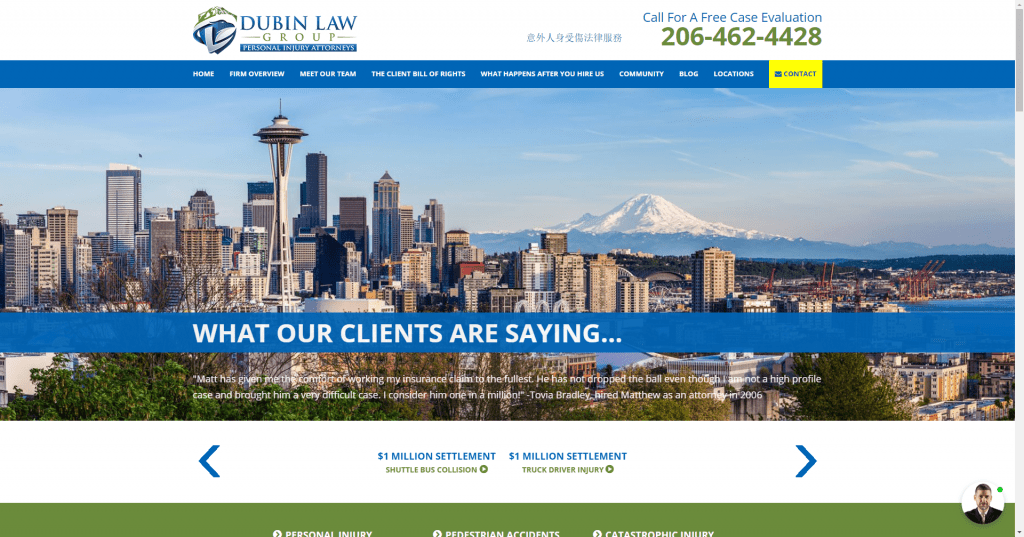 Dubin Law Group
520 Pike St #1425
Seattle, WA 98101
website: https://www.dubinlawoffice.com/
phone: (206) 720-1501
The Dubin Law Group is a personal injury firm in Seattle that has a decent organic search profile although the do seem to currently be on the decline for whatever reason. They've gone from nearly 2400 visits per month 30 days ago to now hovering at just above 1500.
That's a decline of 900 visits per month which means lost cases. That also means that they've lost nearly 38% of their traffic in the last month. This is not ideal and stands out.
It doesn't look like they've lost a substantial number of backlinks over the last month, at least no more than they have gained so that shouldn't be the cause.
After a further analysis this is one of those campaigns that we can easily turn around in quick fashion. It looks to be a case of poor internal linking structure and poor supporting content directly tying in with Google's content classification algorithm. Basically, this can be fixed and it's not difficult to do.
And that's good news because this site speaks to me as a consumer searching for someone to help me with my claim through their testimonials and their well represented photos of their entire team. This is a firm that really feels like it has a solid brand and a solid team behind it.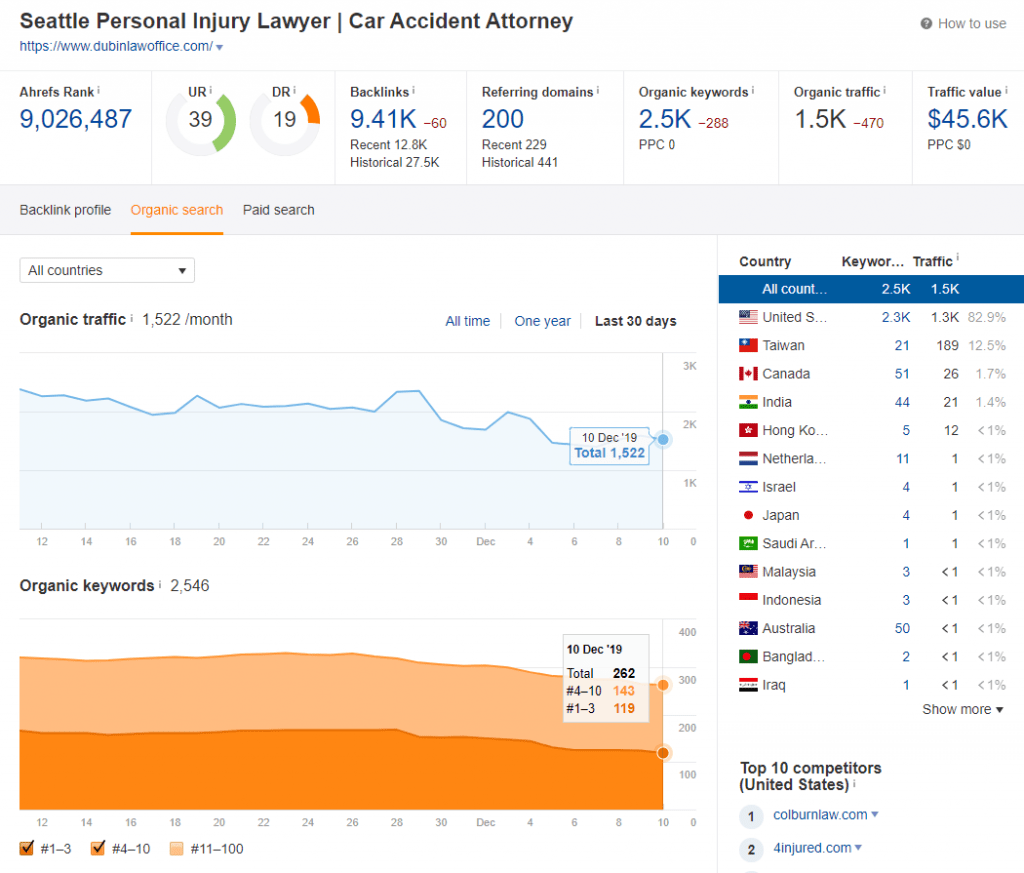 Emerald City Law Group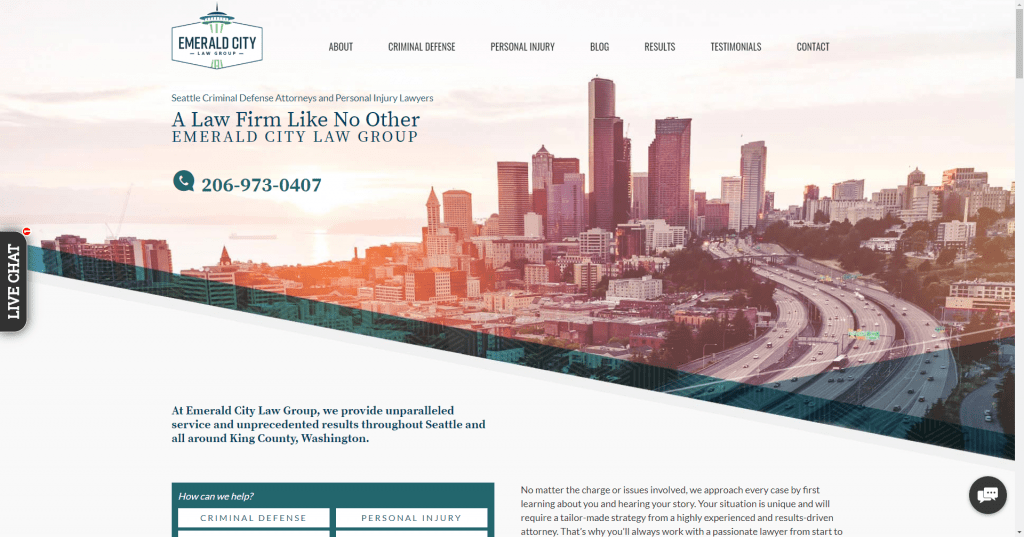 Emerald City Law Group, Inc
1366 31st Ave S,
Seattle, WA 98144
website: https://www.emeraldcitylawgroup.com/
phone: (206) 231-5338
The Emerald City Law Group is another Seattle personal injury law firm taking advantage of organic search engine optimization. Generating 1300 visits per month to their website you can assume this inviting website is helping the law firm generate some leads.
If they're converting at a mid tier rate, they could be getting more than a lead per day through organic search. That's not bad at all. We did notice that the firm handles both criminal law and personal injury.
Looking at what their competition is driving on a monthly basis in the personal injury arena, we think that if Emerald City Law Group were to put more focus on the personal injury side from an SEO perspective that they could easily be driving several new case leads per day.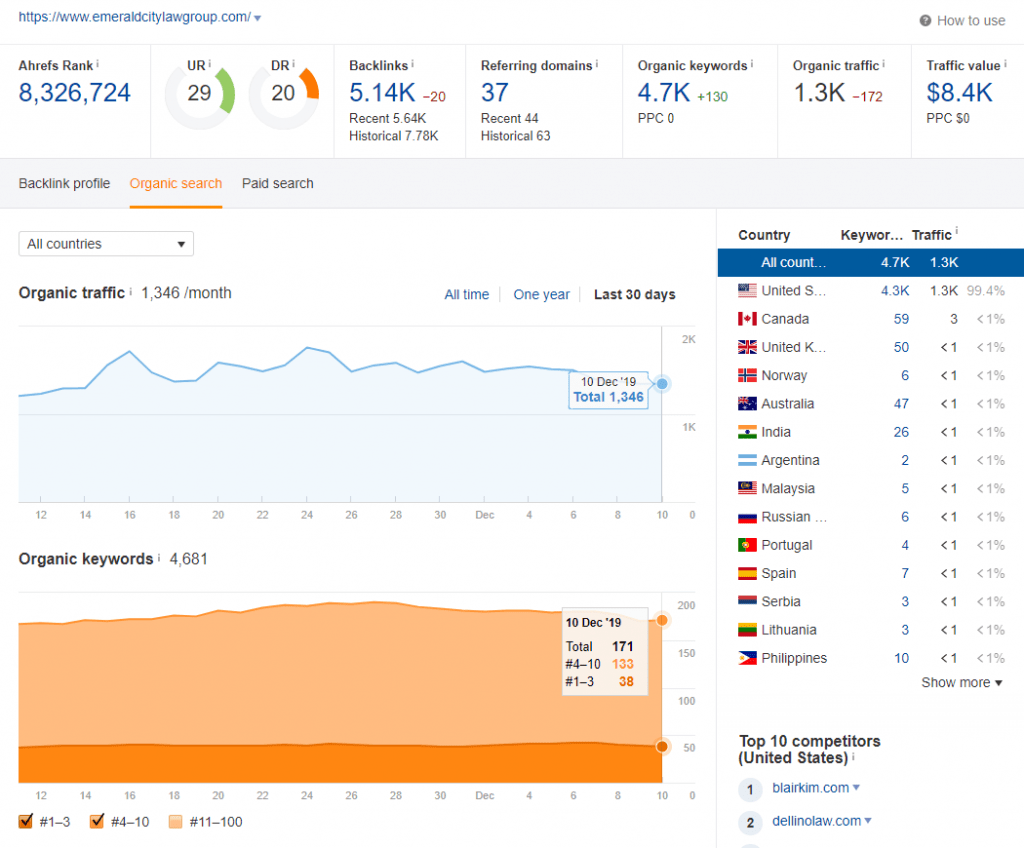 The Advocates Injury Attorneys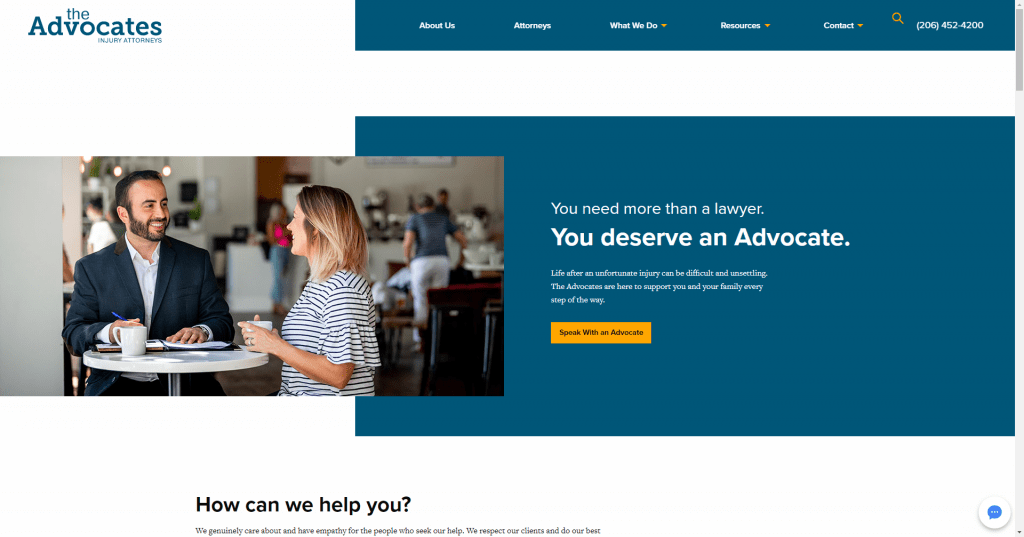 The Advocates Injury Attorneys
2125 Western Ave #500
Seattle, WA 98121
website: https://advocateslaw.com/
phone: (206) 452-4200
The Advocates are injury attorneys, nothing else. That means they are focused on handling injury claims and like us focusing on one thing which is SEO; we believe this is the best possible scenario for clients.
Whether or not this is an offshoot of their main business line isn't important. The important thing is that they have seven attorneys that are dedicated to your personal injury needs.
With support like that a potential client can feel comfortable reaching out to learn more about how a firm can help them.
One piece of advice we can give is to make sure that your linking within the site is cleaned up. There are several internal links running to different pages on the old development website.
This provides for an off-putting user experience and could keep someone from contacting you since they might perceive your inability to tighten down your own website as an inability to perform in a court of law. But this is all really just conjecture at this point.
Just cleaning this up though could increase leads. And if your website is driving 1200 new visits per month you could be missing out on fifty leads per month, assuming that you're converting at a mid-tier rate for law firms.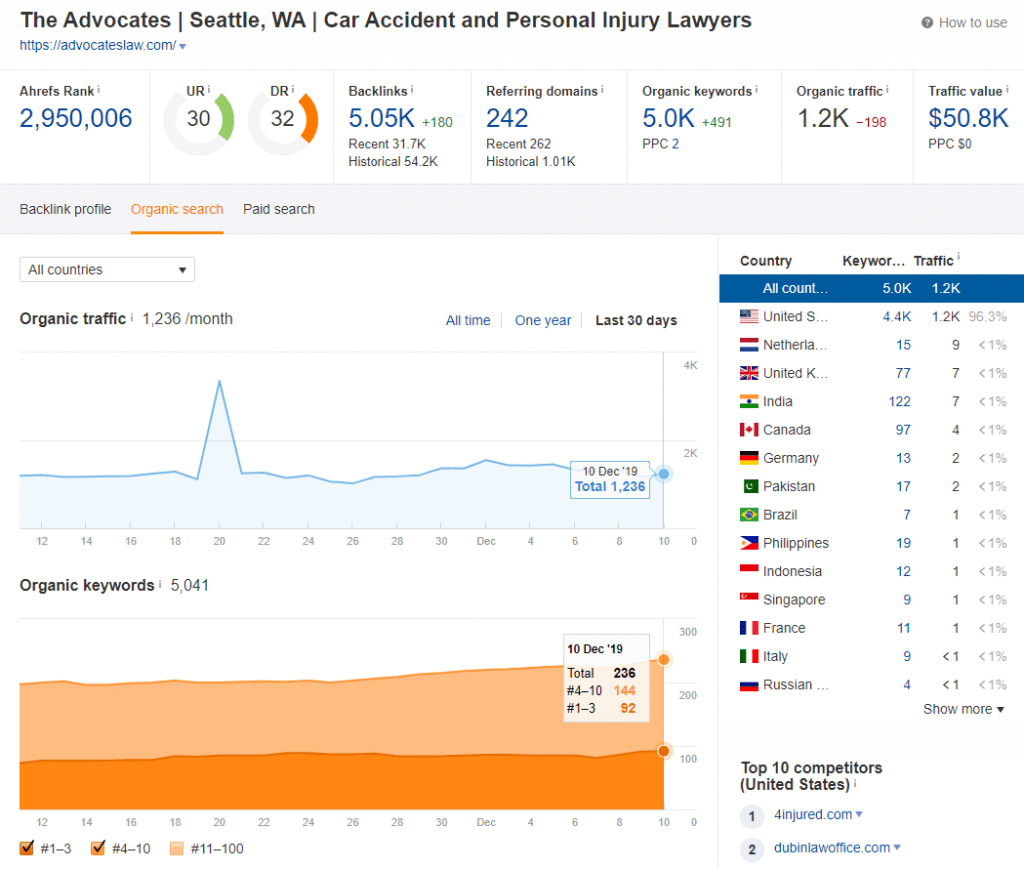 SEO For Personal Injury Lawyers In Seattle Washington
We offer full and exclusive SEO campaign management services for select personal injury attorneys and currently have an opening in Seattle Washington. We price our services on a monthly basis. If you're interested in learning more about the local Seattle market please call us today at 800-405-0060.