SEO for Personal Injury Lawyers In Philadelphia
Ah, the birthplace of the United States of America and the Philly Cheesesteak! There's nothing more American than that.
But how is the competition in Philly? What should you know about the current organic search landscape?
We're going to break down the competition for you so that you don't have to pay a firm to handle it. This is not something a piece of software can spit out; it's a real analysis of the competition here.
Good thing is there's plenty of room for competition in this large market.
How powerful can a targeted personal injury lawyer SEO campaign in Philadelphia be? Very.
You're getting insider access to the information that moves decisions at the largest firms in the country.
Personal Injury SEO Meets Big Data
As one of the top markets in the country if you're a personal injury attorney, this is a place you would want to set up shop. Larger populations mean more cases and there's nothing better than SEO to drive traffic for those looking for exactly what you do.
We're going to show you the data so that you're clear on the possibilities a well thought out SEO strategy can offer your firm.
SEO is one of the most powerful options for personal injury lawyers to drive leads and in Philadelphia it's no different. We're going to show you how competitive the landscape here actually is and we're not going to beat around the bush, which you can enjoy if you're from Philly.
How many new cases do you think you can add to the books every month? This is a common question and we're going to answer it for you.
We want you to be informed on one of the most powerful and profitable forms of marketing available to you today.
We're listing the top five firms and we're giving you the breakdown of the traffic each of them are generating and how many leads that can bring.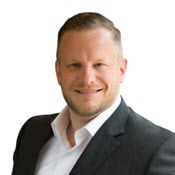 Chris Walker, Founder
Law Firm SEO Expert
If you're looking to grow your law firm then you've come to the right place. We understand that trust is a huge factor in your business and we know how to help you build that trust with people that are searching for you online.
There are plenty of personal injury cases being created on the daily in a market this size. Is your firm getting its share of the leads? Once we show you what's possible, you can decide what you want for yourself.
Our goal is to help your firm grow but only if you want it. If you do, welcome to the research that will change your future.
SEO for Personal Injury Lawyers in PhiladelphiaAnapol WeissReiff Law FirmRosenbaum & AssociatesThe Beasley FirmThe Pearce Law Firm
Anapol Weiss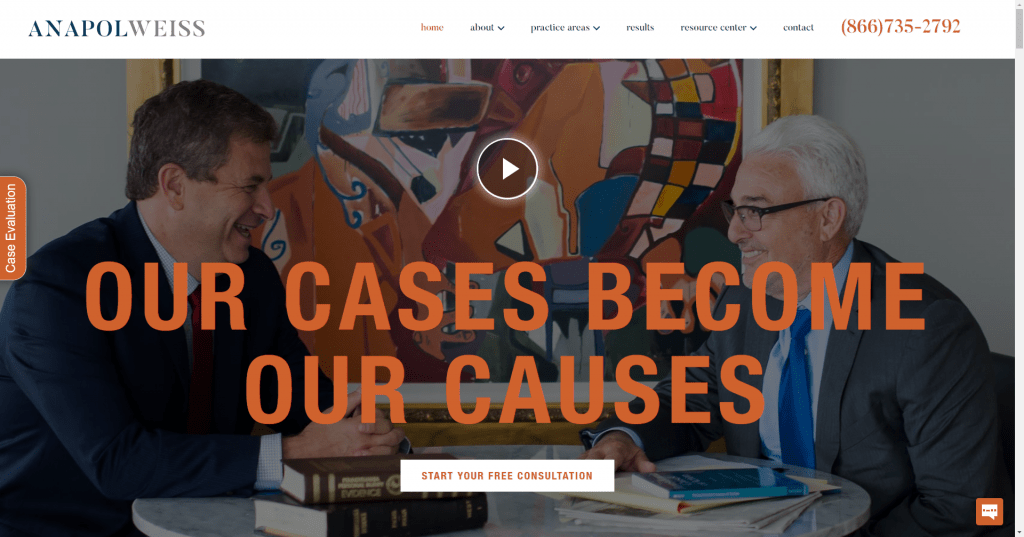 Anapol Weiss
130 N 18th St #1600
Philadelphia, PA 19103
website: https://www.anapolweiss.com/
phone: (215) 735-1130
Anapol Weiss boasts a team of 22 lawyers dedicated to medical malpractice, mass torts, car accidents, personal injury and class actions. I'll give the design team credit as the website creates a feeling of trust so I'm assuming the site itself converts fairly well.
From an SEO perspective, the site looks fairly well organized although I don't understand the reason the folders are another level deep behind /practices and then with the medical malpractice category they have /practices added afterward. That is a huge misstep from an organizational standpoint and makes the entire website weaker.
Ideally you remove the practices in the folder altogether as it's excessive and can cause a bit of ranking loss. There are some other content classification issues that could creep up with the current organization structure. Basically, this site can perform better with a few on-site and technical SEO changes.
Additionally, there's lots of opportunity in the area of link building for Anapol Weiss. This is commonly overlooked by law firm SEO companies for some odd reason while it's currently one of the most important aspects of SEO. We're predicting it will become even more important over the next years.
When I'm running through the links they've acquired I'm only seeing just over 100 links from blogs which are more important than ever right now. This should be a focus for them after fixing the internal issues. My guess is that they can be driving quite a few more case leads per month if they make some very important changes to their SEO campaign.
Reiff Law Firm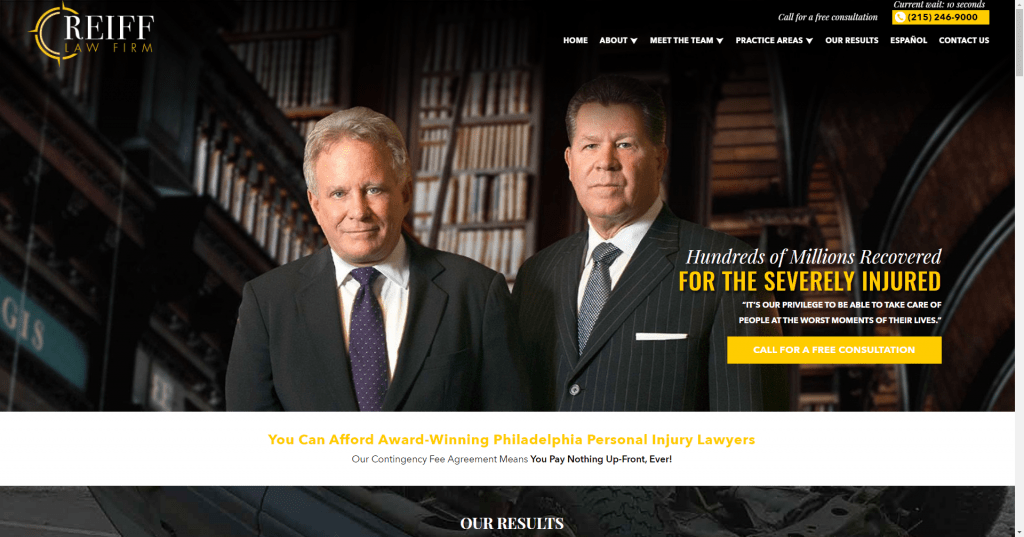 Reiff Law Firm
1500 John F Kennedy Blvd #501
Philadelphia, PA 19102
website: https://www.reifflawfirm.com/
phone: (215) 246-9000
Something that stands out to me about the Reiff Law Firm SEO campaign is that they've recently taken a large hit in the rankings. A drop of 800 visits a month when you were only doing 3000 before, that's substantial. That's 25% and that's definitely going to have an impact on the number of new cases they're bringing in with their website.
Assuming a bottom-tier conversion rate, before the traffic drop they would have been bringing in a couple of leads per day. After the drop and under the current SEO performance, they are looking at just over 40 leads per month. That's a change of nearly 20 leads over the course of a month's time.
As far as internal structure goes I'm not so sure I understand the need to add the keyword Philadelphia as a folder for your practice area. It seems like an SEO strategist would drive the city focus to the home page considering their office is located in Philadelphia Pennsylvania. This is wasting website authority in my opinion and could be setup to be much more efficient.
If you really want Philadelphia in the URL it would make more sense to use it on the article page itself. Today, that's just not really necessary though in my opinion, not when you're looking at the entire website as a whole. This is more of a tactic to employ in a very small city on a site with very little content. It's not something that's going to move the needle in a city like Philadelphia where the competition is savvy.
If you take a deep look into the blog content they publish, this is just another law firm blog posting content on a consistent basis because someone told them that Google likes fresh content. Well, I'm here to tell you that this is a wasted effort for the most part. You can post blog content but it should be done in a way that provides value to the user, not just for search engine traffic gain.
This is a common problem I see in the law firm SEO industry. It's easy to post blog content so it's a very common "package" offer. They just need to think more strategically about each piece that's posted. There's no reason to handle website content like this.
If you have an established website and perform a search for your page title of one of your blog posts and you're not in the number one spot, there's something wrong. Frankly this could be the issue behind why they are dropping in the rankings. But keep cranking out that content to make sure Google likes your website. I'm kidding, don't.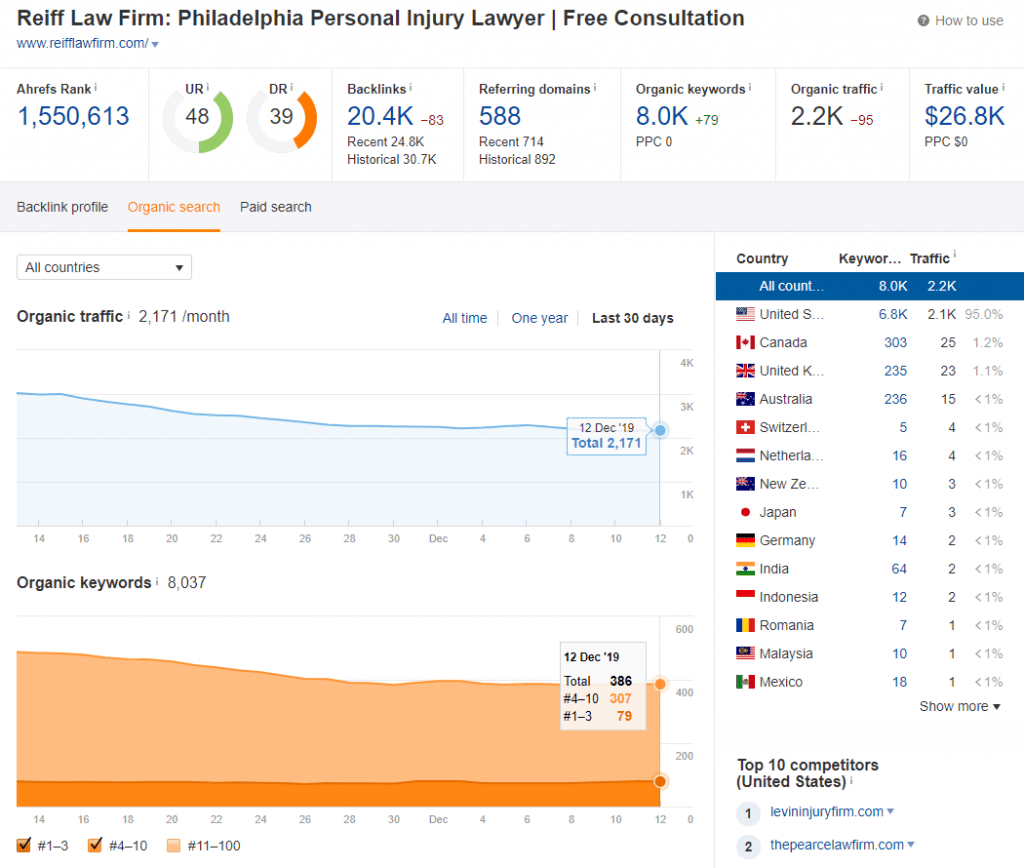 Rosenbaum & Associates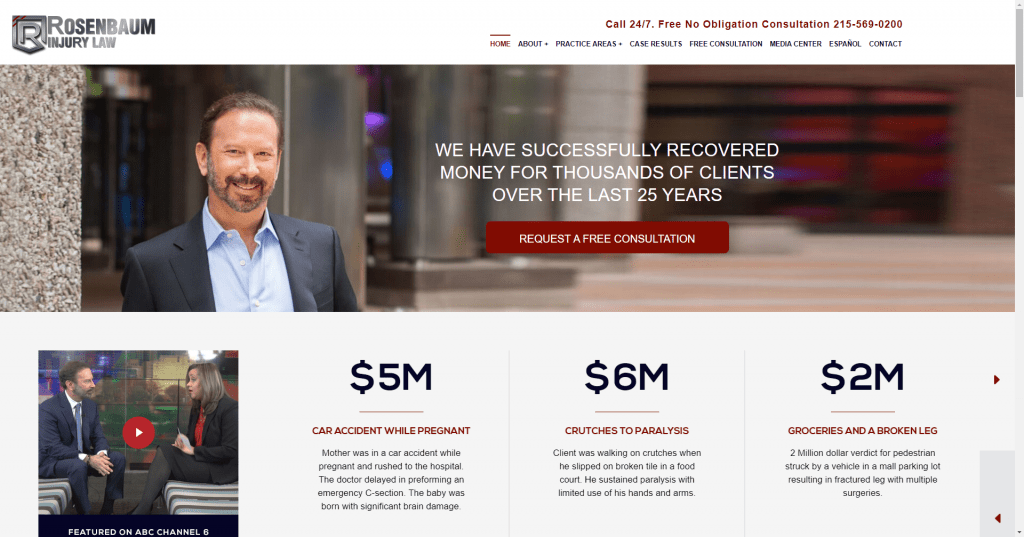 Rosenbaum & Associates
1818 Market St #3200
Philadelphia, PA 19103
website: https://www.rosenbauminjuryfirm.com/
phone: (215) 569-0200
From first glance the Rosenbaum & Associates website gives off a decent feel, just don't click on that video or you'll be stuck with no way to get back to the website. This is the kind of stuff that can really frustrate the user and leads to a bad overall experience and lost case leads.
Speaking of leads, they're driving just over 1700 visits to their website per month which I'm sure translates into real cases. This is probably somewhere to the tune of just over one lead per day if their website is converting at the bottom-tier rate. Double that to more than two leads per day if you clean up the website and work on conversions.
Upon further inspection it's not only the home page that's having issues; it's all of the pages. It looks like the header image is missing from every page. Not only that, you can't see the text on the page either. It's the same as the home page throughout but it shouldn't be in an H2 as it's not truly part of the content of that particular page.
This is where you get into content classification and where most SEOs are just about as lost as little puppy dogs. Either way, it's something that needs to be cleaned up.
The internal website structure looks decent but there are some technical SEO concerns. This just means that the campaign won't progress as fast as it could when you're ready to pour on the fuel.
Philadelphia takes the cake for sites needing some serious SEO help so far.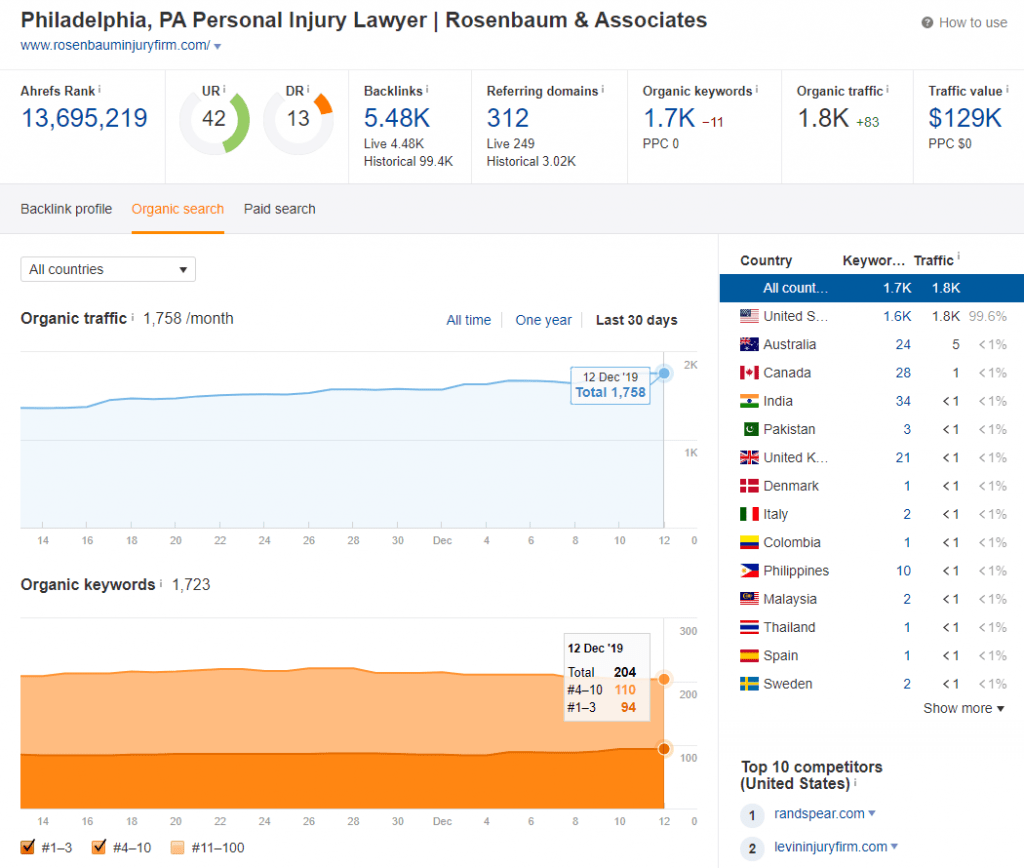 The Beasley Firm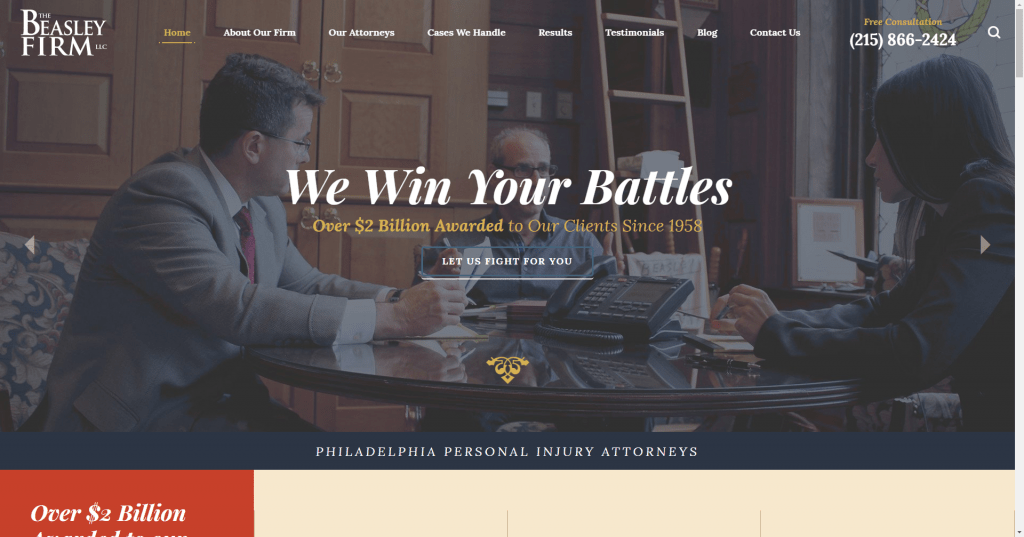 The Beasley Firm
1125 Walnut Street
Philadelphia, PA 19107
website: https://www.beasleyfirm.com/
phone: (215) 866-2424
Another player in the Philadelphia personal injury law firm SEO space is The Beasley Firm. In business since 1958, this business is a family tradition. If you read about the family legacy, it's impressive, it's heartwarming and it gives you a good feel about working with this firm.
If you look at their results page you feel even better about the work they've done. They handle auto accidents, aviation accidents, birth injuries, medical malpractice, personal injury, premises liability cases, product liability cases and complex litigation.
A firm like this not only has the funds to try complex cases but they have a team of 10 attorneys to help them handle the new cases they're driving through the doors on a monthly basis. If they're converting at mid-tier rates, they are getting at least a couple of new leads per day. Top tier would put them at nearly four leads per day.
That's not bad at all but considering what we've seen from other firms in the Philly area, we know there's more traffic to be had. This means they need to double down on high quality link building.
Even though they've nearly tripled the number of referring domains since 2016, their traffic has risen only very slightly over the same time period. Definitely not 400 links worth. If we build you 400 links they are going to make you so dominate in your field that your competition will be shaking in their cheap suits.
Wow, just wow. Upon further analysis, the links look to be from blog comments and trackbacks. I can only hope the SEO firm handling this didn't build those. I mean build them to your test sites or your personal sites if you want but to your client sites? Come on… This is not the type of link building campaign a high end personal injury law firm should be implementing or taking part in.
This is another disturbing example of bad law firm SEO in Philadelphia. I'm at a loss for words.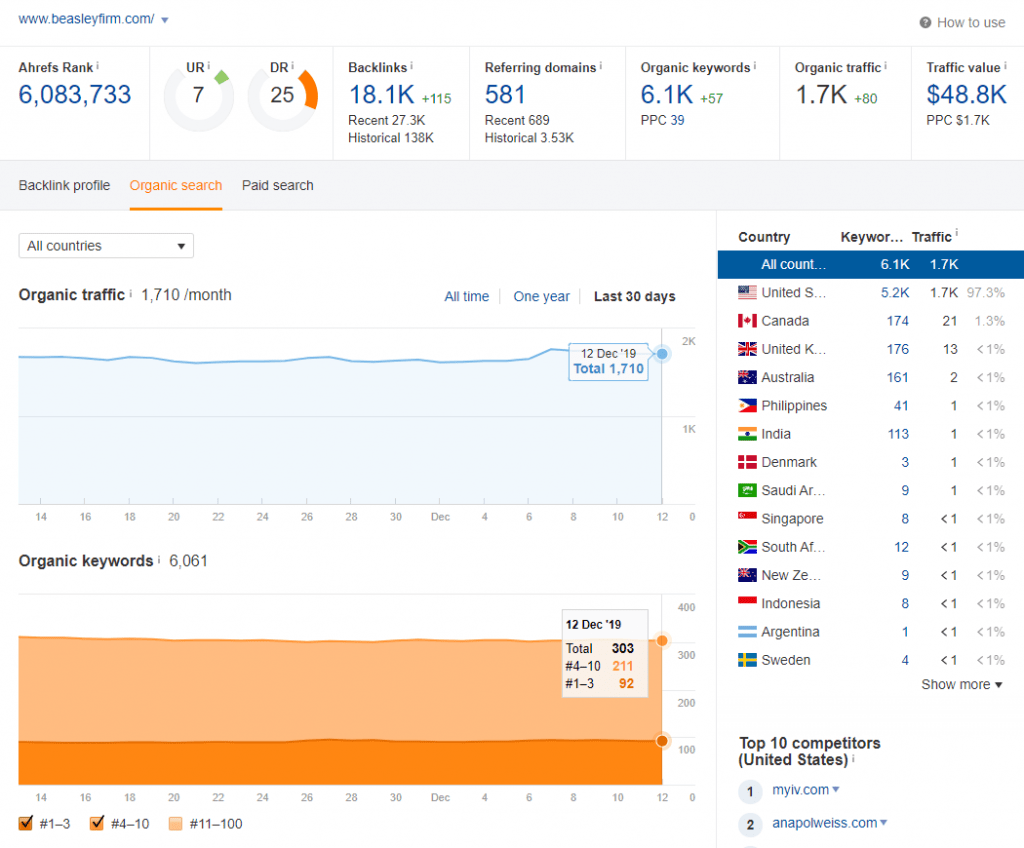 The Pearce Law Firm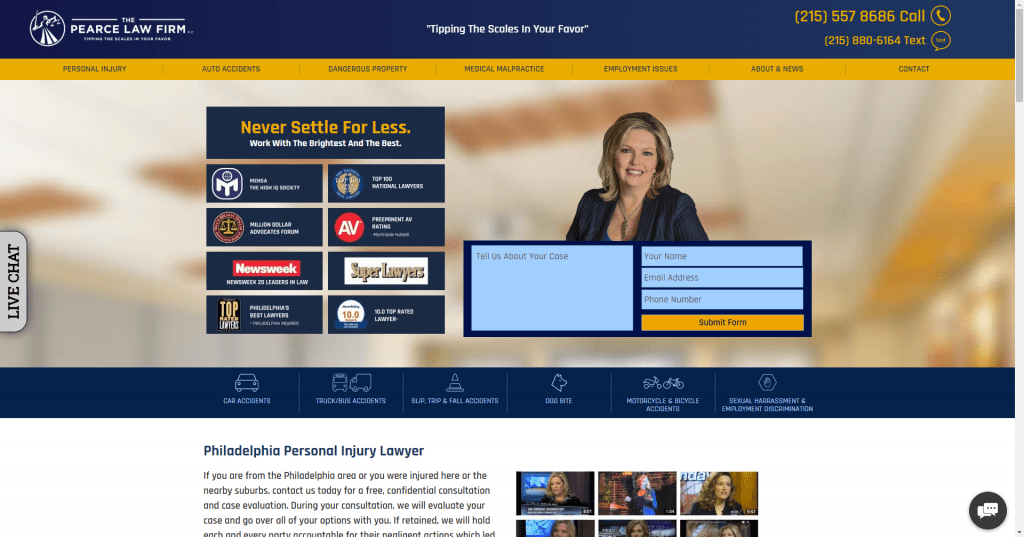 The Pearce Law Firm, P.C.
1429 Walnut St 14th Floor
Philadelphia, PA 19102
website: https://thepearcelawfirm.com/
phone: (215) 883-8940
It looks like The Pearce Law Firm has taken a recent dip over the last 30 days, a reduction in 1000 visits per month. Ouch, that has to hurt the case numbers they are bringing in through the website.
Some firms are so strong in referrals and getting cases from other firms that they don't need to worry about their website but when you drop a lead per day due to your decline in organic search traffic, it's important to take note.
It looks to me they have some issues with thin content throughout along with some technical SEO issues around irrelevant internal linking. These things can cause a website to tank in the SERPS.
Almost nearly as unbelievable is the incoming links to this campaign as well. It's the same story as the last example, links that are not up to par, just a hand full of anything that's actually decent and by decent I mean real websites created by website owners that write for a purpose other than just to promote your website.
This just means that the site needs some great content to attract visitors and some high quality link building to win the SERPS. It needs some TLC as do all of the SEO strategies and campaigns we've analyzed in the Philadelphia area.
SEO For Personal Injury Lawyers In Philadelphia Pennsylvania
We offer full and exclusive SEO campaign management services for select personal injury attorneys and currently have an opening in Philadelphia Pennsylvania. We price our services on a monthly basis. If you're interested in learning more about the local Philadelphia market please call us today at 800-405-0060.