SEO for Personal Injury Lawyers In Los Angeles
Los Angeles is a sprawling area in Southern California and home to some amazing weather. Not to mention, one of the largest metro areas in the entire country.
As a personal injury law firm in California, Los Angeles is going to be a market you will want to target, as so many that are looking to grow have.
Our goal here is to show you what's possible from an organic search engine optimization perspective. Showing you the amount of website traffic your firm could generate will be vital to you making the right decision for your business.
As you decide whether or not SEO is for you or whether or not you want to target L.A., know that there is definitely room for competition.
We're going to share some data with you so that you can make an informed decision. You will see just how important SEO for personal injury lawyers in Los Angeles really is.
Let's move on because we want to tell you about the data.
Personal Injury SEO Meets Big Data
You might be surprised to learn that Los Angeles could use a few more law firms competing for the top spots in the SERPS.
The city is competitive by nature and the law firms there are competitive but the truth of the matter is that the SEO companies serving these firms aren't. Well, at least they've created gaps and if your firm is looking to pounce on the competition, the time is now.
It will take an experienced SEO professional to take you to the top but it can be done and you can do it at the expense of the weak SEO strategy employed by most law firms in Los Angeles.
I want to show you just how much of an impact an organic search engine optimization campaign can have on the number of quality case leads your firm is bringing in on a monthly basis.
You might be surprised. And if you were curious before, we're going to show you exactly what the competition is up to so that you can make an informed decision
Wondering just how many cases your competitors are getting from SEO?
We're going to break down the results from big data on five of the top Los Angeles personal injury law firm SEO campaigns.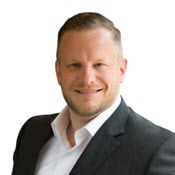 Chris Walker, Founder
Law Firm SEO Expert
In L.A. we know one thing; there are plenty of personal injury cases created on a daily basis. The larger the population the more leads a city and the surrounding metro create.
Not only are people in Los Angeles searching for your services but so are those outside of the metro area, because they are looking for the best of the best.
If you want to get your share of the leads or an overwhelming share of the leads we can help you do that.
Creating the right SEO strategy up front will be important. Then following that up with creative content and link building will give you the win.
We hope you enjoy the research we've put together for you here and that you find it valuable in growing your Los Angeles personal injury firm.
Let's get into the data.
SEO for Personal Injury Lawyers in Los AngelesThe Reeves Law GroupPanish Shea & Boyle LLPHarris Personal Injury Lawyers, IncBisnar ChaseJ & Y Law Firm
The Reeves Law Group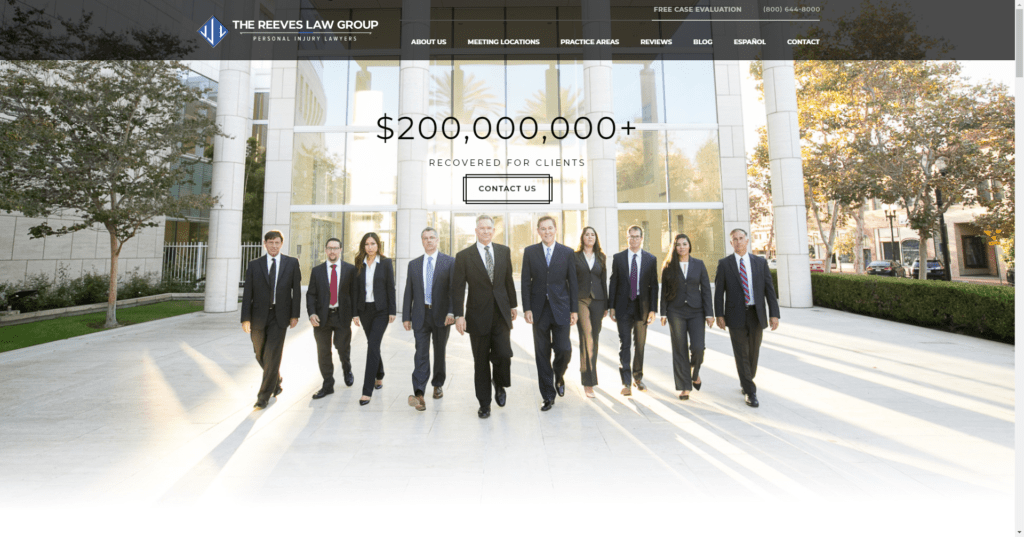 The Reeves Law Group
1055 W 7th St. #3333
Los Angeles, CA 90017
website: https://www.robertreeveslaw.com/
phone: (213) 271-9318
The Reeves Law Group looks to consist of two lawyers and they handle all kinds of personal injury cases from traffic accidents, premise accidents, serious injuries, product liability along with helping victims of abuse and crimes. Personally I would like to see more about their team as a trust builder but that's just me.
On the SEO side of things they have an interesting site structure that seems to work somewhat well. Different than I would have handled it but it's not my campaign.
They have a general focus on California with pages targeting each area around personal injury. Those pages look to have plenty of local citations built to them. They are definitely making use of their menu, that's for sure.
Personally I would have reversed the personal injury attorney menu structure to take advantage of the weight of each folder. But most aren't even going to understand what this means. This is the kind of stuff you get when you hire a firm that specializes in everything and not just one thing, that one thing being SEO.
It's like thinking your local high school football team is going to compete with the Los Angeles Rams. It's like hiring your family physician to perform brain surgery. You just don't
SEO is a field that takes a highly motivated and highly disciplined autodidact in order to outperform the competition. If you want to compete against the best in the world you're going to need the best.
We've beat out the largest firms in the country, recovering millions in lost traffic from mediocre SEO strategy. Just like you recover money for your clients, we recover money for ours.
Although the SEO traffic numbers look large from a numbers standpoint, don't let that fool you. From a traffic value standpoint it's not nearly as high as it should be. This can mean that they are struggling to target high value keywords within those locations because of the current setup. Basically, this could be a case of spreading themselves too thin for the current website size and making the most use of what they do have.
Targeting the entire state of California is no easy task. It's a huge job for any SEO firm. The key is organizing your site structure perfectly from the start.
Not that this is a horrible strategy it just takes a lot of links to back it up and a creative internal linking structure which they don't look to have. Either way they are driving some traffic even though it's not the highest quality traffic and I'm sure they're creating cases out of it.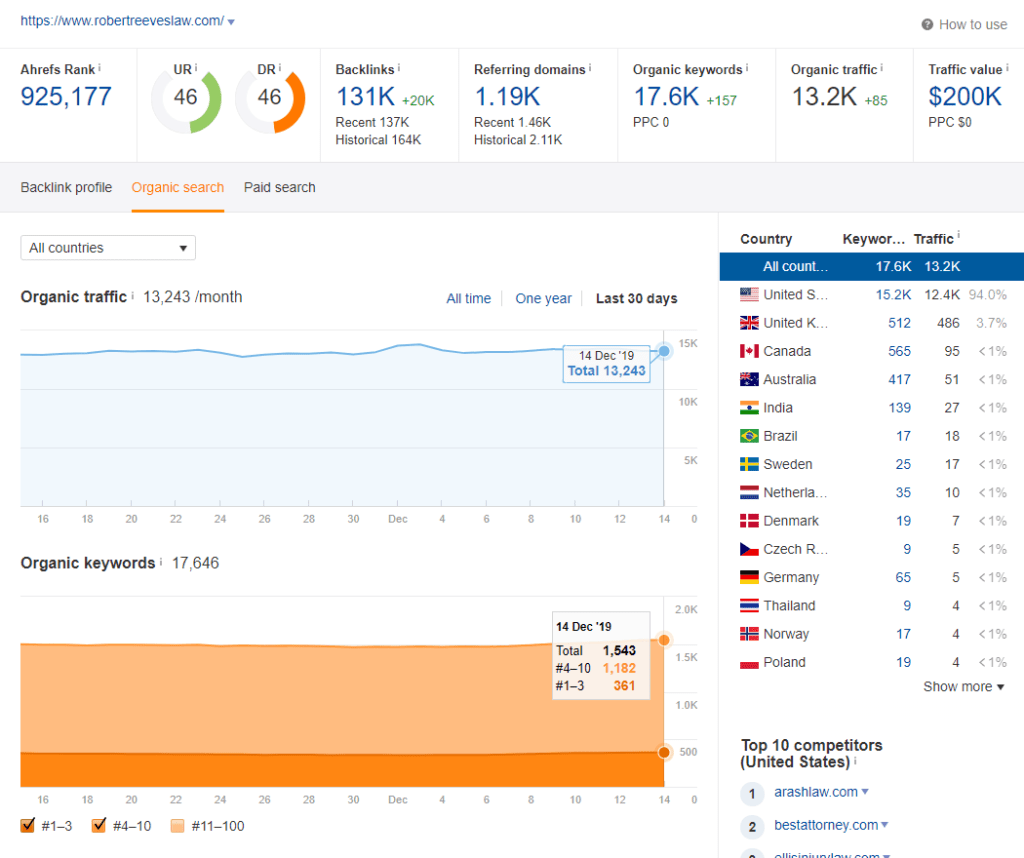 Panish Shea & Boyle LLP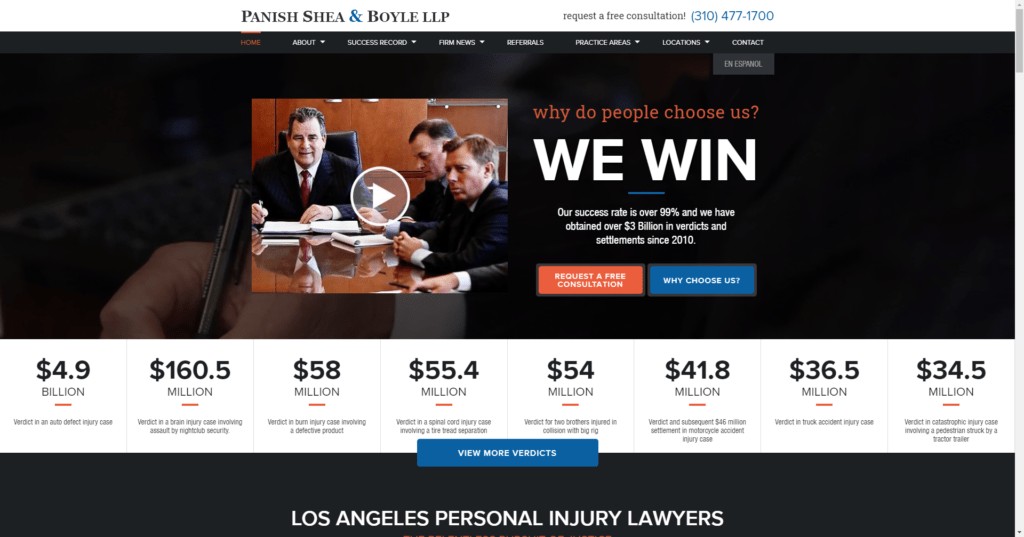 Panish Shea & Boyle LLP
11111 Santa Monica Blvd #700
Los Angeles, CA 90025
website: https://www.psblaw.com/
phone: (310) 477-1700
When you hit the front page of the Panish Shea & Boyle website you know that these attorneys mean business. I'm guessing their conversion rates are top tier from the looks of how well they communicate their firm's value and values.
Even though they are seeing nearly 10,000 visitors per month from organic search traffic they say that 95% of their cases come from other lawyers. If that doesn't speak trust I'm not sure what does.
And if they are converting at a top tier rate then they are filtering through nearly 20 leads per day just from organic search. That means they get the cream of the crop cases and probably pass around the rest to trusted associates. If you're a personal injury lawyer that does good work it would definitely pay to know these guys.
On top of winning the largest personal injury verdict every in the United States these lawyers have plenty of landmark cases under their belts. This is exactly what happens when you're driving a huge number of leads through both other attorneys and your website presence. You get to pick the most important cases from the start.
All I can really say here is the Brian Panish is a stud. Read anything about the guy and you will agree.
So, let's get back to the SEO part of this research. Their link profile is surprisingly weak. They're doing well in the SERPs but they could be doing MUCH better if they hired an experienced SEO strategist that would actually build high quality links to their website.
On top of this there are plenty of mistakes from a technical SEO standpoint. Clean those up and your rankings will increase overnight.
Back to the huge gap, link building. This is by far the most overlooked part of SEO for so many law firms. A lot of law firm marketing companies want to come in and sell a website but they just can't perform on the SEO side of the house. I understand but it's a shame that a high profile firm like Panish Shea & Boyle don't have even more of a choice in the cases that they take on.
A far majority of their links look to have come from their solid work as a top notch law firm. While that's absolutely fantastic, a solid link building campaign would take them to the next level in organic traffic and leads. Those high profile cases that other firms are getting a shot at would be taken by this firm.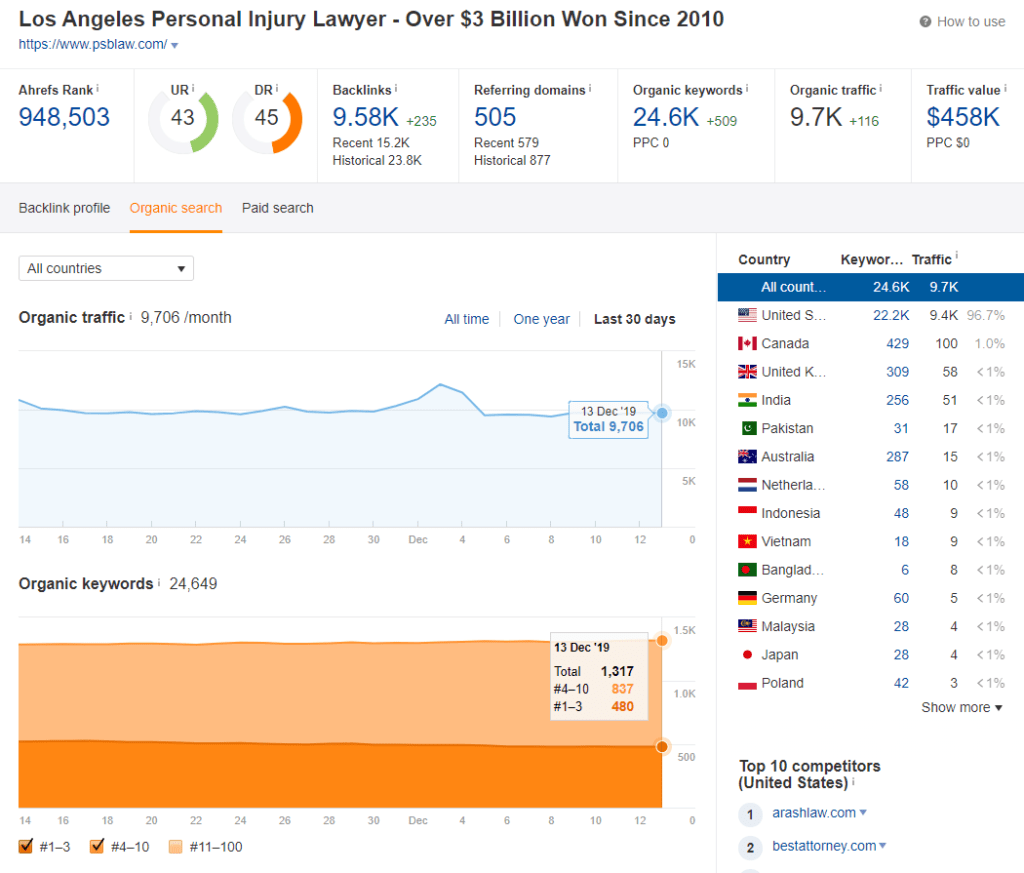 Harris Personal Injury Lawyers, Inc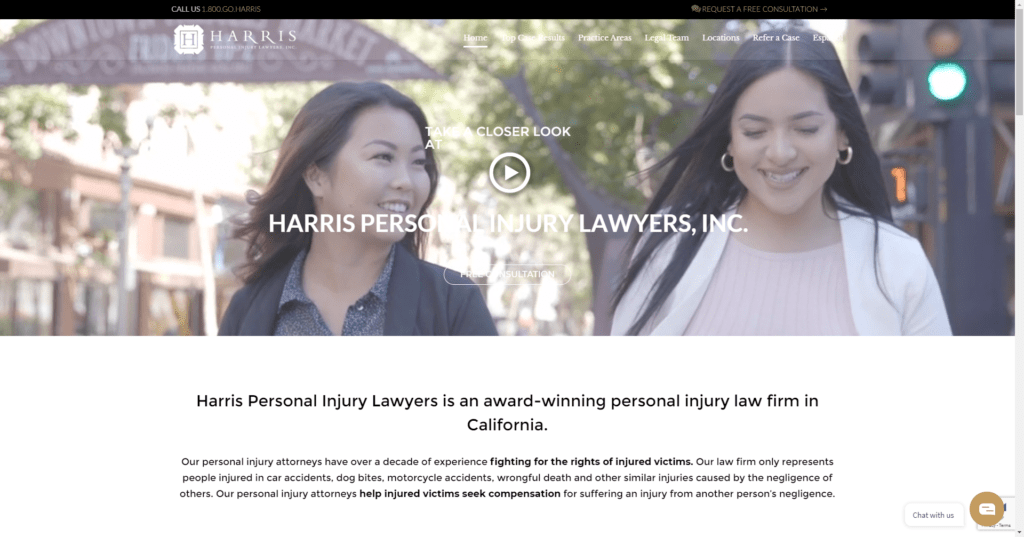 Harris Personal Injury Lawyers, Inc
355 S. Grand Ave., Suite 2450
Los Angeles, CA 90071
website: https://harrispersonalinjury.com/
phone: (213) 228-3558
Just check out their top case results pages and you will see that Harris Personal Injury Lawyers takes their business seriously. With over $300 million won for their clients they look to primarily focus on auto accidents, dog bites and wrongful death cases.
With a team of 31 attorneys they have the power to handle tough cases no doubt. Keep in mind, this looks to be spread out over a total of thirteen different offices across California.
While they do seem to have the content to back up a decent presence, they could have uses a bit of a better technical SEO strategy in the beginning to make the most of their URL structure. These missteps have essentially caused issues that will never be seen by the client. If tended to up front would have acted to bolster the current structure and increase the rankings throughout.
While the overall campaign has performed decently considering the number of referring domains, there's plenty of work to be done there. Link building or the lack thereof causes more law firms than I can count to miss on huge numbers of case leads. They definitely need a solid link building campaign.
One thing that did stand out to me is that this is one of the slowest loading attorney websites I've ever been on. This is a complete disaster when it comes to conversion rates.
Currently driving just over 5600 visits per month to their website we could assume they are converting at a mid-tier rate. If this is the case then they are driving more than seven new case leads per day. This is of course assuming that they didn't have any website speed issues.
We think with the current issues, it's more than likely that they are converting at a bottom-tier rate. This cuts their case leads down to over three per day, a drastic difference.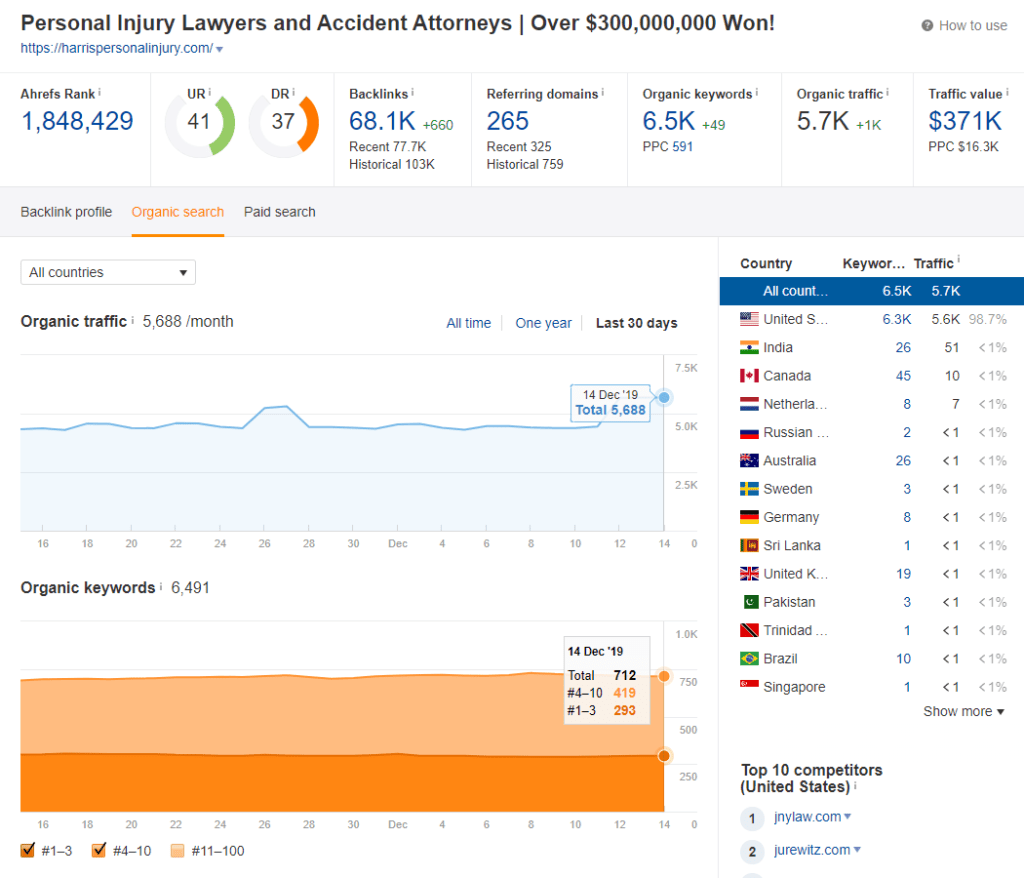 Bisnar Chase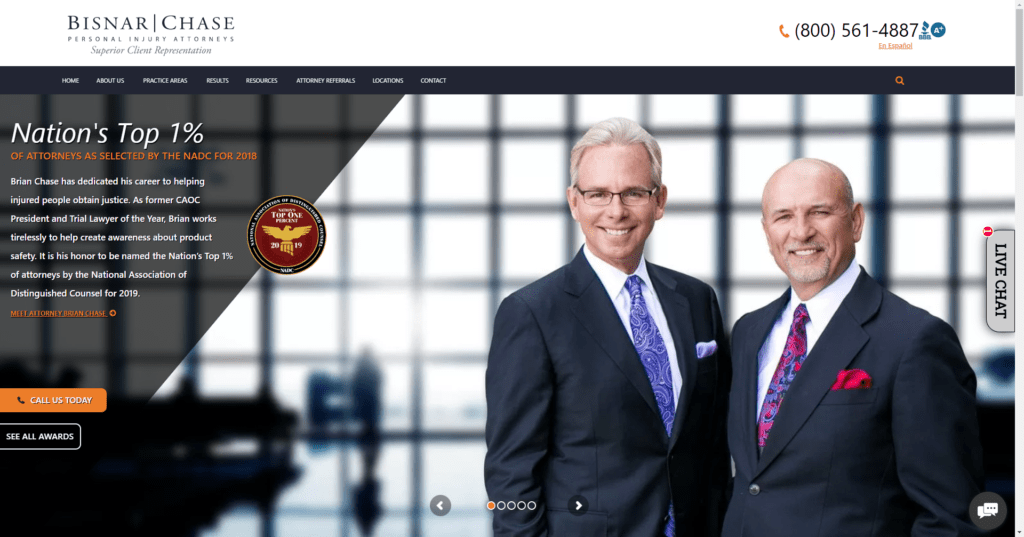 Bisnar Chase
6701 Center Dr W 14th Fl
Los Angeles, CA 90045
website: https://www.bestattorney.com/
phone: (323) 238-4683
The Bisnar Chase firm is another Los Angeles attorney with a solid presence throughout the Golden State. They have offices in Newport Beach, Riverside and San Bernardino as well as L.A.
They have a team of ten lawyers covering personal injury cases like car, truck and bicycle accidents, dog bites, premises liability, wrongful death, auto defects, class action, employment law, defective products and brain injuries. If you take a look at their case results page you'll see where this focus shines.
As far as their website structure stands it's a bit all over the place. Again, not a structure that I would choose as it leaves them creating nearly identical pages to boost up each and every different location.
This could have been managed more effectively from the start, saving a huge amount of resources and making the site more authoritative in the process. In these types of situations what's done is done, you just have to focus on an even larger link building campaign to match the breadth of content they've created. Basically, their SEO strategy has created a need for additional work where it wasn't necessary.
I see this with almost every law firm SEO project we analyze. Very few are done well, even fewer are done flawlessly. This is an issue throughout the SEO community as it's something that isn't taught in school rather something the company has to pass down to its employees. When you have a firm that focuses on SEO and everything else under the sun including design, advertising, branding and more it makes it hard to get a great SEO campaign.
This is one of the reasons they have more than a thousand referring domains and less traffic (and less quality traffic) than their competitors with less than 300 referring domains. If someone tells you that your SEO strategy isn't important to your success then run away, quickly.
I see this issue over and over again. It really does take a true expert to be able to create and implement an SEO strategy that can win in a city the size of Los Angeles.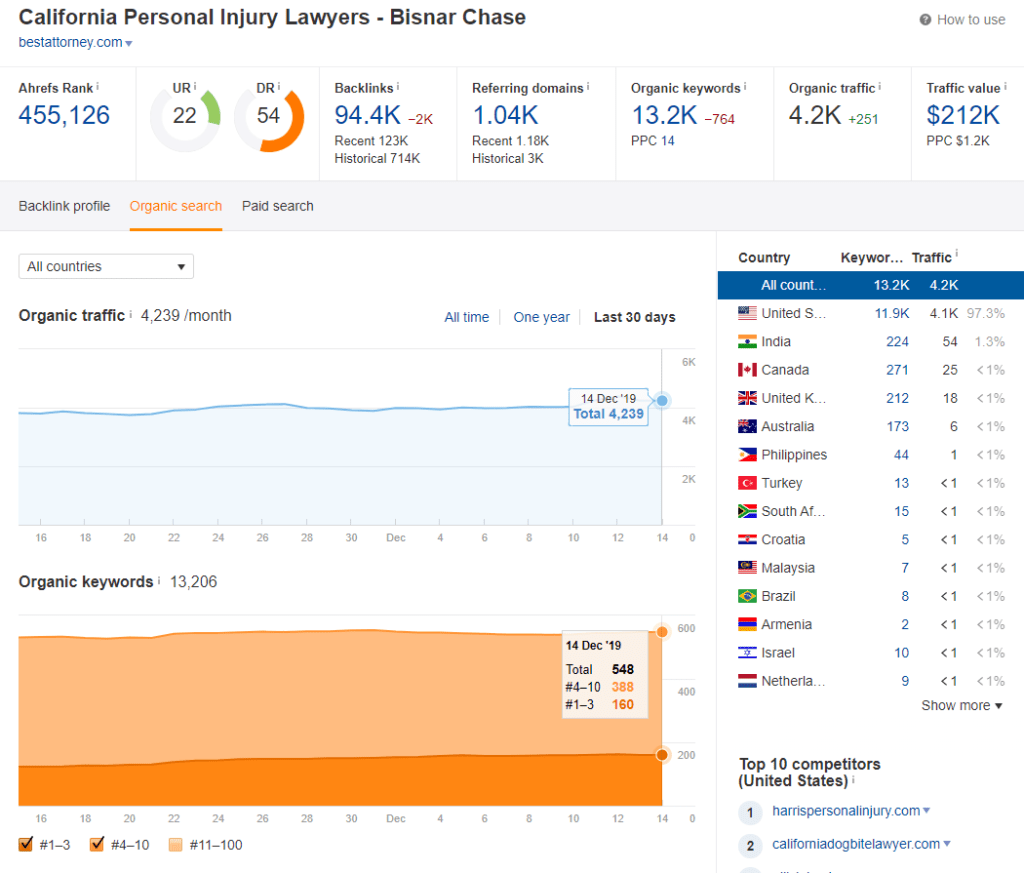 J & Y Law Firm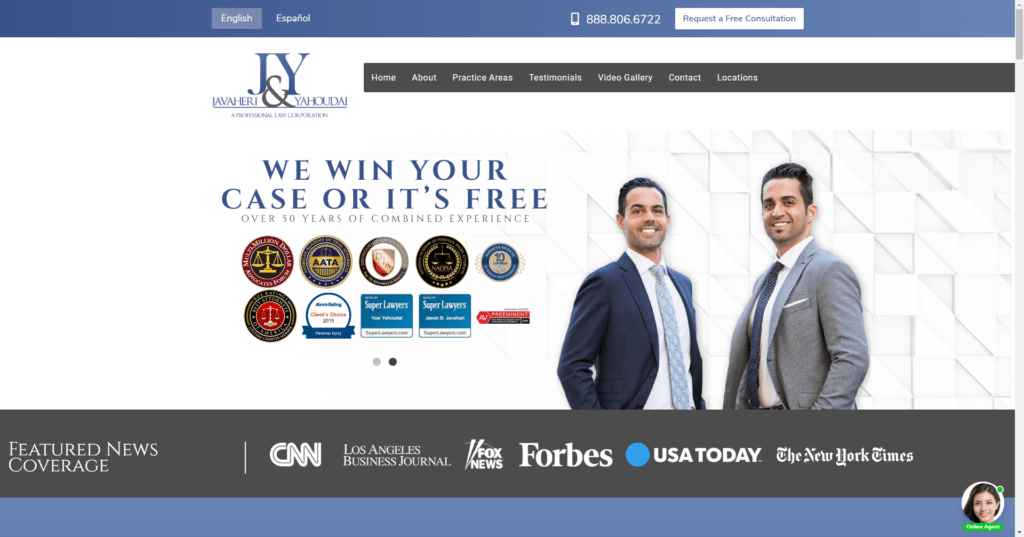 J & Y Law Firm
1875 Century Park E Suite 920
Los Angeles, CA 90067
website: https://jnylaw.com/
phone: (310) 774-0778
Even though J & Y may be driving lower traffic number than their competitors they are doing a good job of driving high value traffic. Ultimately, the higher value the traffic, the more likely the traffic is to become a case lead. And in personal injury law, high quality case leads are everything.
With three attorneys and seven staff J & Y have the team to handle decent size cases that they may land. Their specialties include car accidents, construction accidents, motorcycle accidents, truck accidents, slip and fall, wrongful death, pedestrian accidents, Juul lawsuits and everything that may fall underneath these specialties.
When it comes to the intricacies of the website itself and the SEO strategy, I don't agree with everything they have done. They could make more efficient use of the content they have with some well done SEO strategy.'
This is what you get when you hire a creative firm to manage your SEO campaign and unfortunately, this is par for the course. My professional opinion is that if you can't hire a serious SEO expert then you don't need to provide SEO to your clients. That expert should be touted all over your site and should be a huge part of your company because of the importance SEO plays for personal injury law firms.
It's a shame that all of the firms in Los Angeles we've studied here have issues with their SEO campaigns. It's a sign of the lack of knowledge in the industry overall and it's something we're excited to help fix for the high quality firms that we decide to work with.
As far as traffic goes they are seeing about 1800 visitors per month. If you put them at a mid-tier conversion rate they would be generating nearly two and a half leads per day. If they are in the low-tier then they are looking at just over a lead per day.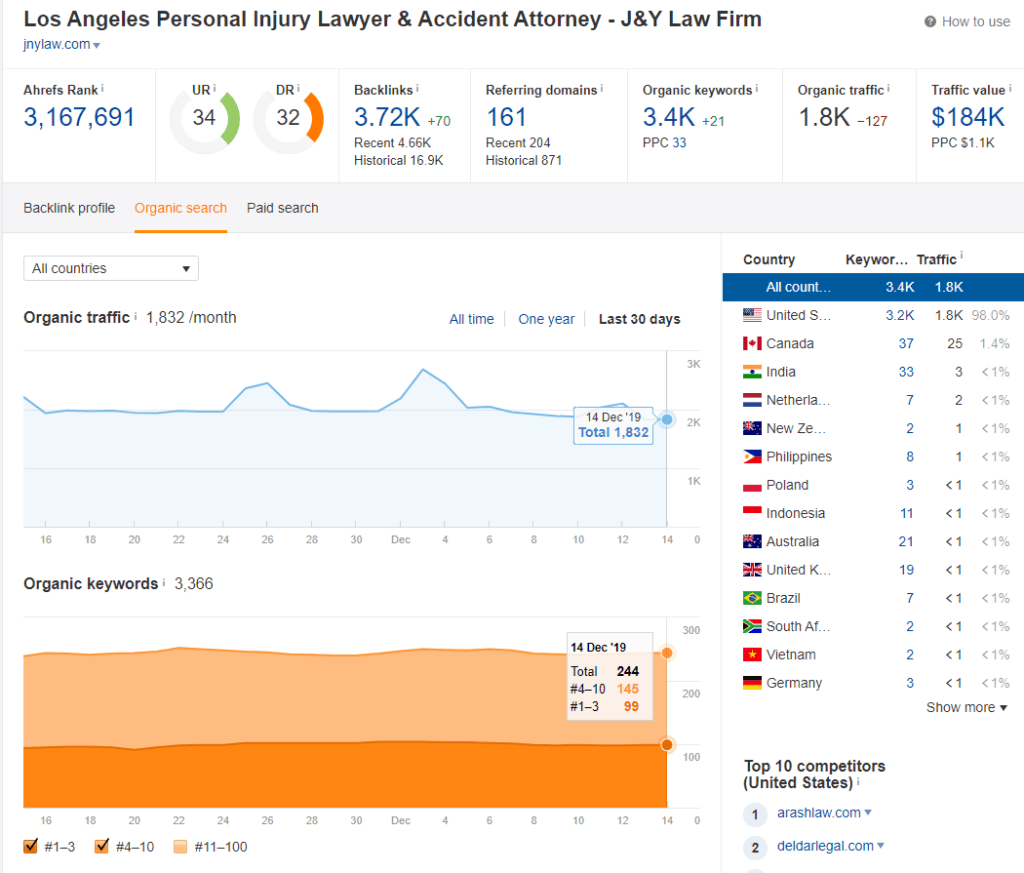 SEO For Personal Injury Lawyers In Los Angeles California
We offer full and exclusive SEO campaign management services for select personal injury attorneys and currently have an opening in Los Angeles California. We price our services on a monthly basis. If you're interested in learning more about the local Los Angeles market please call us today at 800-405-0060.