SEO For Personal Injury Lawyers In Houston
If anyone knows growth, it's Houston Texas. And growth is the goal of most any law firm in H-Town, or Clutch City for all you basketball fans.
For the law firms in Houston that are spending 8-10% of gross revenue on marketing, welcome to your one-up if you're looking to beat out the competition.
We know just how much of an impact SEO can have on your law firm.
You need to know as well and that's why we're sharing our research.
We're going to break out the big data to show you just how profitable SEO for personal injury lawyers in Houston can be.
Enjoy the sharing session…
Personal Injury SEO Meets Big Data
Houston is a great size market and there's plenty of competition but even so, we found out there's still plenty of room for competition.
Even though there's lots of competition there seems to be enough consumer search volume around personal injury lawyers to support a surprising number of firms.
If you're considering an SEO campaign for your personal injury law firm in Houston then it's best to understand how profitable it can be in terms of just how many cases you can bring in the door with organic search.
To give you an idea of how valuable an SEO campaign can be for your firm's bottom line we picked out five different personal injury lawyers in Houston to analyze.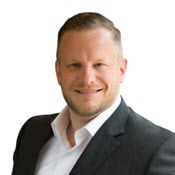 Chris Walker, Founder
Law Firm SEO Expert
We're going to bring in the big data here and show you just how much traffic you can expect to your website along with the number of cases you can drive through the doors every single month.
Even though Houston is competitive, there's plenty of room for another firm to come in and take their share of the new cases that are created every single day by Houston's bustling population.
Without further ado, here are the findings.
SEO for Personal Injury Lawyers in HoustonJim Adler & AssociatesArnold & Itkin LLPBaumgartner Law FirmZehl & Associates, PCAbraham, Watkins, Nichols, Sorrels, Agosto & Aziz
Jim Adler & Associates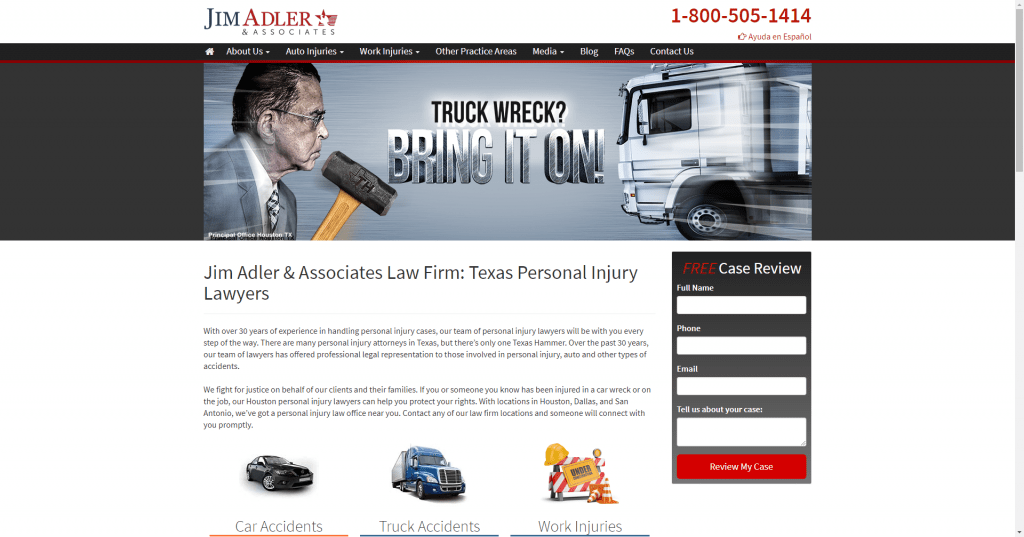 Jim Adler & Associates
3D/International Tower1900 West Loop South, 20th FloorHouston, Texas 77027-3214
website: https://www.jimadler.com/
phone: (800) 505-1414
If you live in the greater Houston area then you've no doubt heard of Jim Adler, The Texas Hammer. Not only does Mr. Adler hammer away at the market through creative commercials but he's developed a formidable website presence.
With just over 9500 visits a month to his personal injury website, Jim Adler & Associates are bringing in the leads. If the website is converting at a mid-tier rate then they're bringing in approximately thirteen (13) injury case leads in per day, just with organic traffic. If they are converting at a bottom tier rate you can cut that lean number in half, down to 6 leads per day.
That doesn't include the name he's built for himself, more than 5000 searches per month for just his name. Now that's branding. And he's got the staff to back it up…
With twenty seven attorneys listed on their website they've got the lawyers and I'm assuming the staff to handle the influx of cases they see on a daily basis.
One thing to keep in mind is that besides their office near the Galleria, they also have offices in Dallas, San Antonio and Channelview. The website looks to act in a supporting role for all of the locations combined.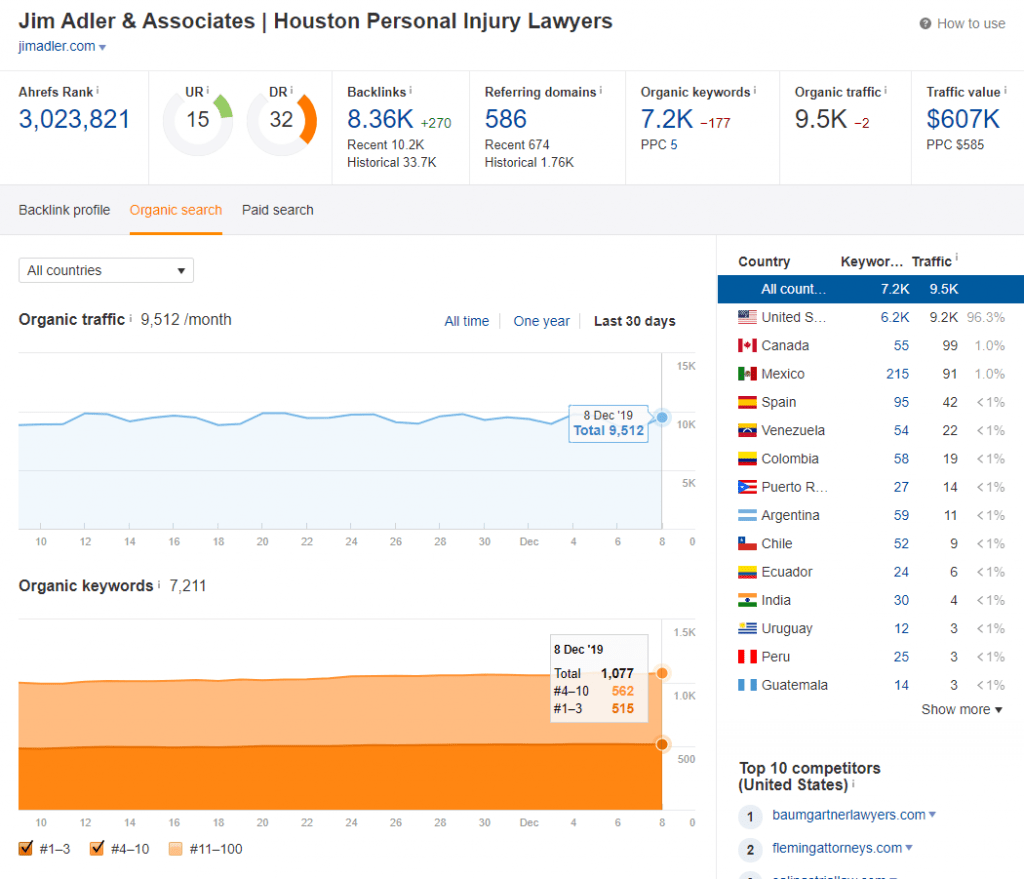 Arnold & Itkin LLP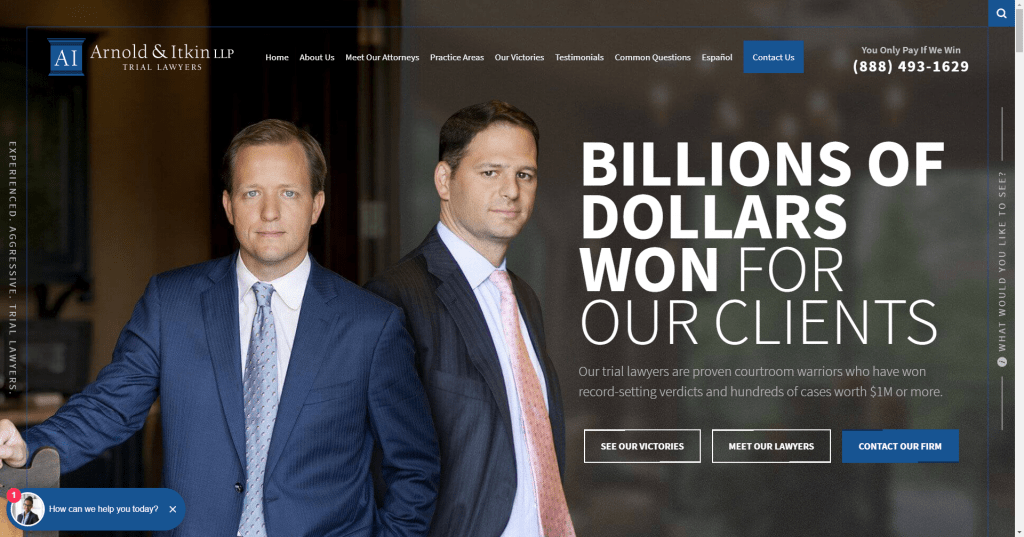 Arnold & Itkin LLP
6009 Memorial Dr,
Houston, TX 77007
website: https://www.arnolditkin.com/
phone: (713) 497-1446
Arnold & Itkin LLP are not messing around. Last year they recovered over one billion dollars for their clients.
With a list of seventeen attorneys on their website they have the staff to handle the leads they're bringing in on a consistent basis. If their website is converting at a mid-tier rate then you can assume they are getting leads for about twelve new cases per day, just from their SEO campaign.
A recurring theme on their website is testimonials and content surrounding maritime law which in not very common throughout the country. They've also handled large cases in drug injuries, plant and refinery accidents, defective products and much more.
While their fees look to be around 40%, they have tons of testimonials and case results to bolster their website. If they are converting in the top tier, which their strong branding and communication suggest they could be, they could be landing somewhere in the range of 18 new case leads per day.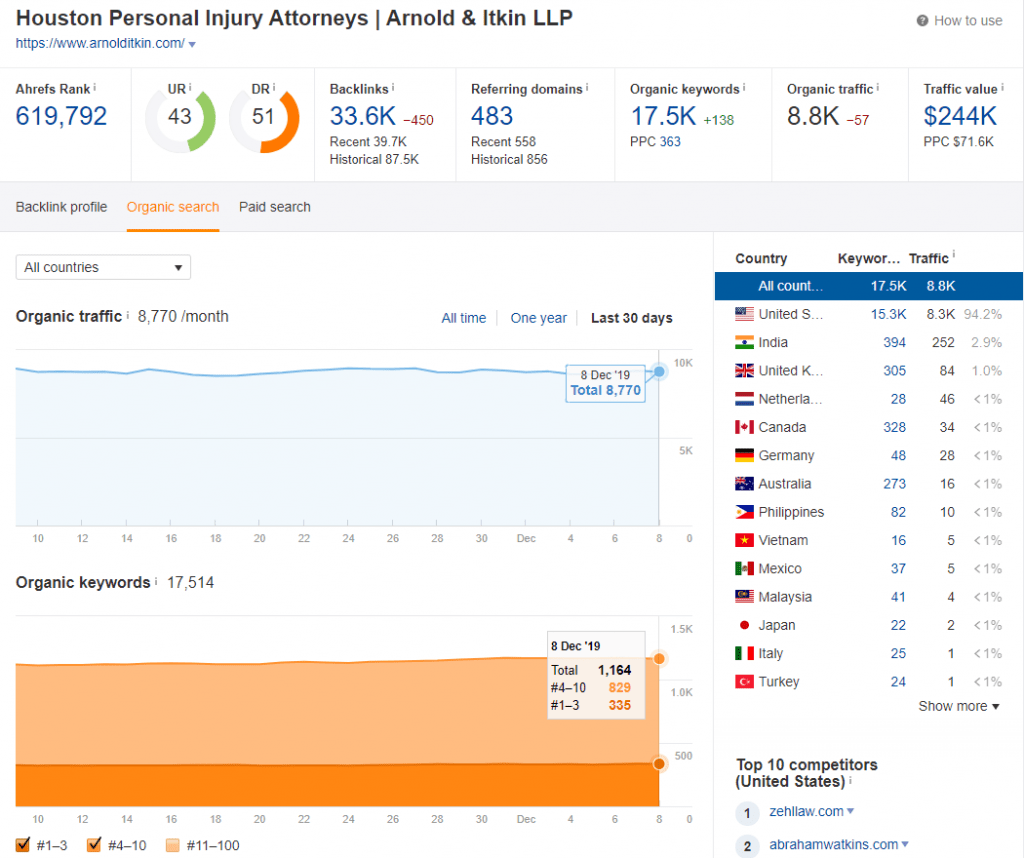 Baumgartner Law Firm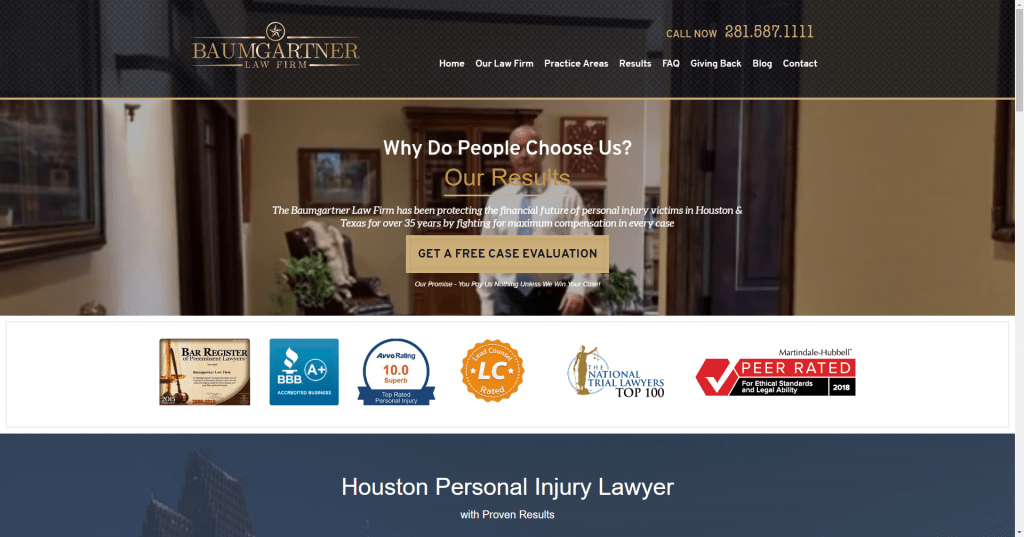 Baumgartner Law Firm
6711 Cypress Creek Pkwy
Houston, Texas 77069
website: https://baumgartnerlawyers.com/
phone: (281) 587-1111
The Baumgartner Law Firm is another player in the Houston personal injury space. With more than 7000 visits to their website via organic search engine traffic per month, that translates to case leads. Assuming a mid-tier conversion rate, that's about ten new organic leads per day just from their SEO traffic.
If what I'm seeing is correct, there's only one attorney at this firm and that's Mr. Greg Baumgartner himself. If he's converting at the bottom tier rate he could very well be bringing in several case leads per day but he may very well be converting at a lower rate.
If you're a small practice, this may be a good firm to team up with and help with the number of leads he has coming into his practice. There's so much potential here to really crank up the leads with what he's already got, assuming the SEO campaign was well laid out in the first place and is driving high converting leads.
He's won plenty of cases and he likes to give back to his community. The one thing that bothers me about is traffic is that it seems to be declining although the traffic over the last year has been fairly steady. It would be something of slight concern considering the level of decline in the short amount of time.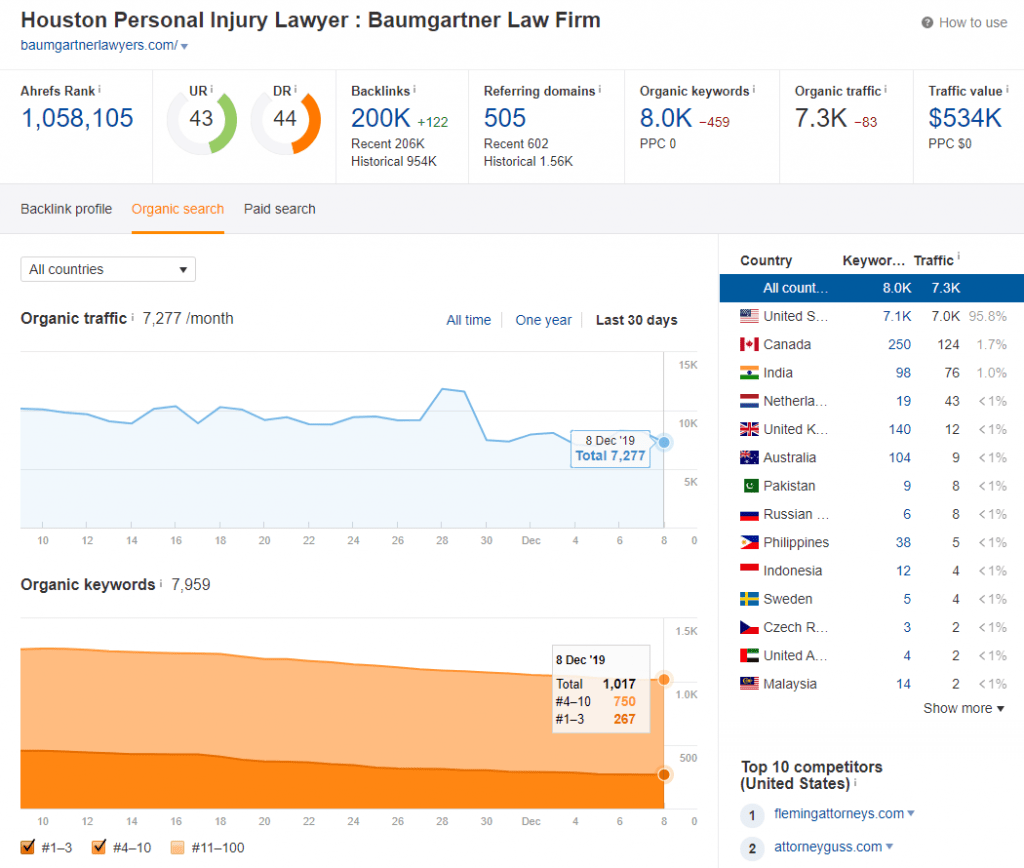 Zehl & Associates, PC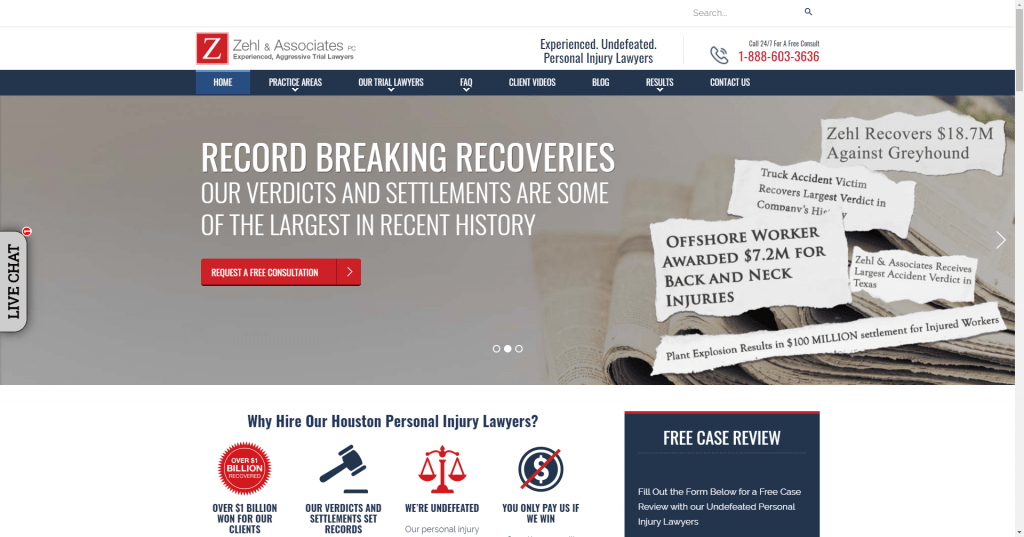 Zehl & Associates, PC 2700 Post Oak Blvd., Suite 1000Houston, TX 77056
website: https://www.zehllaw.com/
phone: (713) 491-6064
Zehl & Associates have won more than a billion dollars for their clients. Not to mention, they have a claim of being undefeated which can no doubt help seal the deal when it comes to securing more valuable cases.
If their website is converting high quality organic traffic at a mid-tier rate they they're driving leads every single day, to the tune of seven or more per day. Their branding is strong so if the traffic is strong they could be converting at an even higher rate which would mean even more cases for the Zehl & Associates team.
They bolster the Zehl & Associates brand with record-setting victories against some of the largest trucking, oil and gas, maritime and petrochemical companies in the world. With only six attorneys on staff those are impressive wins and some impressive numbers.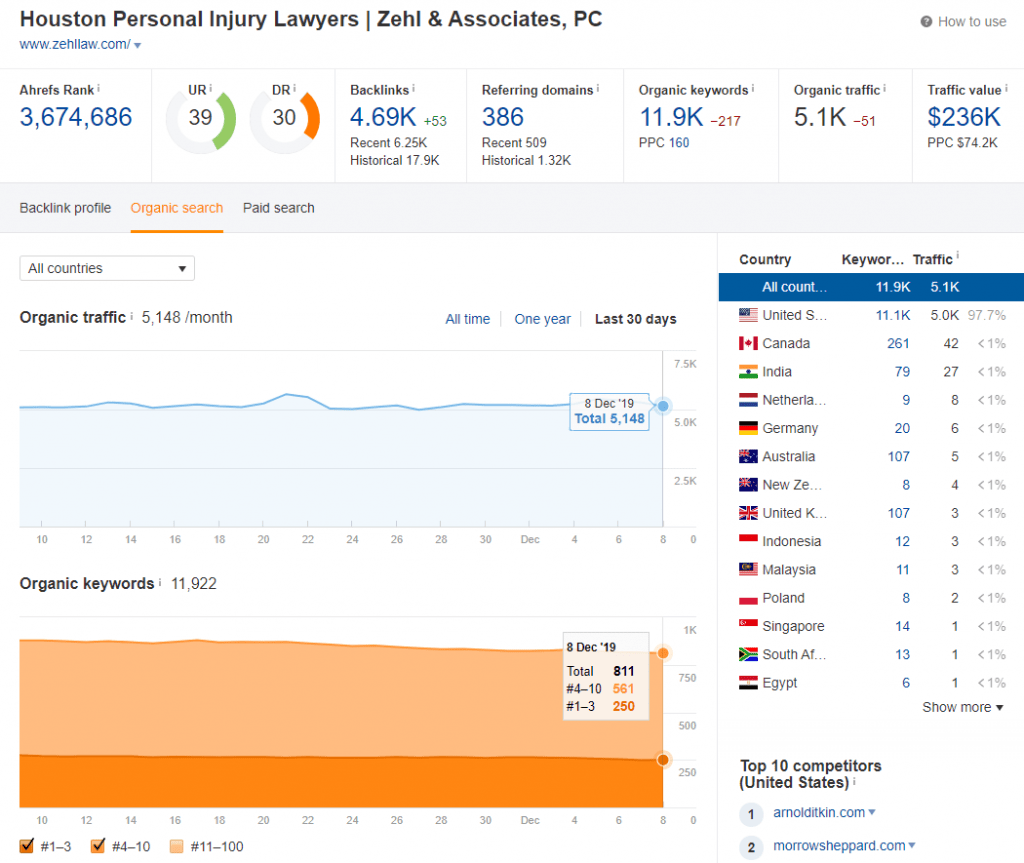 Abraham, Watkins, Nichols, Sorrels, Agosto & Aziz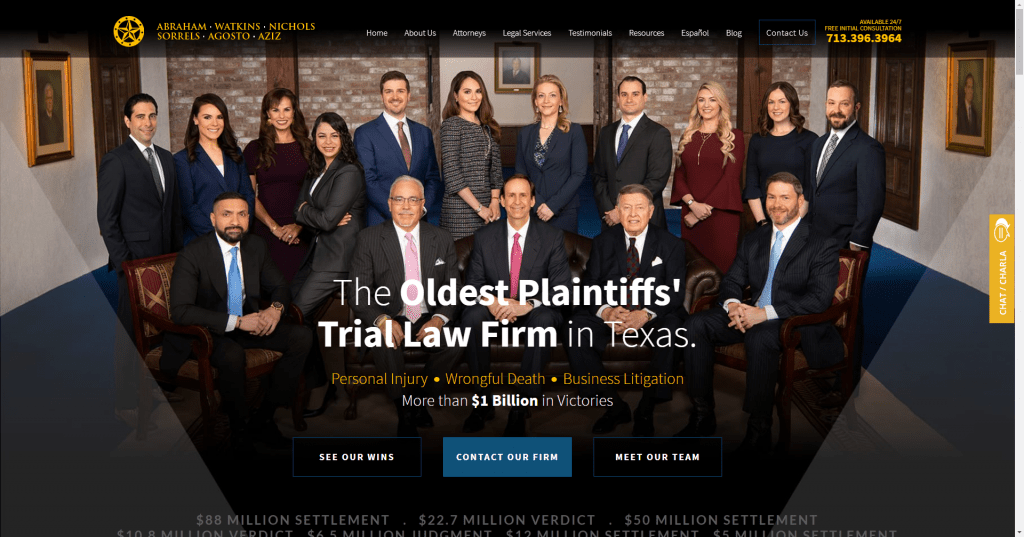 Abraham, Watkins, Nichols, Sorrels, Agosto & Aziz
800 Commerce St,
Houston, TX 77002
website: https://www.abrahamwatkins.com/
phone: (713) 222-7211
This is the oldest Plaintiffs' trial law firm in Texas. While the name Abraham, Watkins, Nichols, Sorrels, Agosto & Aziz is definitely a mouthful, they seem to refer to the firm as Abraham Watkins in their testimonial videos and attorney videos so for me that causes a bit of confusion at first. It might for potential leads as well.
Assuming they are converting in the lower tier rate, they could be bringing in a few leads per day. With sixteen attorneys on staff they will need every one of these leads in order to keep this ship afloat. We all know that huge cases don't come through every day, although some firms seem to have won more than others.
They focus on vehicle accidents, medical malpractice, workplace injuries and business litigation. They have some impressive verdicts and wins for their clients although these don't seem to be portrayed as well as other firms do on their websites.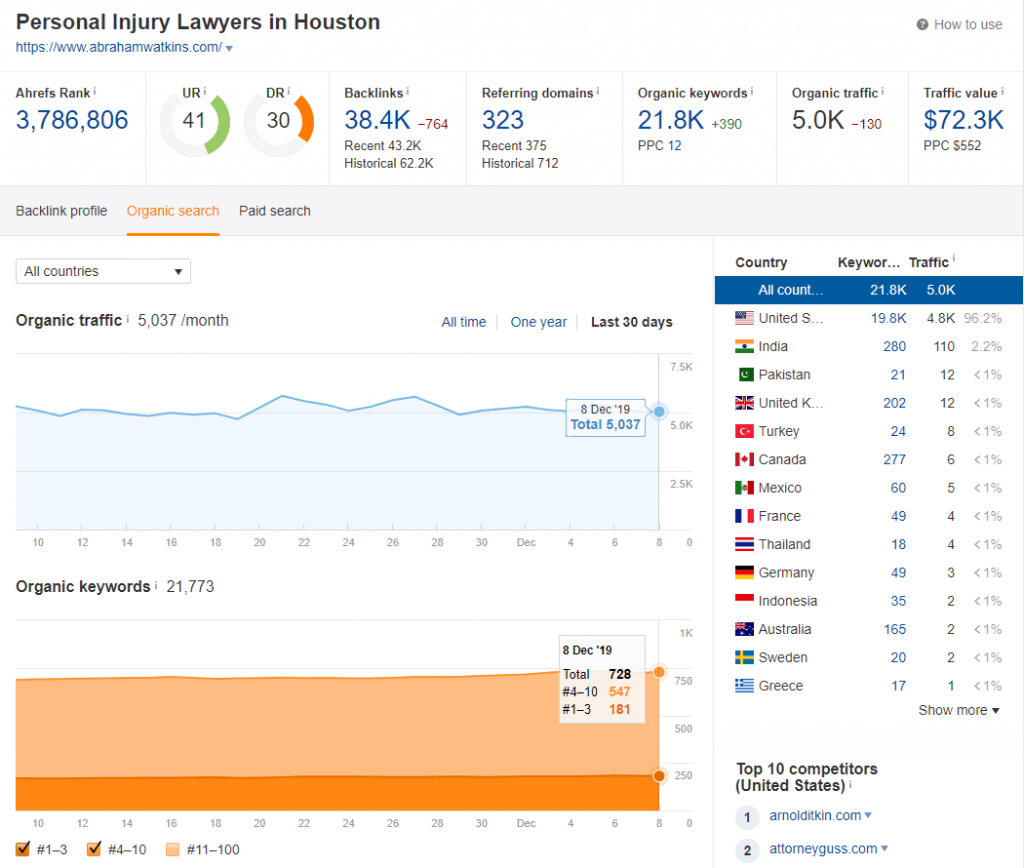 SEO For Personal Injury Lawyers In Houston Texas
We offer full and exclusive SEO campaign management services for select personal injury attorneys and currently have an opening in Houston Texas. We price our services on a monthly basis. If you're interested in learning more about the local Houston market please call us today at 800-405-0060.