SEO For Personal Injury Lawyers In Denver
Besides the Gold Rush causing a boom in growth for Denver in the late 1800's, the Mile High City is known for it's number of breweries, also the Great American Beer Festival, a fantastic and very walkable Downtown, The 16th Street Mall, a sprawling city park system, and most importantly more than 300 days of sunshine per year. 
This may just be one of Denver's best kept secrets only because if you didn't live here or have someone tell you about it you may never know. Also good to know is that Denver isn't actually in the mountains so the weather is pretty fantastic.
If your law firm is looking for a great place to grow then the Mile High City may be a fantastic place to setup shop. For those lucky enough to have "made it" and are spending 8-10% of gross revenue on marketing, this research is for you.
You and I both know that SEO can be a huge driver of new cases for law firms.
But do you know how much?
Hold on tight because we're going to break out the big data to show you just how profitable SEO for personal injury lawyers in Denver can be.
The numbers might just surprise you.
Personal Injury SEO Meets Big Data
Denver is a good size market and a fairly competitive one at that. What we found is that there are plenty of consumers searching on a monthly basis to find someone in Denver to help them with their personal injury claim.
If you're thinking about an SEO campaign for your personal injury law firm it's best to get a great idea of just how successful a personal injury law firm in Denver can become through the power of a well thought out SEO campaign.
To show you just what organic search can do for your firm, we picked five (5) personal injury lawyers in Denver.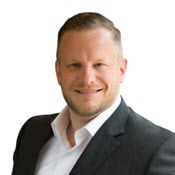 Chris Walker, Founder
Law Firm SEO Expert
We're going to give you a big data breakdown of the level of traffic and potential R.O.I. each of them are achieving on a monthly basis.
On a good note, if you're running a personal injury firm in Denver, you're in good shape because even though the market is fairly competitive, it's wide open for the taking.
Let's get started.
SEO for Personal Injury Lawyers in DenverSawaya Law FirmMcDivitt Law FirmBachus & Schanker, LLCFranklin D. Azar & AssociatesZaner Harden Law
The Sawaya Law Firm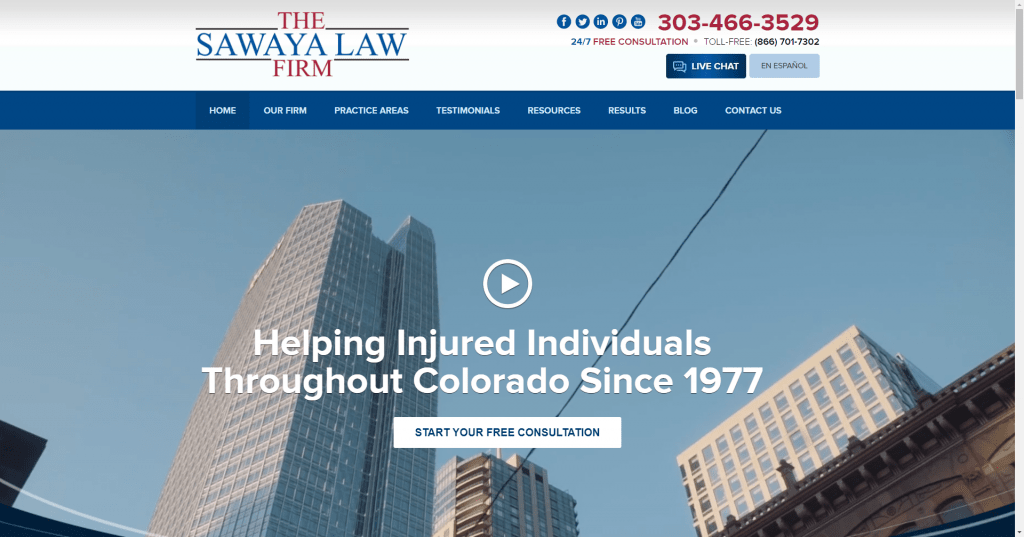 The Sawaya Law Firm
1600 N Ogden St
Denver, CO  80218
website:  https://www.sawayalaw.com/
phone:  (303) 466-3529
If anyone looks to be doing well with their SEO Campaign it's The Sawaya Law Firm. From what we can estimate it looks like they are realizing just over 9000 visitors per month to their website. 
Now nine thousand visitors a month may not sound like a lot but for a personal injury law firm in Denver, considering the type of traffic, you can safely assume they have no problem supporting the 22 attorneys listed on their website.
If the website is converting at a mid-tier rate they're doing quite well for themselves. Assuming the traffic is high quality their SEO campaign could be driving well over ten case leads per day. If their firm conversion rate is even below average this means they are bringing in nearly 150 new cases each and every month.
Below you can see the estimate for organic search traffic on a monthly basis including a traffic value estimate. This is data from internet service providers so it's more accurate than using Google keyword research tools that hide data from you.
We're working with the number of visitors so that we can give you a conservative estimate of actual monthly revenue. If you're looking at expanding in the Denver market this information is invaluable. Knowing that this firm is generating the number of leads they are gives you a great idea of the potential for growth in the Mile High City.
The thing that stands out to me here is that larger websites are outranking them. Typically this is the case when the internal structure of the site could use some work. It's no exception here.
As far as off-site SEO goes, they could use some work. The pages that link to them are a stretch from an SEO perspective at times. This means that those 700 referring domains they have could have been make even more effective if they would of had the right SEO strategy from the start.
It looks that a majority of their SEO success is due to their holiday free ride promotion. This gets the attention of local media outlets and drives local relevancy in a very strategic fashion.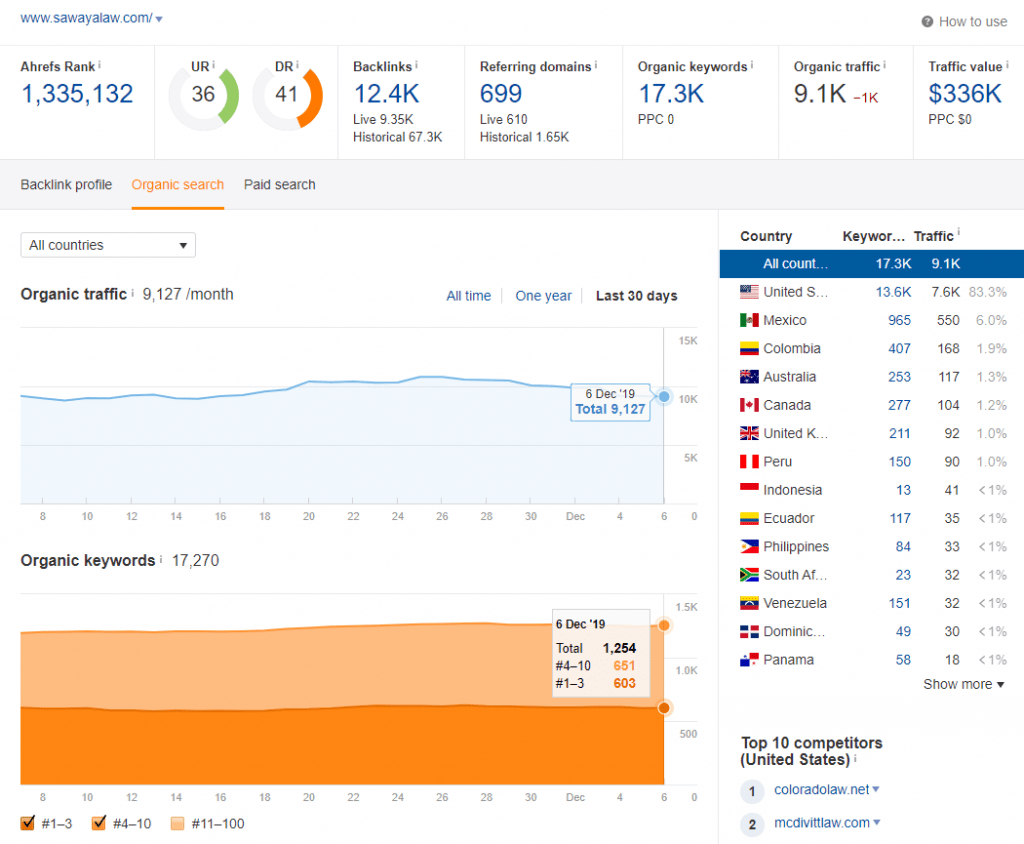 McDivitt Law Firm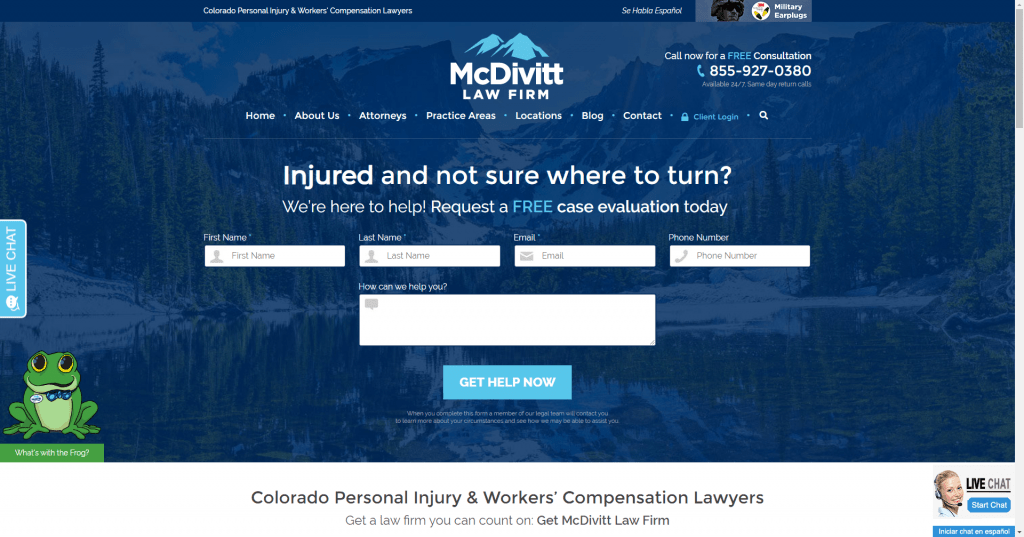 McDivitt Law Firm
1777 S Harrison St #1350
Denver, CO  80210
website:  https://mcdivittlaw.com/
phone:  (303) 396-6474
McDivitt Law Firm is a player in the Denver personal injury law scene with not only a decent website presence but some catchy local commercials. 
Their organic search engine optimization campaign is bringing in roughly 5000 visitors per month to their website. If they are converting at a mid-tier rate you can assume they are driving more than 200 leads per month through their organic search engine optimization campaign.
They have a total of 16 lawyers listed on their website but their group photo shows the entire team which looks to be well over a team of 50. 
You can see the number of referring domains is half that of The Sawaya Law Firm but does that make them half the firm? According to the numbers no, but it is close.
The problem is that they don't look to have much of an off-site SEO campaign at all and what they have done in the past or recent future looks to be very little. SEO is an ongoing effort and to be successful a law firm that is going to win in the SERPS must be aggressive. This is a lesson that most are likely to never have the opportunity to figure out.
When it comes to on-page SEO they are lagging behind the power curve for sure. Their website structure isn't ideal so it creates a feeling of being left behind from the start. You can see this as far as rankings go in Denver proper. 
The issue that comes up time and time again in law firm marketing is that these attorneys are told that ranking for keywords is the Holy Grail and that if their analytics numbers are going up then they are winning. This is far from the truth.
Just because your traffic is going up doesn't mean that traffic is at the bottom of the marketing funnel. This is the kind of traffic that is likely to convert into new case leads.
Given this information you can assume that McDivitt is probably converting traffic below the bottom-tier rate for the legal industry. What should be 200 leads per month is probably half and more likely even less.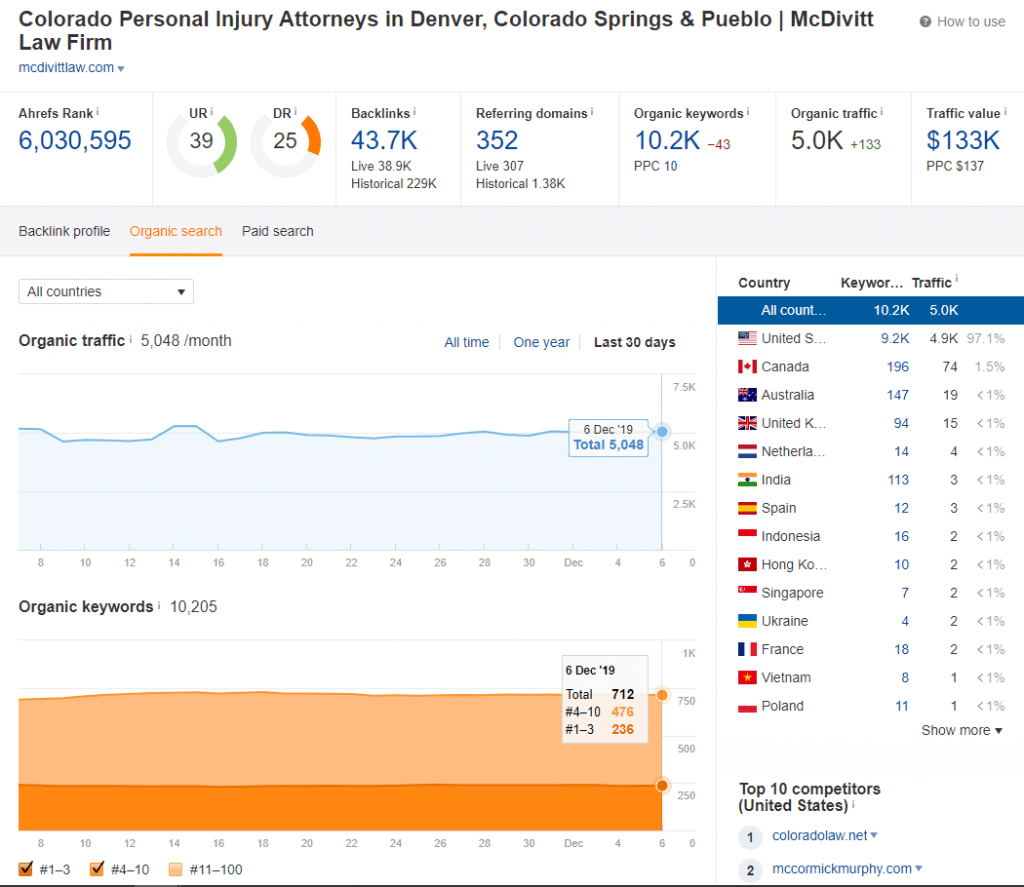 Bachus & Schanker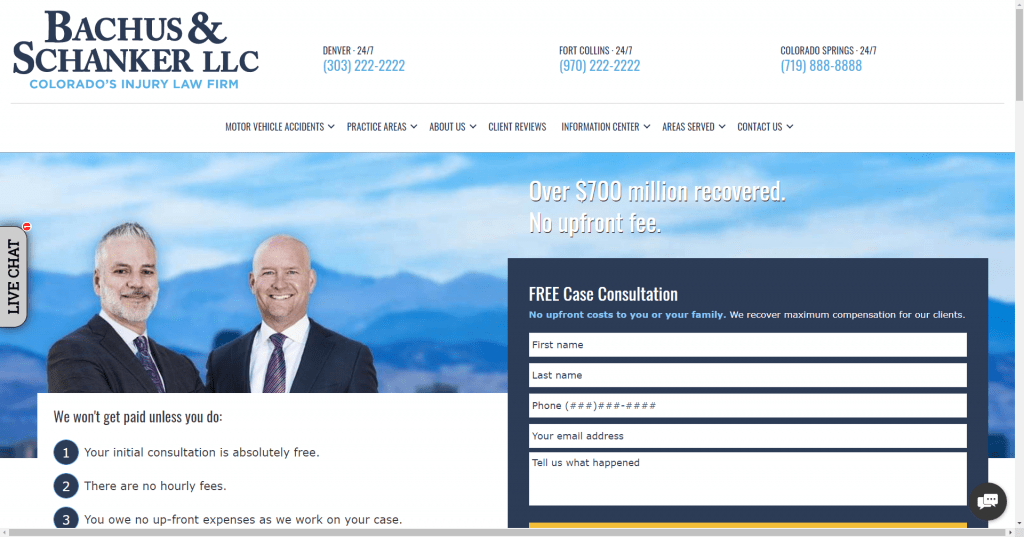 Bachus & Schanker, LLC
1899 Wynkoop St #700
Denver, CO 80202  
website:  https://www.coloradolaw.net/
phone:  (303) 222-2222
Bachus and Schanker are staples in the Denver community. With a list of 27 attorneys on their website they are one of if not the largest personal injury law firm in Denver. 
Even though they might be the largest firm in Denver and in the state of Colorado, they don't have the largest web presence. Surprised?
Even though, they're driving just over 4000 visits a month to their website which if they're converting at just above 4%, or what we refer to as a mid-tier conversion rate, we can guesstimate that they are bringing in roughly 177 new leads per month or roughly 6 personal injury leads per day.
Those are solid numbers considering the team started from a 10X10 office space back in the mid-nineties. 
When it comes to their off-page SEO it doesn't look like they've had much of a campaign beyond internal marketing efforts of the firm itself. While those have obviously worked out for them there's room for improvement and rood to drive a lot more traffic that will undoubtedly turn into more qualified case leads every single month.
Internally they are lacking in structure and could benefit from a true algorithm specialist. This could have a dramatic impact on traffic almost immediately.
It looks as if their content is decent but their structure is really holding them back. I'm not sure why the firm putting together the website decided to structure the practice areas in their own folder or why they structured the location pages the way they did. All that I can say is that's not how we would of handled this.
Structure issues are so common in law firm marketing and it can lead to very weak results in the SERPS. With a renewed effort on website structure and a strong link building program Bachus & Schanker could be dominating the organic search results in Denver.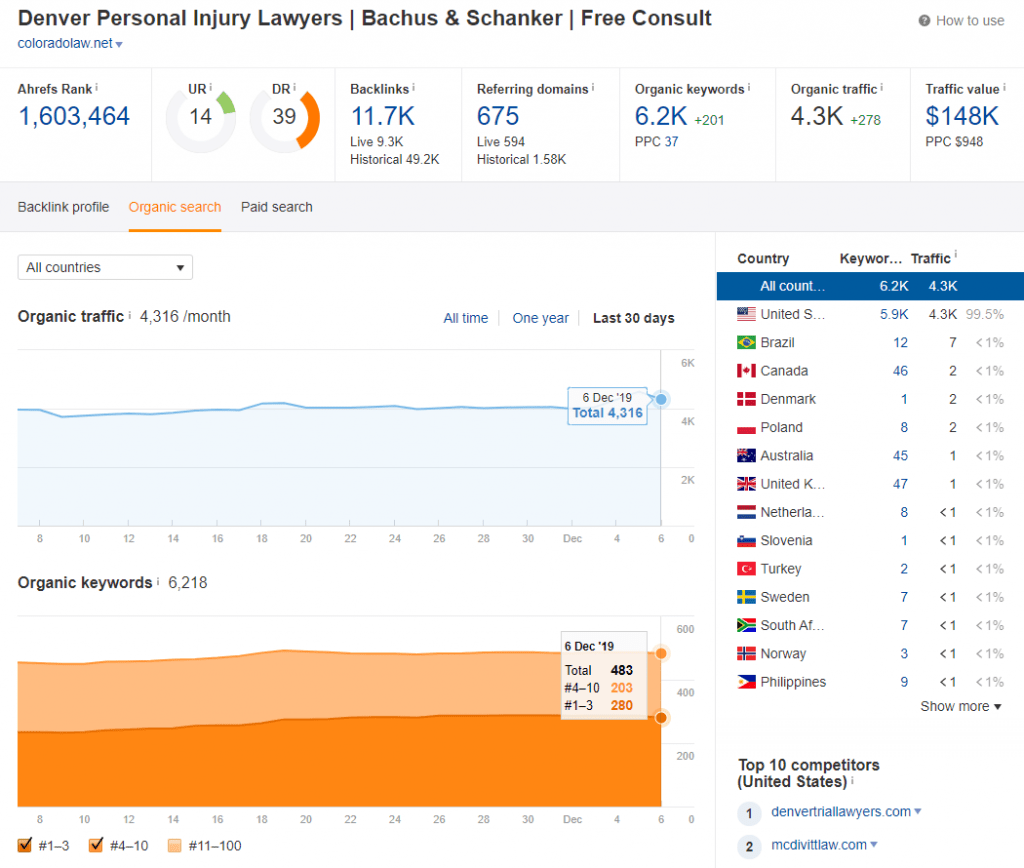 Franklin D. Azar & Associates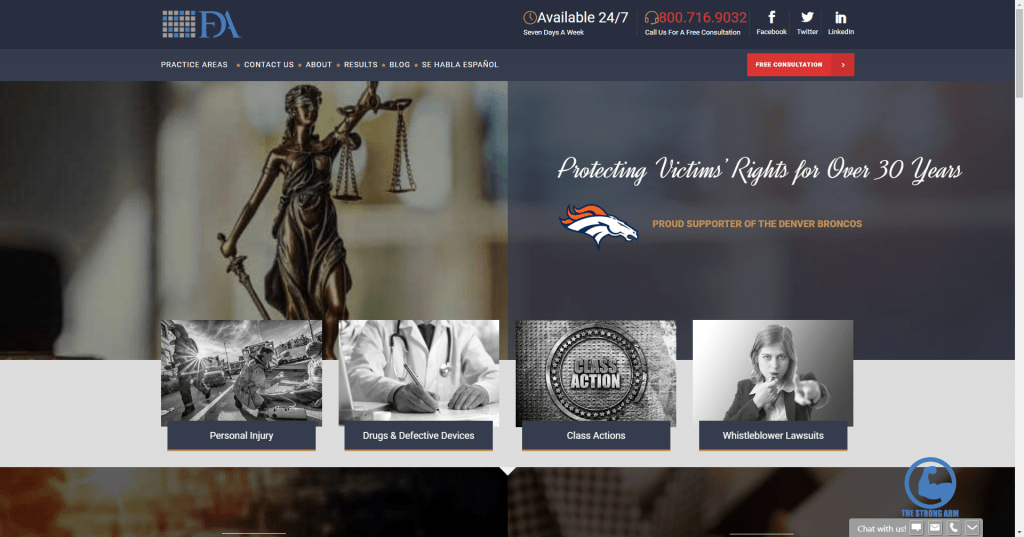 Franklin D. Azar & Associates
14426 E Evans Ave
Aurora, CO 80014  
website:  https://www.fdazar.com/
phone:  (303) 900-5595
Franklin D. Azar and Associates are well known here in Denver and boast a lineup of thirty (30) personal injury lawyers on their team with a total of more than 45 attorneys in all.
They run lots of commercials locally and they have a fairly solid website presence bringing in around 3600 visitors per month to their site.
Frank Azar, known in Denver commercials as "The Strong Arm" with a brand that looks eerily similar to the FDA but probably makes his name much easier to remember for potential clients.
Azar looks to have a fairly strong marketing campaign that translates to both real leads and real high quality cases for his law firm. With around thirty six hundred visits per month if the traffic is high quality you can assume that the firm is converting those visits to case leads to the tune of around 150 per month. If they are running even a below average firm conversion rate for new leads, these numbers can equate to two new cases per day. 
It doesn't look like they've had an SEO firm building any backlinks for them rather they have built status over the years through several high profile class action cases. This just means that they are missing out on a slew of local new case leads and it makes the traffic conversion to leads questionable at best.
Their on-page SEO is lacking structure. Any benefits they could be getting here are completely null due to the fact that the website itself isn't doing them much good.
While they look to be running paid search ads to target local leads there's very little focus on local SEO. Maybe this is just because they haven't found a firm capable of helping them. Maybe they just don't understand of organic search works. Either way they should be taking advantage of organic traffic and they aren't.
It is firms like this that should be taking advantage of the benefits of a properly executed SEO strategy. This just means that Denver is open for the taking.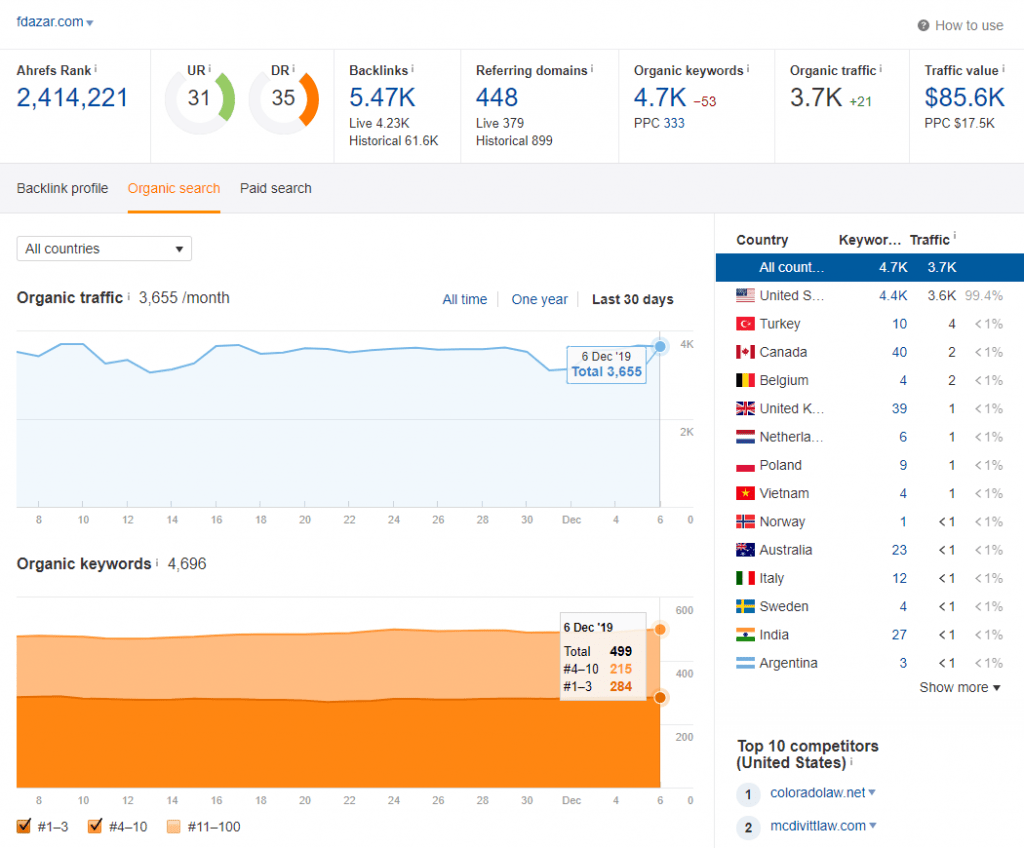 Zaner Harden Law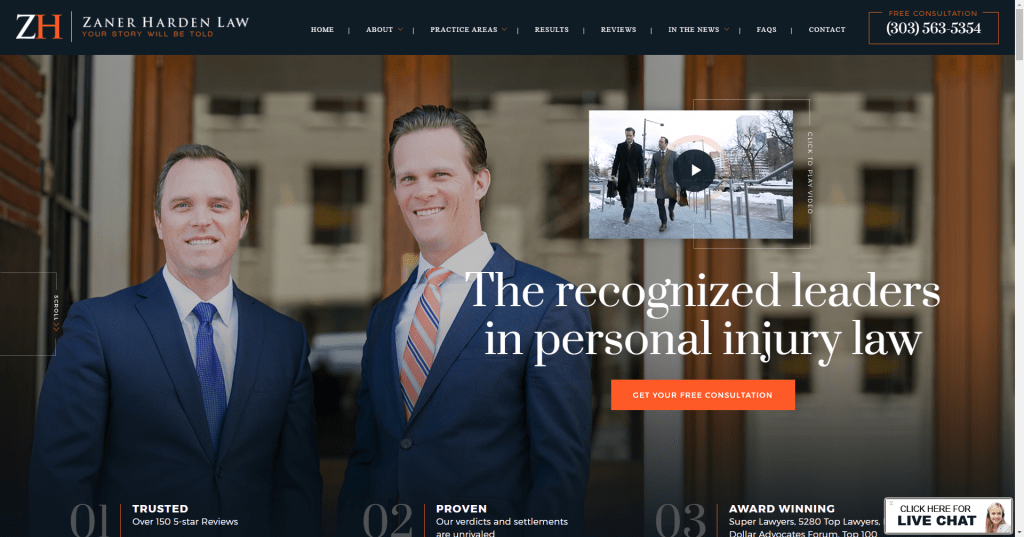 Zaner Harden Law
1610 Wynkoop St #300
Denver, CO 80202  
website:  https://www.zanerhardenlaw.com/
phone:  (303) 563-5354
Located Downtown on Wynkoop, with a similar location to that of rival firm Bachus & Schanker, Zaner Harden Law comes into this group of personal injury attorneys not as a top 5 organic search traffic website but as a website I admire for its aggressive high converting bottom of the funnel keyword strategy.
From an SEO standpoint even though there's work to be done, they're still driving a solid amount of traffic to their website on a monthly basis, somewhere in the neighborhood of 3600 visits.
If you crunch the numbers on that, assuming they're converting mid-tier, they're probably generating somewhere in the neighborhood of up to five leads per day. Those are the kind of numbers that translate to the ability for a personal injury firm to consistently bring in high quality cases.
And those visits are well targeted considering the size of their site. With a bit of work this law firm could easily beat out its competitors and be driving double the amount of cases they currently are with their organic search engine optimization campaign.
That being said, Zaner Harden has some work to do when it comes to its off-site SEO and link building strategy.  
The problem is their lack of a well thought out off-site SEO campaign. Their backlinks are weak at best and are not what I would consider to be good for long-term strategy.  While they may be effective they can be difficult to keep up. It would be good to know if they own the sites their links are coming from or if the SEO firm owns them. 
While some of the new links look to be a bit of a better strategy they are still quite aggressive from an SEO standpoint. 
Their on-page SEO is lacking in strategy and effective structure which if done correctly could help bring their website up in the SERPS. This firm could prove that Denver is their home town market.
With nine attorneys on staff and a support team of twelve to back them up, this firm needs to consistently bring on high quality cases to drive growth. With the right SEO strategy behind them they could increase organic traffic leads substantially.
SEO For Personal Injury Lawyers In Denver Colorado
We offer full and exclusive SEO campaign management services for select personal injury attorneys and currently have an opening in Denver Colorado. We price our services on a monthly basis. If you're interested in learning more about the local Denver market please call us today at 800-405-0060.