SEO for Personal Injury Lawyers In Chicago
Ah, the Windy City… Chicago is a fantastic place that I've frequented over the years and do have a soft spot for.
If you're running a personal injury law firm in Chicago you undoubtedly have a good feel for just how competitive not only the field is itself but Chicago as a city.
To make things a bit easier on you we're going to break down the actual competition so you can get a much better feel for the overall picture.
Is there room to compete? Of course and once you see how well your associates are actually doing you're going to want to jump on board.
So grab a cup of coffee and dig through some high quality research, on us.
We're going to show you just how special a well targeted personal injury lawyer SEO campaign in Chicago can be. 
We're giving you access to the big data that allows us to make competitive decisions in SEO.
Let's move along…
Personal Injury SEO Meets Big Data
Big Data and SEO go hand in hand. Without it we would be up a creek without a paddle so to speak.
From what we can see Chicago is a great place to setup shop as a personal injury law firm. And there's always room for competition.
If you're in Chicago and believe SEO to be a viable option for you, this research is going to show you just how viable it is. We're going to show you that no matter how competitive a market may be that there's still room for a law firm that's investing in marketing to enter and win new cases.
We're going to show you just how many cases your competition is adding via their organic search campaigns every single month.
We want you to have an idea of just how profitable a well thought out SEO strategy can be for your firm.
We're breaking down five (5) of the top competitors in the Chicago land area to give you a realistic idea of how they're making such a big name for themselves.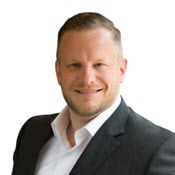 Chris Walker, Founder
Law Firm SEO Expert
SEO traffic is trusted traffic and when you're a personal injury attorney, trust is a huge deal. We want to show you the levels of traffic you can expect when planning and running a well thought out SEO strategy.
There are cases being created in Chicago right now, while we write this. Are you getting your share of the pie? We will show you what the big firms are doing so that you can decide whether or not scaling up is for you or not.
Our research uses that big data and some industry knowledge to help you make informed decisions on search marketing. This is the kind of stuff that can completely change your world.
Welcome to our research.
SEO for Personal Injury Lawyers in ChicagoRosenfeld Injury Lawyers, LLCStaver Accident Injury Lawyers, P.C.Ankin Law Office, LLCSalvi, Schostok & Pritchard P.C.Malman Injury Lawyers
Rosenfeld Injury Lawyers, LLC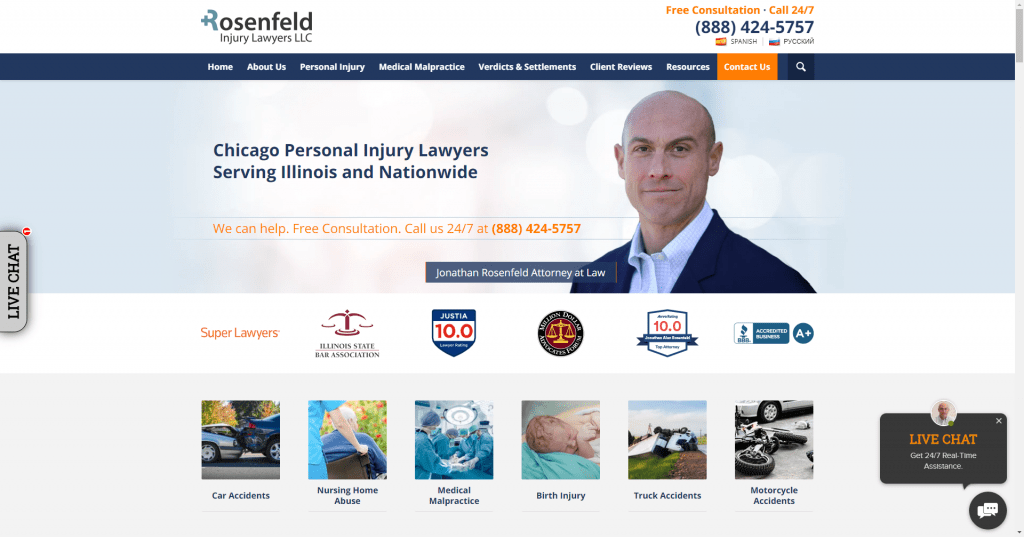 Rosenfeld Injury Lawyers LLC  
 225 W Wacker Dr #1760
Chicago, IL 60606  
website:  https://www.rosenfeldinjurylawyers.com/
phone:  (847) 835-8895
When a visitor enters your website you want to make them feel comfortable and I feel like the Rosenfeld Injury Lawyers website does this fairly well. This is super important when you're driving more than 10,000 visits per month to your website.
The one glaring issue here is that they are losing traffic like a sieve. In that last 30 days they've lost nearly 60% of their organic search traffic. It's hard not to notice, especially if you're the competition.
You see what can be done in the Chicago personal injury attorney SEO space, since they were driving more than 28,000 visits to their website just 30 short days ago. Not to mention, when they were at the top of their game they were driving 33,000 organic visits per month.
This is a steep fall from grace and you have to reach back into 2017 to see traffic numbers this low for them. And to find comparative traffic value numbers you have to reach back all the way to 2016. It's like they never even had an SEO campaign.
The problem is when a website gets to be thousands of pages it can lose some of its organizational structure. It can also lose authority if the content isn't on target. 
You can also run into YMYL issues with your content when you start reaching into diseases and medical terms which they have done. This is something that has to be handled carefully.
More of their issues seem to revolve around internal pages and their relationship with each other or topical clustering. They are sending the wrong signals to the search engines and this needs to be cleaned up first thing.
Not to mention, they need a lot more links pointing to their internal pages, which are practically nonexistent at the moment. 
This campaign needs some serious TLC to get it back on track but it's manageable if you have a good technical SEO specialist to lean on. Cough…
Oh, and one last thing… Why on earth would your SEO strategist create pages dedicated to cases you do not handle linking out to 28 different pages on cases you don't handle? 
This doesn't make sense considering that when you visit those pages you see that Rosenfeld does indeed handle these cases. This is odd to say the least.
We can save you.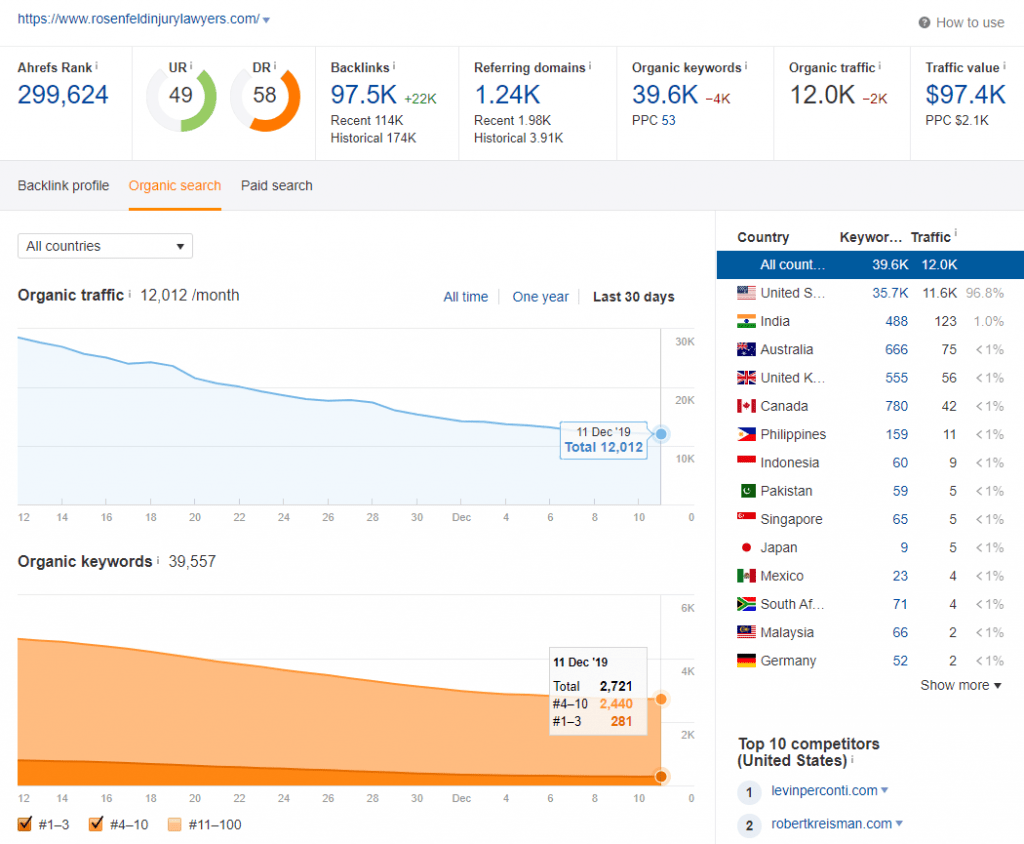 Staver Accident Injury Lawyers, P.C.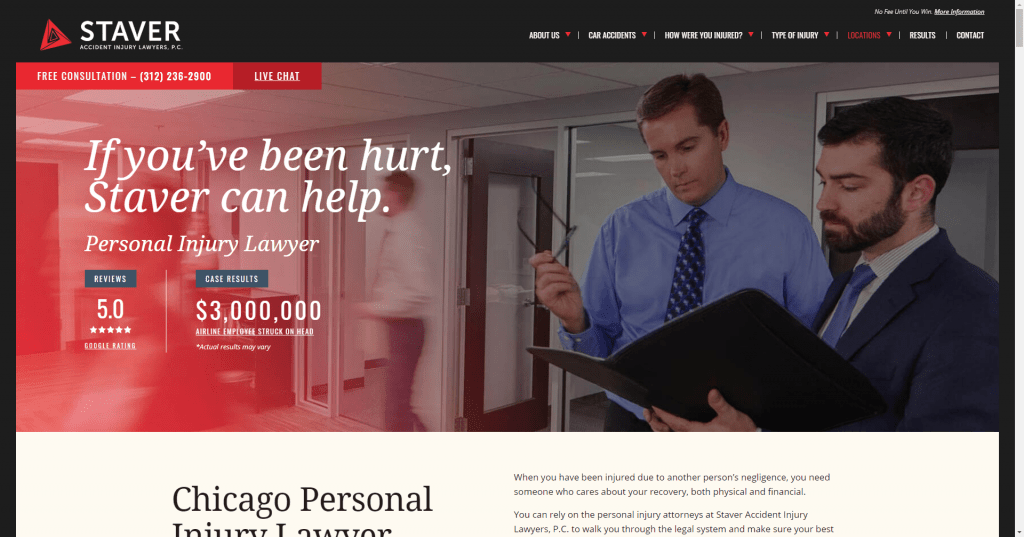 Staver Accident Injury Lawyers, P.C.
120 W Madison St #400
Chicago, IL 60602  
website:  https://www.chicagolawyer.com/
phone:  (312) 219-2175
One of the selling points of choosing Staver Accident Injury Lawyers is the fact that you get to speak directly with an attorney for the duration of your case. If you're a potential client and you've read reviews of other personal injury firms, this stands out at a huge selling point. A competitive advantage and a key to closing deals I'm sure.
If you look at the amount of traffic they are pulling in on a monthly basis, it's substantial at more than 11,000 visits per month. If their website is converting at a mid-tier rate among legal websites then they are driving in the neighborhood of 15 new leads per day.
Of course, if the SEO campaign strategy wasn't well planned out then it could be a lot fewer than 15 leads per day. With these numbers they should be doing quite well for themselves.
They boast a team of four lawyers and it looks like four support staff from the photo on the site. As a potential client I would probably want to know more about their support staff as this can be particularly reassuring. Helping the attorneys stay focused on their most important work is a powerful message.
I would love to see the conversion rates on this campaign but other than that, it looks solid. It's good to know that firms like this one are pulling in these kinds of numbers.
They likely have their pick from the best cases in the city and can then pass off smaller cases to other personal injury firms to make sure that everyone is well taken care of.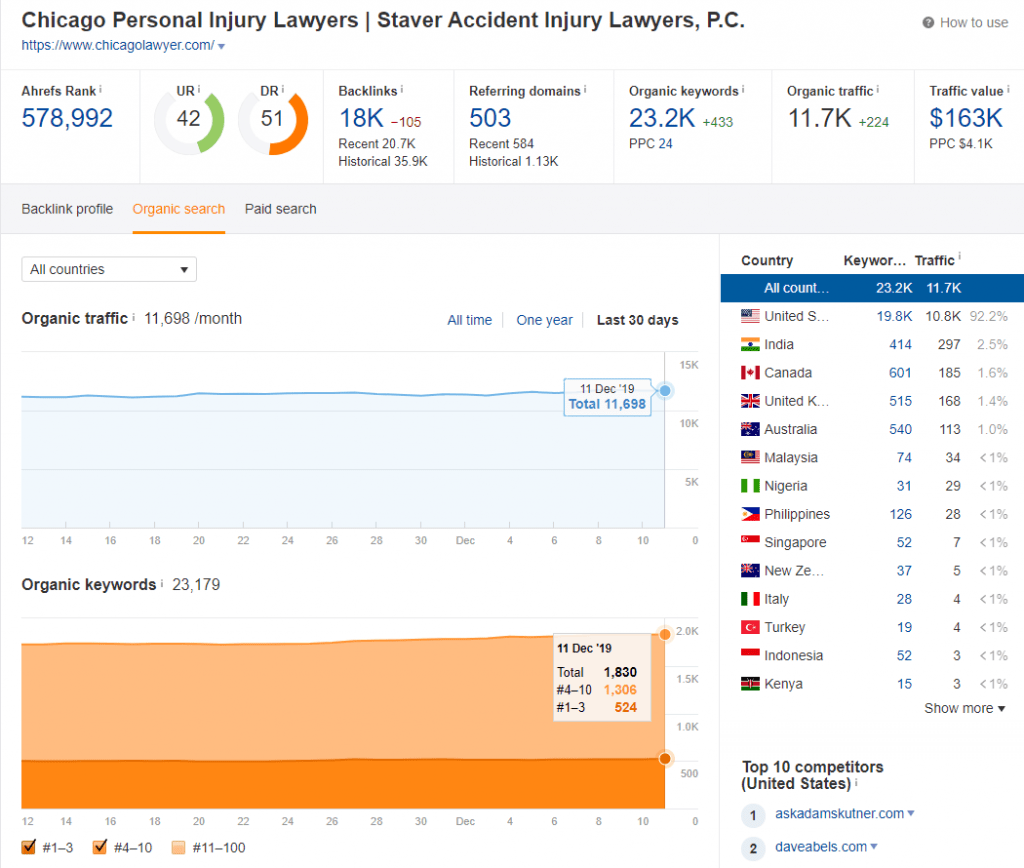 Ankin Law Office, LLC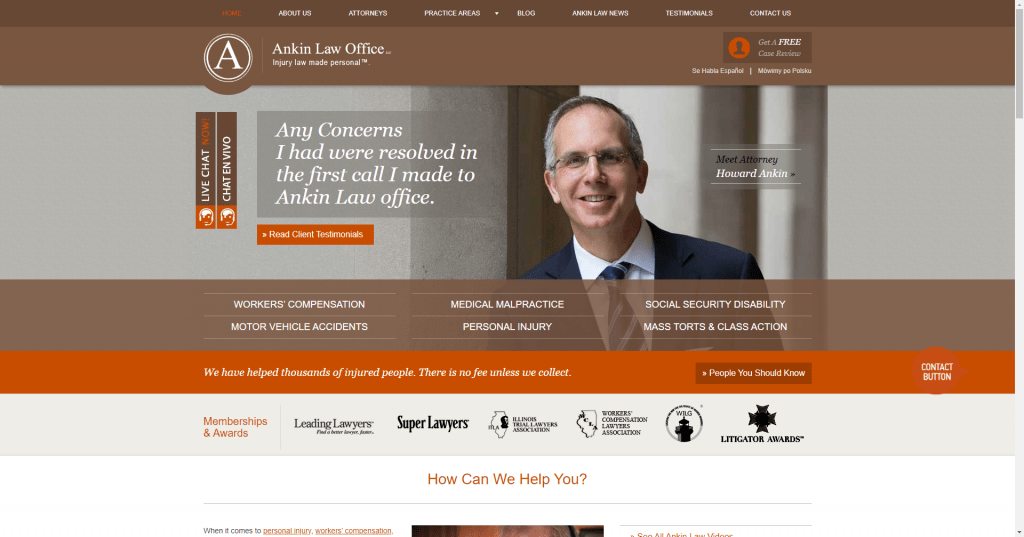 Ankin Law Office, LLC
10 N Dearborn St #500
Chicago, IL 60602  
website:  https://ankinlaw.com/
phone:  (312) 600-0000
The Ankin Law Office looks to be one of the larger personal injury firms in Chicago, boasting 19 lawyers on their website. And from the photo on the front page it looks like they have a huge support staff to help these attorneys handle lots of new cases.
 I'm not sure how well the website itself is converting but if I had to guess I would say somewhere in the bottom tier range at just above two percent of visitors. Assuming this was the case they are easily driving three leads per day through their website. The traffic value is high compared to the organic traffic numbers so we can safely assume that whoever organized the campaign did a solid job.
That doesn't mean everything is super tight. I see a few holes that we could patch up in a couple of hours that would put even more new cases on their books every month. But honestly, this is the case with 99% of the SEO campaigns we see. Some are easy patches while some can be a bit daunting but almost every single one is lacking from a technical SEO sense.
If you're looking at this from an outsider's perspective you can easily assume that your firm could get to the same place as this one. And if you could get your website to convert in the top tier of legal websites you could be generating nearly a dozen new case leads per day.
The Chicago market is wide open for the taking.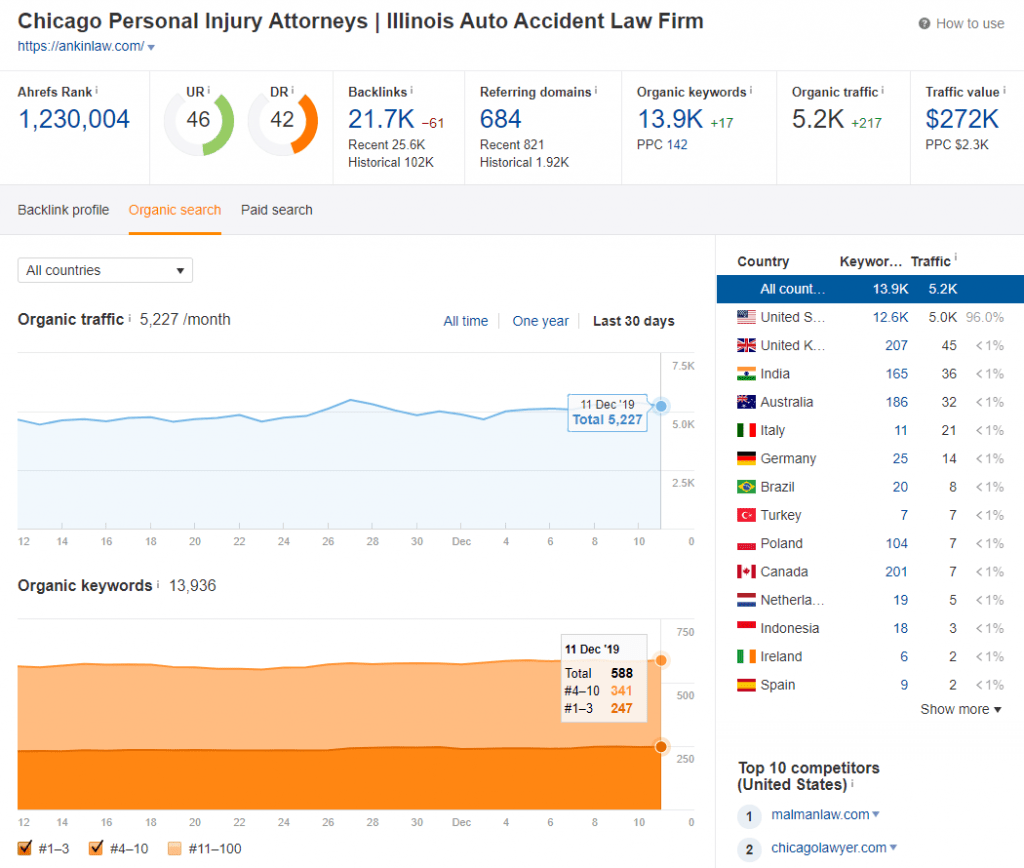 Salvi, Schostok & Pritchard P.C.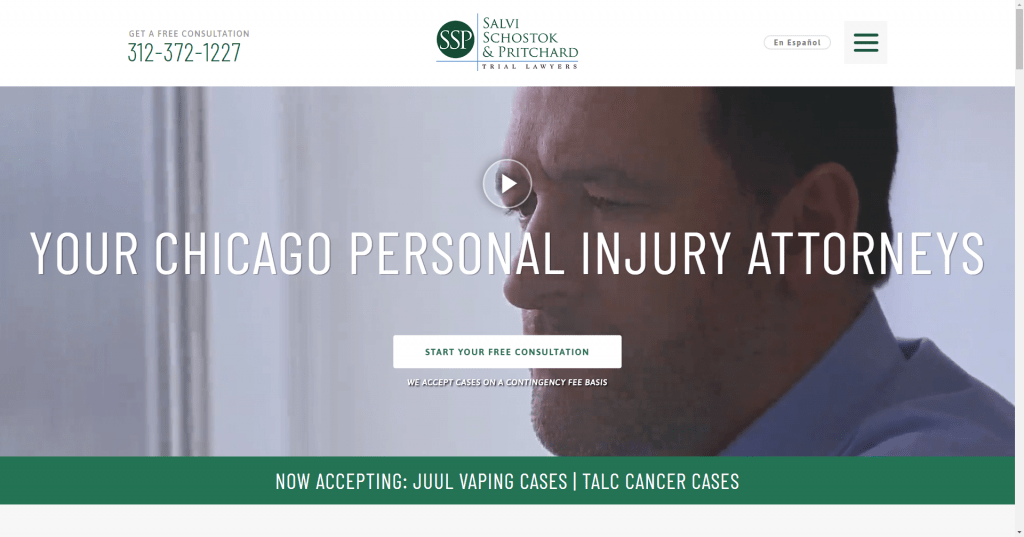 Salvi, Schostok & Pritchard P.C.
161 N Clark St #4700
Chicago, IL 60601  
website:  https://www.salvilaw.com/
phone:  (312) 626-7727
It looks like the team of Salvi, Schostok & Pritchard P.C. is around 18 attorneys strong, one of the larger firms in Chicago. 
The website is clean and immediately instills confidence in the visitor that they are in the right place. Assuming the site is converting in the top tier, this firm is looking at around ten new leads per day coming in from just their organic search campaign.
The hole I see is the amount of traffic that everyone else is driving compared to what they are. While their numbers look strong they could be much stronger.
Looking at what some of the other Chicago personal injury attorney SEO campaigns are achieving, this firm could easily double the number of new cases they're getting from their site on a monthly basis.
The key with a campaign like this is to move your resources over to link building so that you can double down your ranking efforts. Once this happens you will notice a large impact almost right away. 
This is also another one of those campaigns that could use a technical SEO specialist to come in and clean up just a few holes and make the website communicate to the search engines even more effectively.
Overall, this is a solid campaign but there's still work to be done. Just imagine driving ten or more new case leads to your law firm every single day by just tightening down your organic SEO strategy a bit.
On a side note, it's not necessary to try and trick Google's page speed tool into giving you a score of 100. The most important thing they currently look at is TTFB. That being said, a fast load time is imperative but the way the site currently loads could be turning away visitors because all they are seeing is raw HTML without the CSS.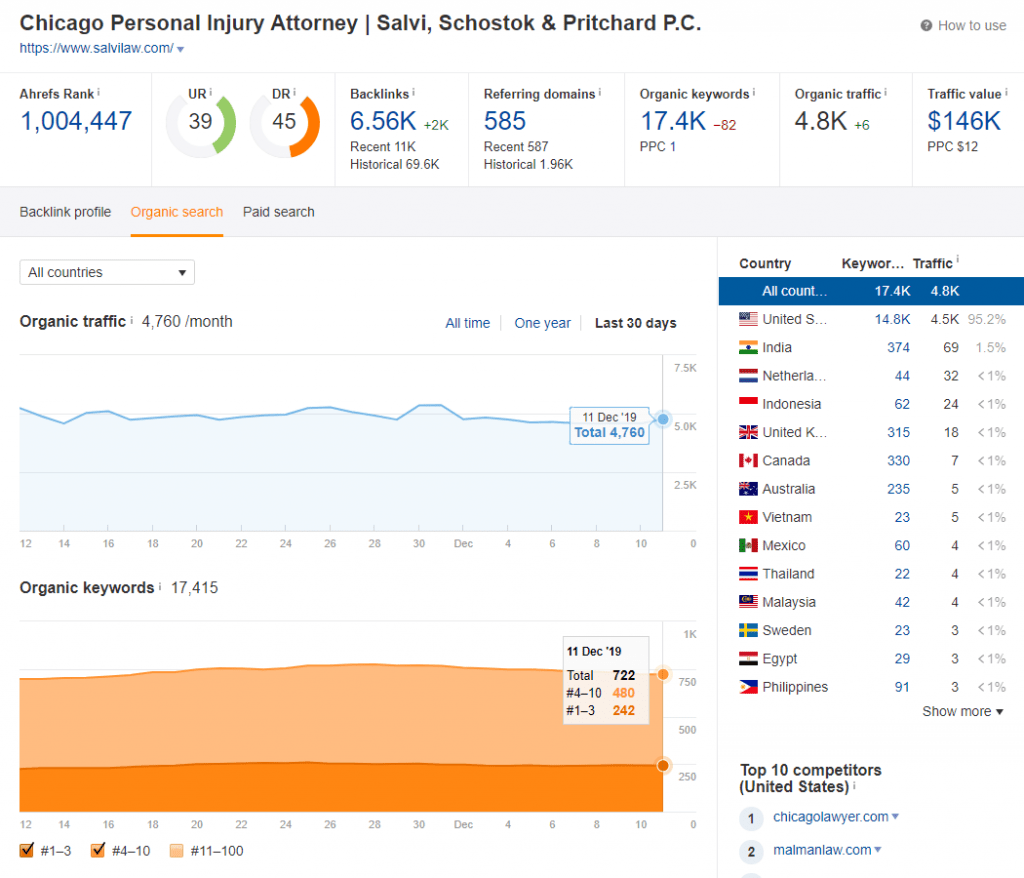 Malman Law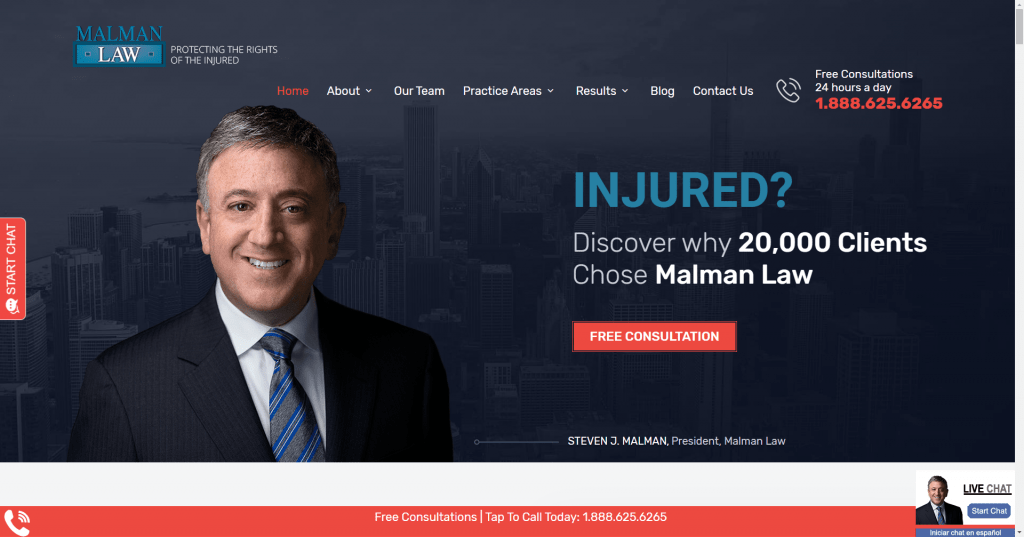 Malman Law
205 W Randolph St #610
Chicago, IL 60606
website:  https://www.malmanlaw.com/
phone:  (312) 629-0099
Malman Law is well established, boasting a team of nineteen attorneys which makes them one of the largest personal injury law firms in Chicago. The website itself isn't bad looking so they're probably converting some of those 4,600 visits per month the website is pulling in.
Personal injury, medical malpractice, assisted living, nursing home abuse and assisted living cases look to make up the bulk of their cases.
While some of the case results are impressive they lack a bit compared to some of their counterparts in the medical malpractice and personal injury fields. 
Converting at a mid-tier rate they are looking at pulling in 6 new case leads per day. And with the high traffic value you can assume these are solid leads.
As far as the general SEO campaign goes, it looks a bit disorganized and pieced together over time. This is common when campaigns pass through many hands and maybe even inexperienced hands at one time.
Either way there's room for improvement, both in rankings and internal organization.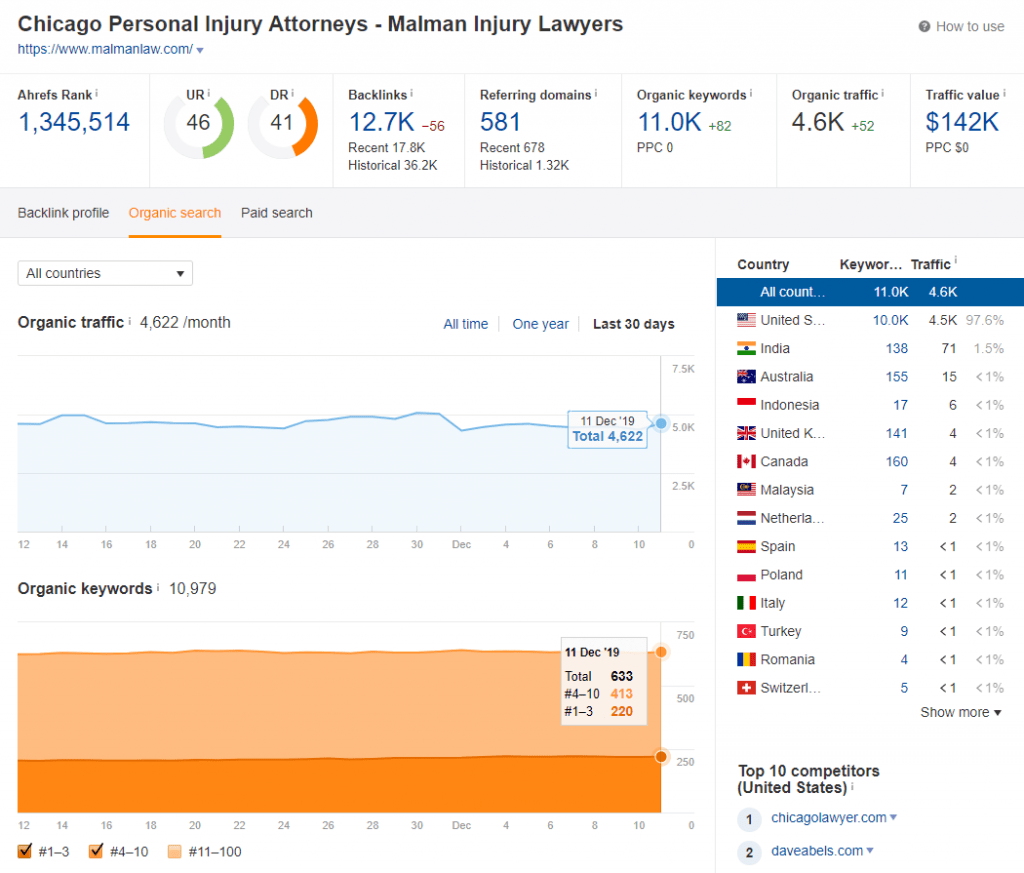 SEO For Personal Injury Lawyers In Chicago Illinois
We offer full and exclusive SEO campaign management services for select personal injury attorneys and currently have an opening in Chicago Illinois. We price our services on a monthly basis. If you're interested in learning more about the local Chicago market please call us today at 800-405-0060.