SEO for Personal Injury Lawyers in Boston
Boston is knows for providing the world a great education with two of the top universities in the world, both Harvard and MIT. On top of that it's also one of the fittest cities and is well known for providing a great quality of life.
Being one of the top markets in the United States, Boston makes logical sense from both an economic and a quality of life standpoint. Why would you not set up shop in Boston?
Our goal is to help you understand what you're getting into when operating a personal injury firm in Boston, at least from a competition standpoint. 
We're going to give you the lowdown on just how powerful a personal injury lawyer SEO campaign in Boston can be for your law firm. 
Let's dig into the data…
Personal Injury SEO Meets Big Data
We are using the best available data in the industry to make informed decisions about the personal injury market in Boston.
From what we do see there's room for competition. That's good news for anyone wanting to post up shop there.
If you do think that SEO could be a viable option for your law firm this research is for you. We're going to give you a competitive advantage so that you know what your competition is doing.
We will show you just how much consumer traffic there is around the niche, making searches for your services every single month.
We want to you to be informed before making a decision on an SEO strategy.
We are going to break down five of the familiar firms in the local Boston market to show you just how much business they're driving through search.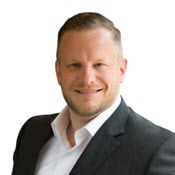 Chris Walker, Founder
Law Firm SEO Expert
Why is this information so important? It's become apparent to us that many law firm marketing companies don't share this level of data before beginning an SEO campaign.
We think it's our duty to give you as much information as possible. We want our partners to be informed of just exactly how powerful search engine optimization can be for their law firm.
Not only can it drive new case leads but it can be a huge revenue generator for your firm. 
It's time that you get educated so that you can make an informed decision. The research speaks for itself. It's very empowering to know and understand just how effective your competition's marketing campaigns are. 
Please, enjoy the research and reach out if we can help.
SEO for Personal Injury Lawyers in BostonLaw Offices of Jeffrey S. Glassman, LLCSweeney Merrigan Law LLPBreakstone, White & GluckJoel H. Schwartz, P.C.Kelly & Associates
Law Offices of Jeffrey S. Glassman, LLC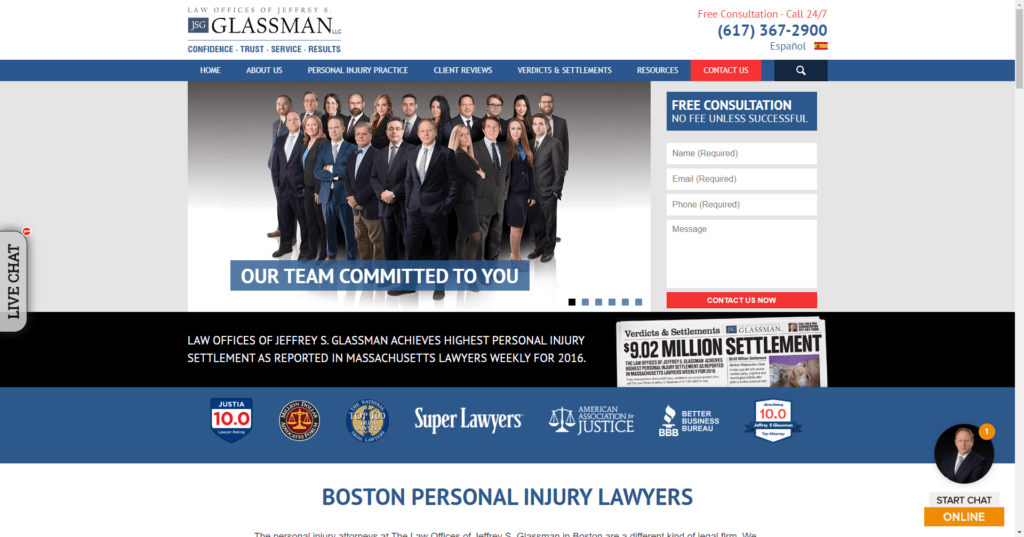 Law Offices of Jeffrey S. Glassman, LLC
1 International Pl #1810
Boston, MA 02110  
website:  https://www.jeffreysglassman.com/
phone:  (617) 367-2900
With a team of just over 20 attorneys, it seems the Law Offices of Jeffrey S. Glassman, LLC has the team in place to handle any size case. If you look at their verdicts and settlements over the years you'll notice that they've successfully achieved resolutions for more than 10,000 victims since 1991.
Handling car, truck, motorcycle, bicycle, and construction accidents look to be a focus along with premises liability, slip and falls as well as workers' compensation. In addition to the settlements they've won for clients over the years they also provide reviews for potential clients to look over on the website.
As far as their SEO goes, their on-site looks to be decent with a few holes here and there. Their off-site SEO looks decent as well with some legitimate outreach in play for the win. 
It looks like the link building campaign is a fairly recent implementation so they haven't really been able to fully capitalize off of it yet. If they keep on the right path they will easily overtake their competition and win more than their fair share of the new case leads created in Boston every day.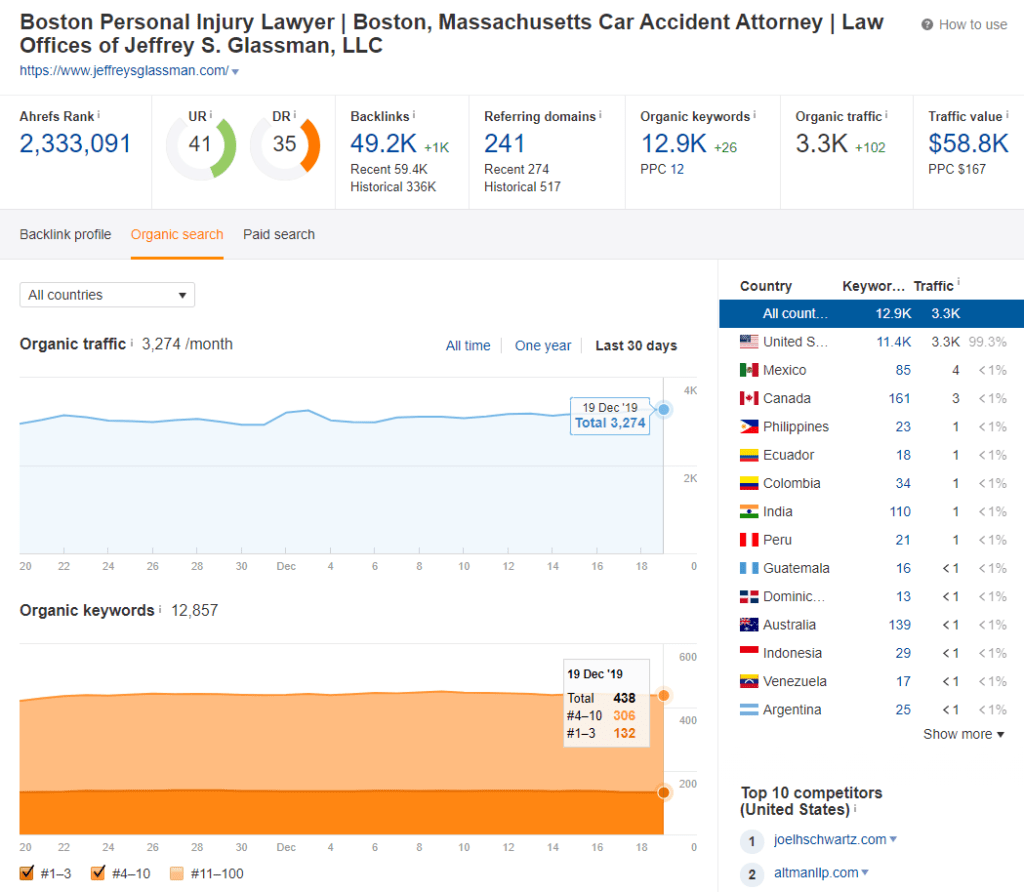 Sweeney Merrigan Law LLP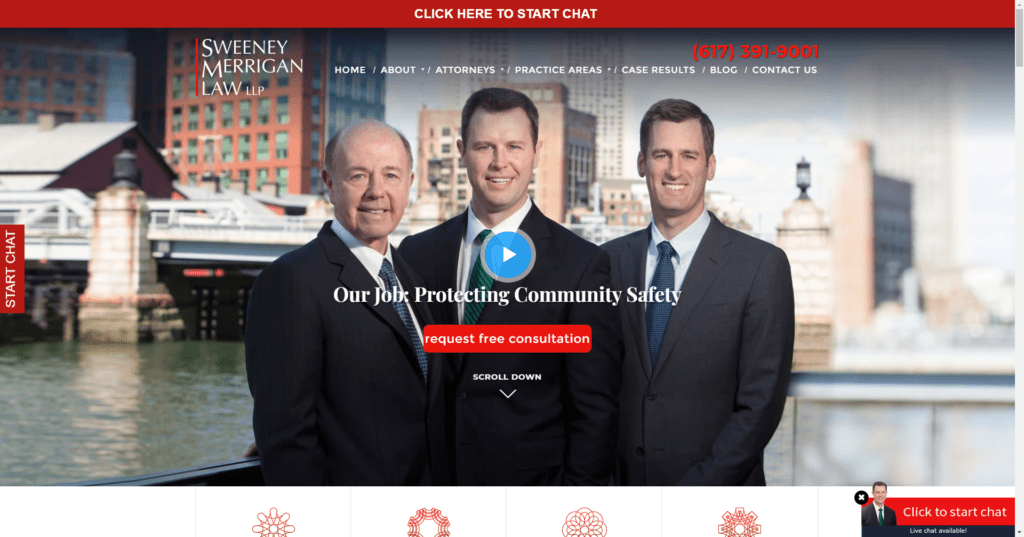 Sweeney Merrigan Law LLP
268 Summer St LL
Boston, MA 02210  
website:  https://www.sweeneymerrigan.com/
phone:  (617) 391-9001
With five attorneys on the team and a team that looks to be comprised of three family members, Sweeney Merrigan Law does have a former judge on the team that just so happens to have been practicing law for the last forty plus years. They look to handle a wide range of personal injury cases.
The one thing I do notice that stands out to me is the number of referring domains they have. With just over one hundred referring domains they seem to be doing quite well for fairly competitive keyword terms. The one thing they have done fairly well is to create relevant content that links out to high quality resources. 
It does seem like they may have begun some type of link building program but there aren't enough referring domains for me to analyze much. If they have the campaign looks very new. The rankings look to be from historical links along with solid content.
If they were do initiate a high quality link building campaign they would be very dominate in getting even more Boston personal injury SEO leads. I would highly recommend they look into this so that they can take advantage of a finely tuned SEO strategy.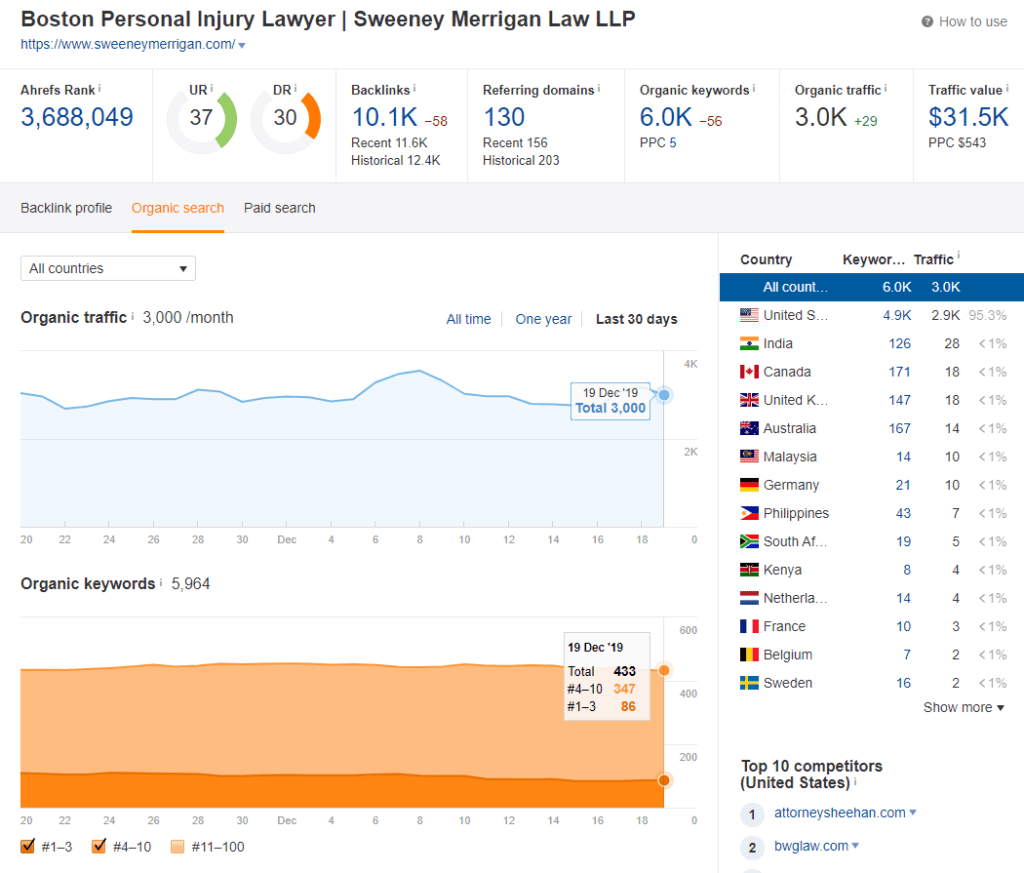 Breakstone, White & Gluck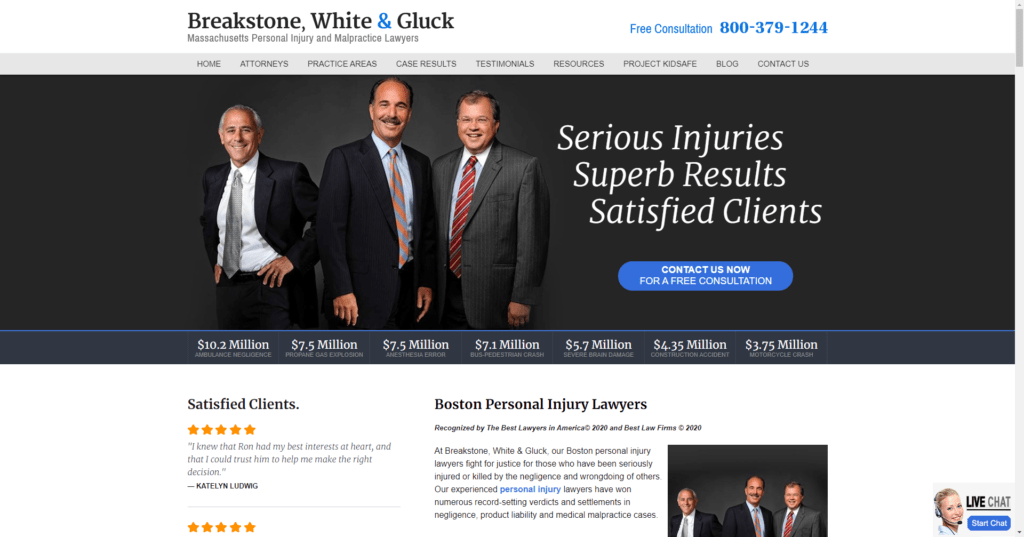 Breakstone, White & Gluck
2 Center Plaza #530
Boston, MA 02108  
website:  https://www.bwglaw.com/
phone:  (617) 723-7676
The one thing you'll notice that's very different from the previous firm is the number of referring domains, nearly triple that of the previous Boston personal injury law firm here in our review. Yet if you look they both have similar traffic values with the numbers looking larger for the previous.
When we dig a bit deeper we do see that the rankings for Breakstone, White & Gluck look to be better for the more competitive location modifiers like Boston personal injury lawyer, etc. These are the keywords that are more likely to turn into leads.
While the previous firm may be ranking well for more keywords it looks like BWG is edging out the competition when it comes to the more competitive terms. That's great news for them and the number of leads they receive on a monthly basis.
As with all of the Boston personal injury lawyers, this firm needs a solid link building strategy in order to really dominate the competition. It's very surprising to me that in such a large metro area that the competition would be as weak as it is. This is great news for a law firm that's looking to compete in Boston.
As for the content on the website it's relatively solid. They could use a lot more referring domains to their most important pages. Doing this would ultimately strengthen the entire website and increase rankings across the board. 
It looks that their main SEO method is a blog setup on a different domain linking back to their main website. This strategy is weak at best as there are much better and more effective ways to spend your SEO dollars. 
The firm itself is comprised of four practicing attorneys and if you take a look at their personal injury results page you will see that they've successfully defended their clients in a variety of personal injury claims. As far as conversions go you could expect a firm like this to convert website visitors at a mid-tier rate. 
This would put them at nearly two leads per day just from their SEO efforts. With a better SEO strategy BWG could be driving even more high quality case leads than they are right now.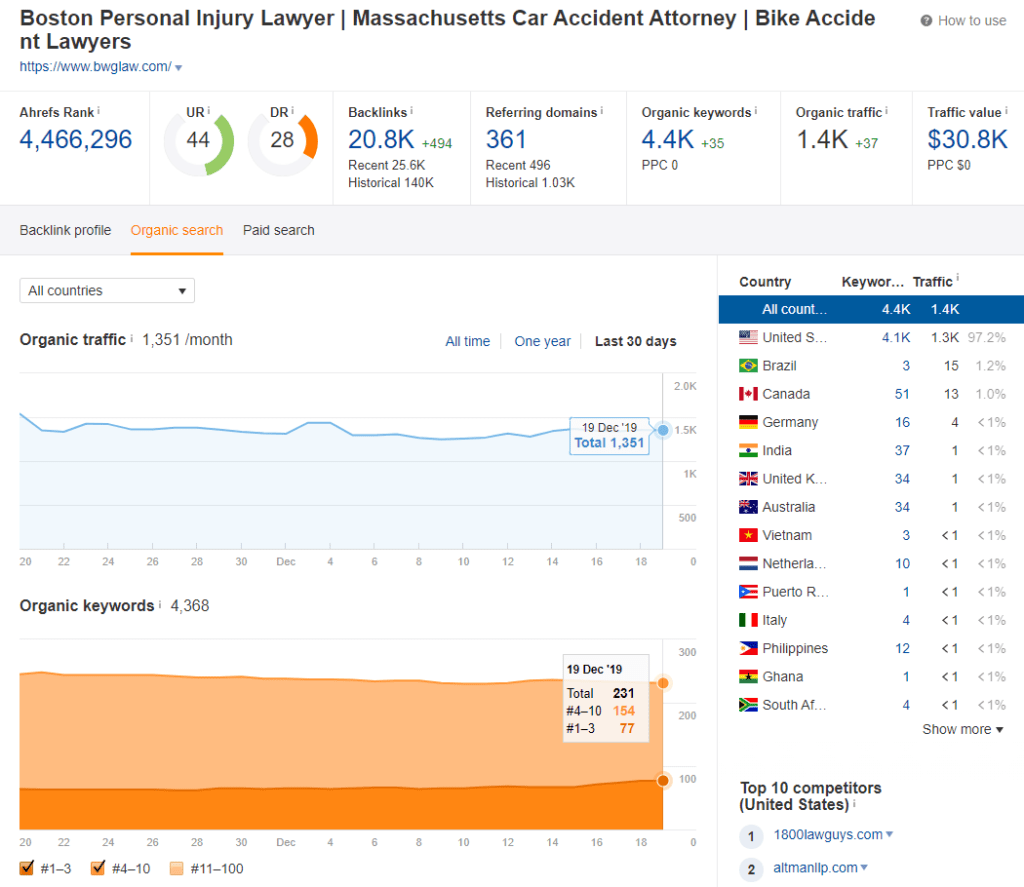 Joel H. Schwartz, P.C.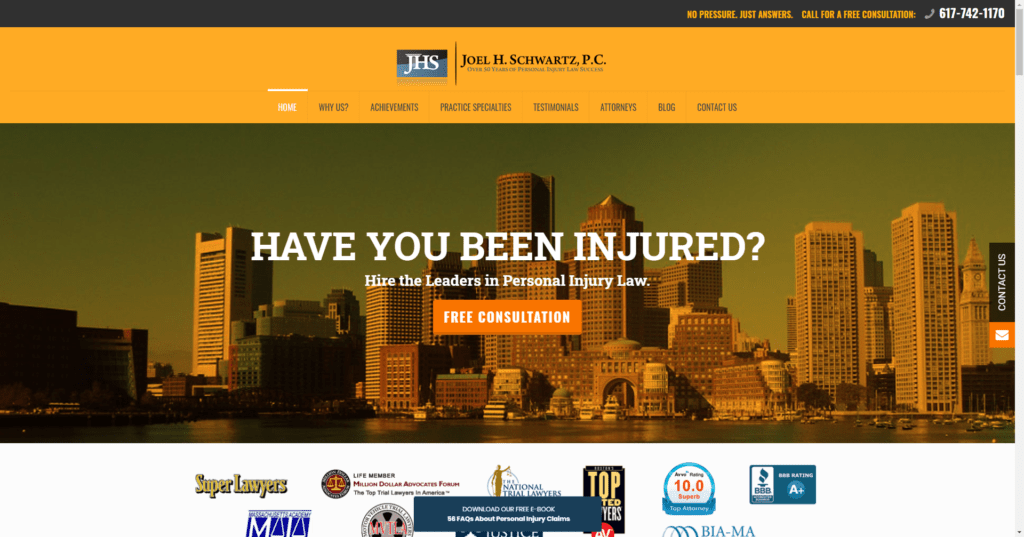 Joel H. Schwartz, P.C.
1 Washington Mall #16
Boston, MA 02108  
website:  https://www.joelhschwartz.com/
phone:  (617) 742-1170
With a team of eight attorneys, Joel H. Schwartz looks to be one of the larger firms on our list. For being a firm that's been in business for over fifty years you might expect more on their achievements page but keep in mind that they are a smaller firm in comparison to many across the country with larger verdicts.
If you visit their testimonials page you get a feel for past experiences but it leaves some questions for me personally. I would also like to see more on the support staff as they can be vital to the success of a personal injury law firm.
As far as the on-page SEO it's not horrible but I've seen some spots that are definitely lacking. These quick fixes could easily add new cases to their books every single month. These are the kind of fixes that can only be implemented by an SEO firm that truly understands the algorithm at a deep level, which just so happens to be all that we do.
As for the off-page SEO, it's another spot where the company that's doing it could be doing it much better. Situations like this are what we love, we can come in and clean up both on-page and off-page SEO strategy quickly and make a huge impact going forward.
Unfortunately this is an all too common occurrence in the law firm SEO industry. Instead of driving one thousand organic visits per month this firm could easily be driving triple this number if they were employing the most efficient and effective of SEO strategies. 
This is something that could be turned around quite quickly and most likely wouldn't cost any more than they are currently spending. Strategic implementation is the most important part of SEO and often overlooked not only by law firms but by SEO companies catering to law firms.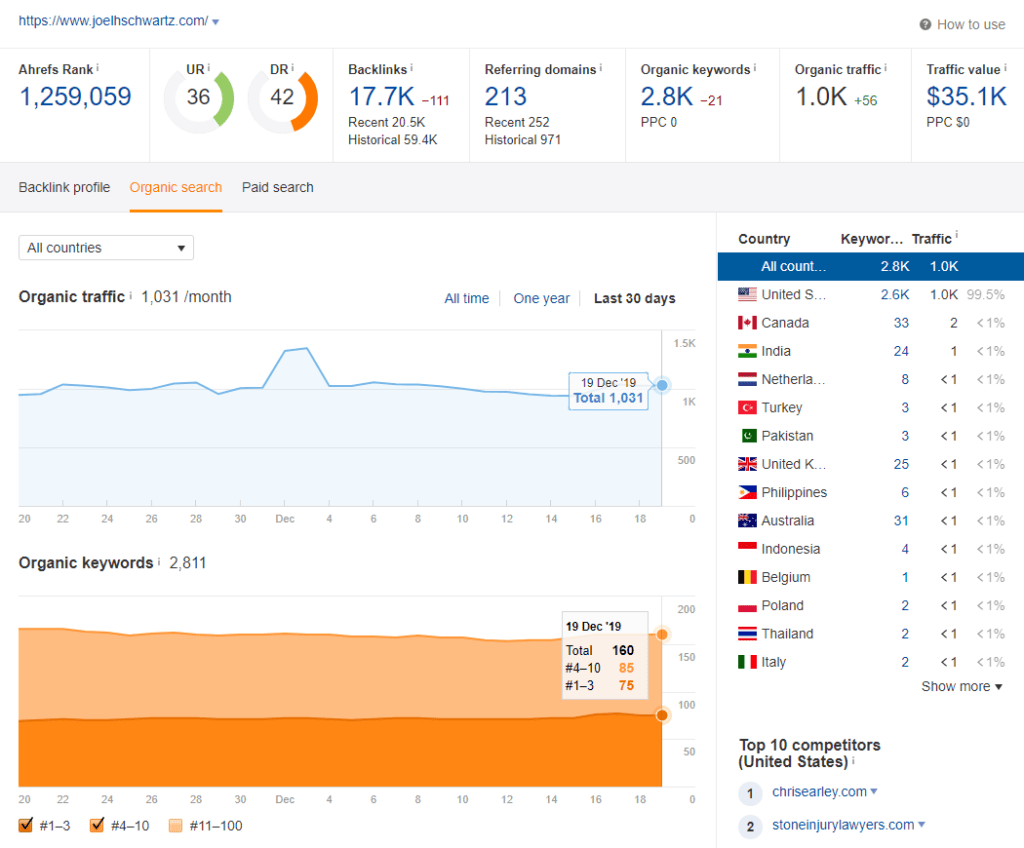 Kelly & Associates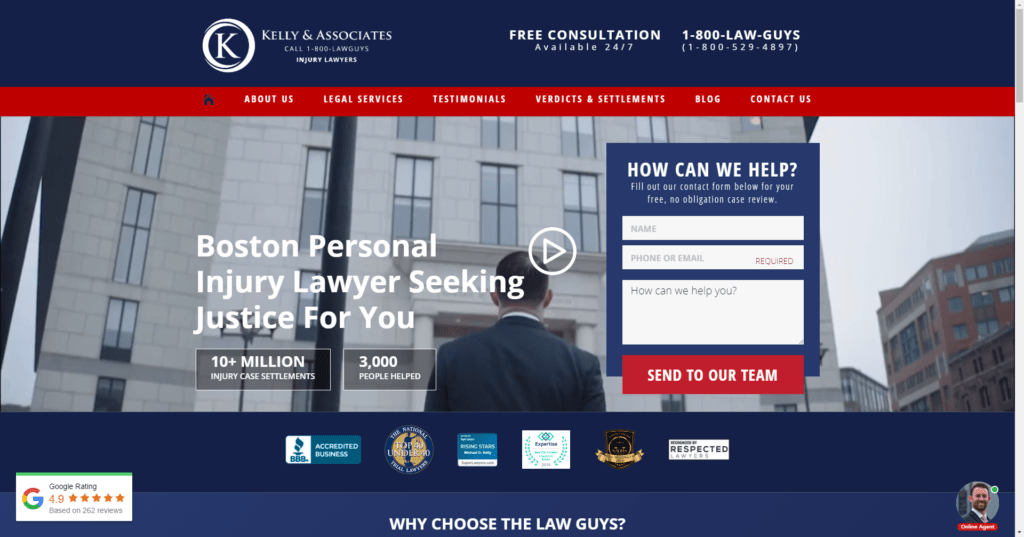 Kelly & Associates
83 Atlantic Ave Suite 202
Boston, MA 02110  
website:  https://www.1800lawguys.com/
phone:  (617) 807-0855
The one thing that really stands out when you go to the Kelly & Associates website is the video that Crisp has done for them. As a one attorney shop this states to me that Michael is ready to compete with anyone in Boston and Massachusetts for that matter. 
As far as his on-page SEO goes it looks like it's fairly well managed with lots of in-depth content throughout the website. The off-page SEO campaign looks like it has been slow and steady for quite some time albeit a bit on the weaker side from a quality perspective. 
If a their provider were to focus more on higher quality backlinks I feel like their rankings would be not only further along but the campaign itself would be more sustainable. For those firms that are relying on their SEO company or anyone for that matter to build backlinks the quality is the most important factor and often the most overlooked factor at that.
If Kelly & Associates were to hire an SEO firm that was focused on building high quality relevant backlinks their campaign would ultimately be more successful. More success means landing more cases. Most cases means your pick of which cases you want to take or adding lawyers on to help the firm.
Assuming they are converting traffic at a mid-tier rate, this firm is probably realizing in the neighborhood of more than fifty leads per month. If they are signing leads at an industry standard rate then they are doing quite well for themselves. From the looks of the testimonials page is seems they are handling a decent case volume.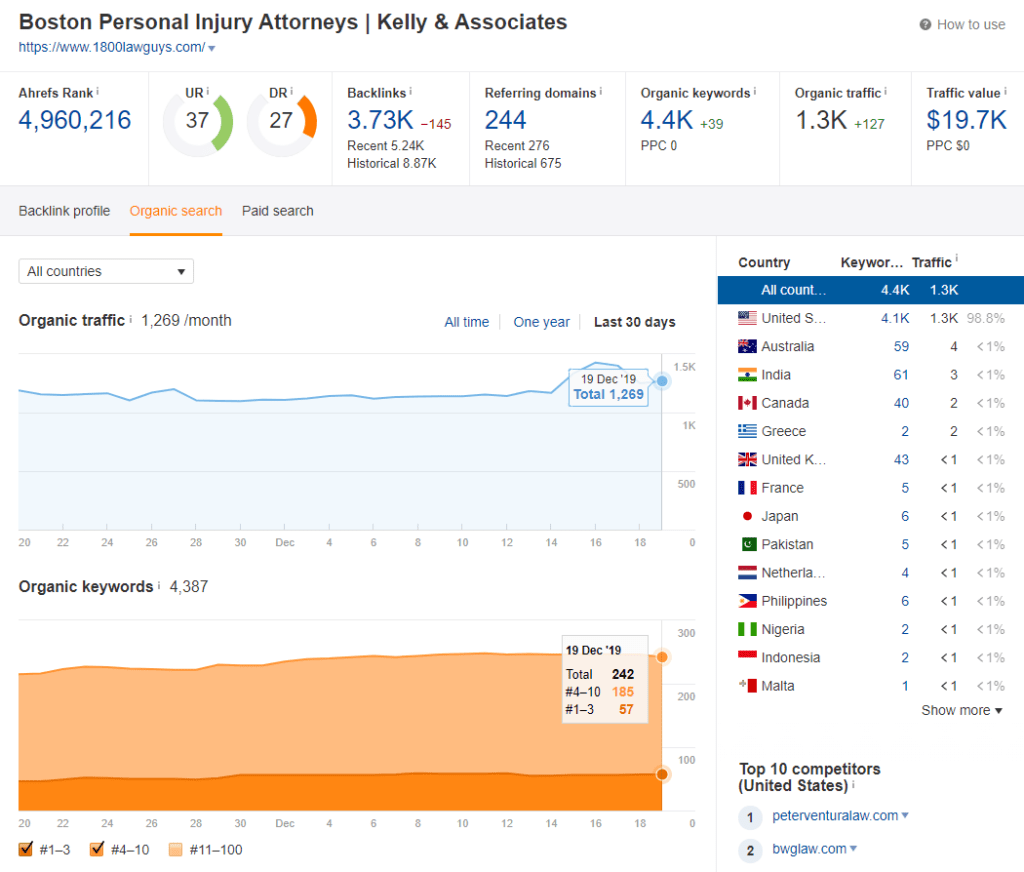 SEO for Personal Injury Lawyers in Boston Massachusetts
We offer full and exclusive SEO campaign management services for select personal injury attorneys and currently have an opening in Boston Massachusetts. We price our services on a monthly basis. If you're interested in learning more about the local Boston market please call us today at 800-405-0060.