Our Approach
The creation of your SEO campaign is going to be key to getting more out of it. We don't take this lightly.
What do you mean by creation? Well, the research into what the consumer is actually searching for is really the integral part to your success.
Taking this seriously, we map out your campaign from the start. The goal is to make sure that the central focus of your campaign is transactional searches.
These are what we internally refer to as the money searches as you can see by the icon in the image below. They are often the most profitable searches of your campaign, by a large margin.
Visualizing Traffic Based On User Intent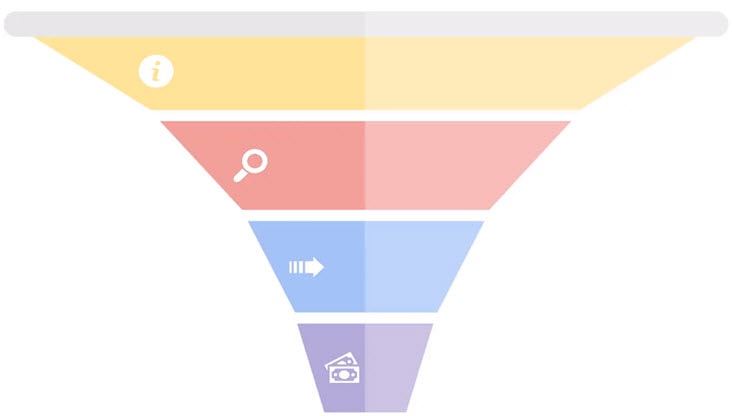 Transactional Searches
These transactional searches will be the searches that have the largest propensity for conversion. They are the searches with proven search volume in your specific niche and your specific location. In marketing language and for visual accuracy, these are the searches at the bottom of the funnel.
Navigational Searches
If you turn that funnel upside down our next focus is navigational searches which (in law firm SEO) really means making sure that your website is well represented for searches around your company name.
This ties in well with bolstering your brand. If consumers see your business in a positive light when performing a search they are that much more likely to convert into a lead.
Commercial Investigation
Next is commercial investigation. These are searches surrounding what you do and the questions that consumers are actively asking to clarify their questions around your offerings.
Not only are consumers using these search terms regularly, in order for your website to be considered an authority on this subject matter, you must display this knowledge on your website. It also provides for a great user experience.
Informational Searches
We recommend understanding these searches above all else. These are perhaps the easiest searches to find and can often produce big numbers in analytics.
The only problem with these big numbers is that they don't often turn info real leads, at least not on a local level. That's where these searches miss their target. They provide little in terms of immediate return on investment but they do work very well to bolster your offerings.
While they do provide pretty numbers on an analytics screenshot, their use is more strategic.
We Can Help You Win At SEO
The major players in your market are driving a huge number of new case leads with SEO. Our data helps us visualize your market and break down numbers so that you can understand the potential. We can show you how!