With an efficient SEO content strategy, Bruscato Law went from being a small solo practice with no online visibility to a top competitor in 6 months.
Two of the most common objections about SEO we hear from clients are:
SEO takes too long to work.
It's too late to get started.
True, SEO does take some time to "kick in."
But if you've spent more than five minutes looking into SEO as a service, you already know that 🙂
Let us be clear: SEO isn't about quick results.
It's about investing in the long-term growth and success of your firm in the marketplace.
The time factor can be a tough pill to swallow, especially for small-to-midsize firms who don't have the luxury of a six-figure marketing budget.
But the truth is, you don't need to spend vast sums of money to get results in modern SEO.
There's a better way to out-compete the top firms in the search results—and you can get there faster than you think.
At Advocate SEO, we believe success in SEO is all about efficiency.
In this case study, I'll walk you through how Bruscato Law used Efficient SEO and a results-focused strategy to become a top competitor in the search results.
Note: We'll continue to update this case study in the future as more results materialize. For now, if you're curious about having us do SEO for your firm you can talk to us here.
But first,
How to Become a Breakthrough SEO Success Story in a Crowded Market


When we started working with Bruscato Law, they were already working with another SEO outfit.
And like many law firms, Bruscato had been paying for SEO services for months but wasn't sure if he was getting his money's worth.
That's when he dialed our number.
Bruscato came to us for a second opinion on his website SEO setup. He wanted a team of professionals to come in, skip the jargon and the bs, and gauge the real-world impact SEO was having on his business.
After finishing our discovery and diagnosis process (something we do for all new clients), we could see that the original SEO group built a decent-looking website and published a few blog posts, but that was about it.
Here's what we didn't see:
No meaningful growth in search traffic
No boost in monthly call, inquiry, or appointments volume
No spike in organic case leads whatsoever
It was clear that the vendor was doing something, but it wasn't SEO.
I'm not really sure what it was, but it was costing our new client Bruscato thousands of dollars a month, and there were no business results to show for any of it.
I wish I could say this was an uncommon situation, but it isn't.
It's unfortunate, but we see this in nearly every law firm we talk to.
The owners and managing partners we speak with tend to fall into one of the following buckets:
I already tried SEO… but gave up from the lack of results.
I'm currently partnered with an SEO vendor… but they aren't delivering results.
I'm actively looking for a new SEO partner… but I'm worried about the results.
Do you see a pattern?
Attorneys already understand the value of SEO. That's not the issue at all.
They want to make sure the juice from SEO (results) is worth the squeeze (time and resources).
The real issue is that most law firm owners are frustrated and distrusting because of a lack of meaningful SEO results.
If any of this resonates with your experience and you're feeling discouraged right now, don't be.
There's an efficient way to get the benefits of SEO for your law firm and compete with the big guns—and you don't need a bloated marketing budget to do it.
There's Big Opportunity in Low-Hanging Fruit
We discovered that most law firms in the United States have holes in their SEO campaigns and miss out on massive opportunities hidden in plain sight.
I think many SEO agencies do good work. Still, the truth is that many of the big national firms are getting results despite their SEO efforts—not necessarily because of them.
In other words, top-ranking law firms are getting the benefits of a "kitchen sink" approach when they could be using a scalpel instead; precise, steady, and no wasted motion.
Key point: Optimizing for overlooked efficiencies is the most significant opportunity in SEO for law firms.
Everyone loves an underdog. And when you leverage efficiency as your SEO strategy, you can become a real David and Goliath success story in your city.
No fluff, no bloat, or busywork; just doing the work to improve rankings to the pages that convert curious visitors into paying clients.
Bruscato Law didn't have a small fortune to spend on marketing and advertising. Still, they knew that the right SEO strategy could help drive a consistent, steady stream of fresh case leads every month.
In the next section, I'll share the exact approach we used with Bruscato to maximize efficiency and get better SEO results in less time.
Our Approach: We Diagnose the Problem Before Prescribing a Solution
The first thing we do after signing a new client is launch into a discovery and diagnosis phase.
As every expert practitioner knows, you can't prescribe a solution to a problem that you haven't fully diagnosed.
The discovery and diagnosis process involves learning about the website's SEO history and evaluating the site's overall health.
We evaluate overall site quality and performance on four criteria:
Relevance
Organization
Authority
Reputation
You can learn more about our ROAR framework here.
The ROAR framework allows us to lay the best possible SEO foundation—sturdy and future-proof.
In a sentence, the ROAR framework helps ensure our clients' content is relevant to the ideal client, organized logically, and demonstrates practice area expertise to enhance the firm's reputation on the internet.
During Bruscato's discovery and diagnosis phase, we noticed they were had it backward:
Bruscato had a ton of thin, poorly-organized content, which weakened the brand's authority, thus damaging their overall reputation online.
Bruscato's SEO was in such bad shape that Google wasn't even displaying most of their pages in the search results! If Google says your content is terrible, you know you have a severe problem.
Their site was being shunned by Google for months, maybe years. Still, once we diagnosed these issues, we had the insights to formulate a winning strategy and get back in Google's good graces again.
Now I'll show you how we did it.
In the coming sections, I'll walk you through the steps we took to:
Improve Bruscato's site quality issues
Design an SEO content strategy to drive traffic and rankings
Enhance online reputation with off-site SEO
The EXACT Strategy Bruscato Law Used to Grow Traffic 1,400% and Rank on Page One (in 6 months)
Like I mentioned in the last section, the first step of our process is discovery and diagnosis.
Until we have a clear view of what's going on with a website, we can't make any critical strategic decisions.
The first issue we noticed on Bruscato's website was an abundance of "thin" content holding the entire site back from traffic and rankings.
Step 1: We Deleted 80% of Their Content… And Traffic Increased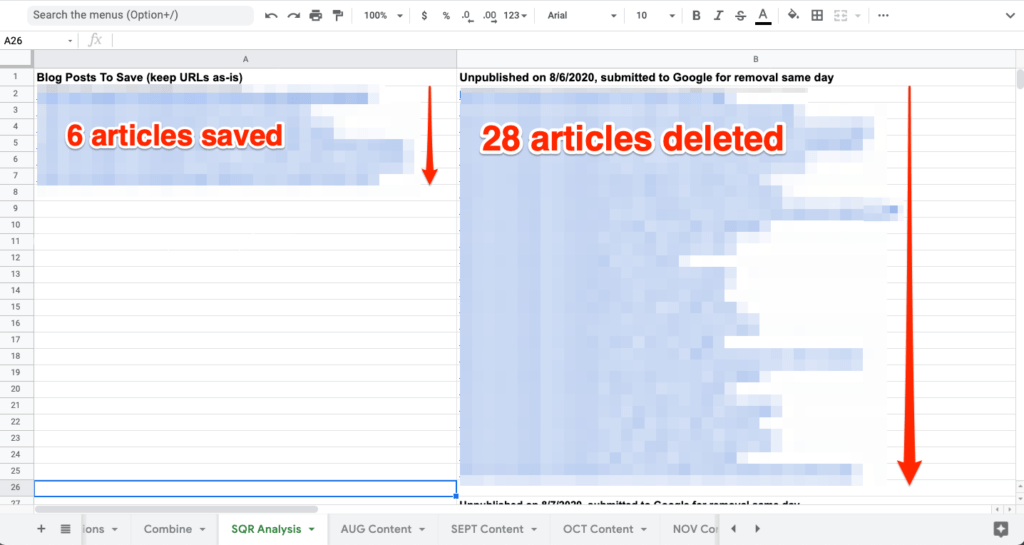 Thin content is one of the most common issues we see that prevents law firms from ranking (seriously, we see this in 9 out of 10 firms we talk to).
There's no official definition of thin content. It's usually one of those "you know it when you see it" situations.
Tip: if you want to find out if your site is suffering from a thin content problem, you can learn a quick way to do it here.
Here are five dimensions we look at to determine content quality:
Content length — on average, long-form content tends to outperform shorter content.
Content depth — deep, comprehensive content tends to perform better.
Topical relevance — content topics shouldn't stray outside of your niche or practice area.
Originality — make sure your content is unique. Avoid duplicates.
Practical value — create actionable content and invest in a smooth user experience.
While Bruscato had a respectable amount of published content for a firm of his size (over 30 articles), most of the posts were too short, under-optimized for keywords, and didn't cover topics in sufficient depth.
In the past, Google was more lenient towards thin content, but nowadays, your website will be penalized if the Page Rank algorithm doesn't like what it sees.
And that's exactly what we saw with Bruscato—thin content weighing down the whole site.
Key point: If Google doesn't think your content adds value to the search results, you will get penalized for it. There is no free lunch, and bad content is no longer merely neutral—it will tank your website.
The solution to Bruscato's thin content problem?
Remove it. Remove all of it.
We deleted 80% of their blog posts… and rankings improved.
Out with the old, ineffective strategy and in with a new, proven one.
Google is such a stickler for content quality these days because they want to reward subject matter experts.
Since 80% of Bruscato's posts were thin and devoid of any tangible SEO value, Google responded by penalizing the site as a whole.
SUMMARY:
Content is the primary driver of results in SEO.
Google has a zero-tolerance policy for thin, low-quality content.
The mantra for producing search-friendly content is: "less, but better.
Once we got rid of all that thin content, it was time to ramp up fresh new content production to get back in Google's good graces and start driving rankings in the search results.
Step 2: Ramp Up Content Production to Accelerate Progress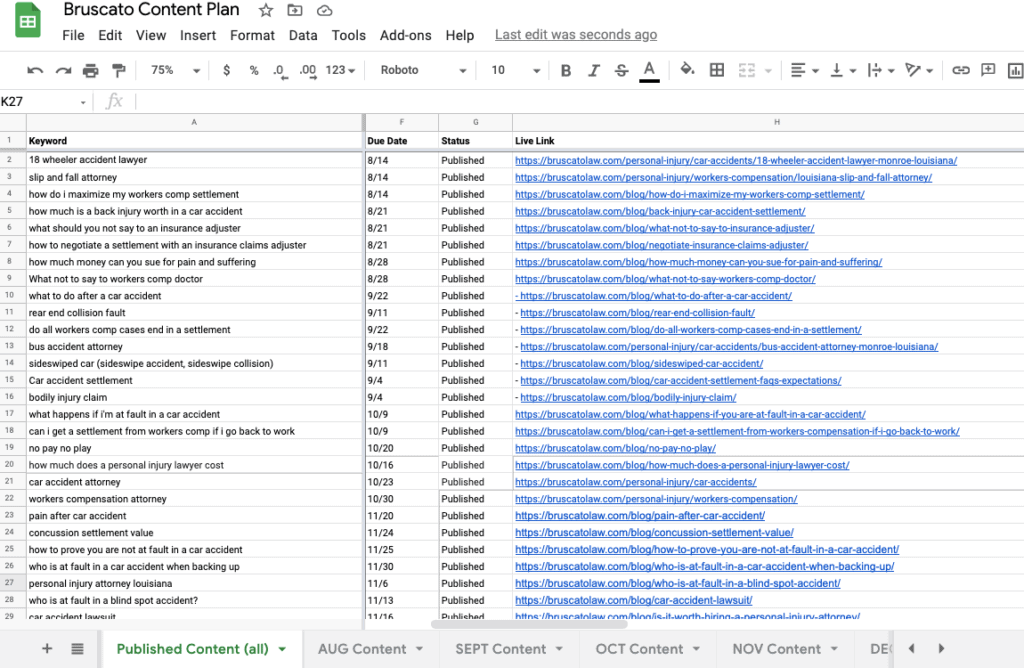 Content is the most critical aspect of modern SEO, and quality is just as important as quantity.
Writing high-quality content is table stakes in SEO today.
But before you can start publishing gold for your readers, you need a sense of which topics you should write about in the first place.
Next to thin content, one of the most common issues we see is mismatched content or content that isn't designed with the client's ideal customer in mind.
Don't Treat Your Blog as a "Catch-All" Folder
Click around your competitor's blog, and I'm sure you'll find an assortment of local news updates, think pieces, news and announcements, and informational articles that may or may not be written with the ideal client in mind.
These types of content can be helpful, don't get me wrong. Good content doesn't necessarily have to be SEO-optimized (think: client reviews, news, stories, case studies, etc.).
But suppose you're just getting started in SEO, and you want to gain traction as soon as possible.
In that case, we recommend treating your blog as a focused resource for your ideal clients.
What do I mean by "focused"?
I mean, every piece of content you put into your website's blog folder should:
Answer a searched-for question about a legal topic
Help make an informed decision about hiring an attorney
Offer valuable advice on what to do next in a specific situation
For example, Bruscato specializes in personal injury law.
We already know that most potential clients looking for legal information or service begin their search by typing a query into a search engine.
Our job as practitioners is to perform data-driven research on personal injury topics to find out what people are already searching for.
Once we have that keyword information, all that's left to do is create the best articles possible on the topics that are most likely to lead to a conversion (a consultation appointment or phone call in Bruscato's case).
Here are some examples of personal injury topics we went after with monthly search volumes included:
What to do after a car accident — [3,100 monthly searches]
Workers' comp settlement after surgery — [700 monthly searches]
Who is at fault in a car accident while backing up? — [300 monthly searches]
When will workers' comp offer a settlement? — [400 monthly searches]
Louisiana trucking accident attorney — [100 monthly searches]
As you can see, a big part of our strategy involved figuring out what questions Bruscato's ideal clients were asking and writing content that answers them better than his competition.
When you have a blog full of deep, topically-relevant content, you are signaling authority and relevance to your readers and Google alike.
When the content is excellent, and other websites link to it, that's how you build trust.
Content that is authoritative, relevant, and trustworthy gets picked up by Google and rewarded with top rankings in the search results.
Once you've started the flywheel of publishing high-quality content, it's time to strengthen your position with off-site SEO.
Step 3: Off-Site SEO to Strengthen Authority, Reputation, & Trust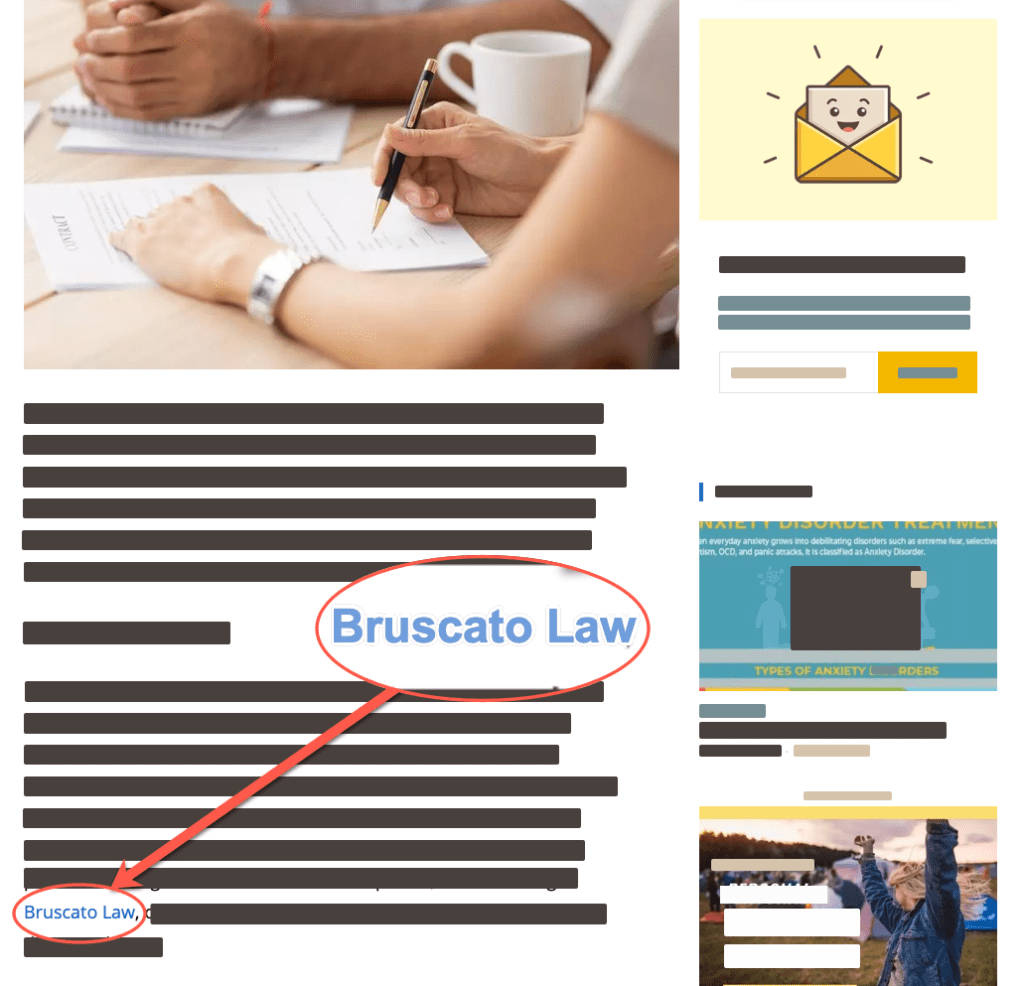 Off-site SEO is an integral part of any organic growth strategy.
If you aren't familiar, "off-site" refers to any activity that occurs on another website, and it typically refers to one thing: building links.
Links are like digital votes for your website.
Like a popularity contest, the more votes you have, the more likely you will win the election.
Links remain one of the fundamental ways Google evaluates the reputation and authority of a site.
When it comes to law firm SEO, we focus on two off-site initiatives to build natural links: citations and content.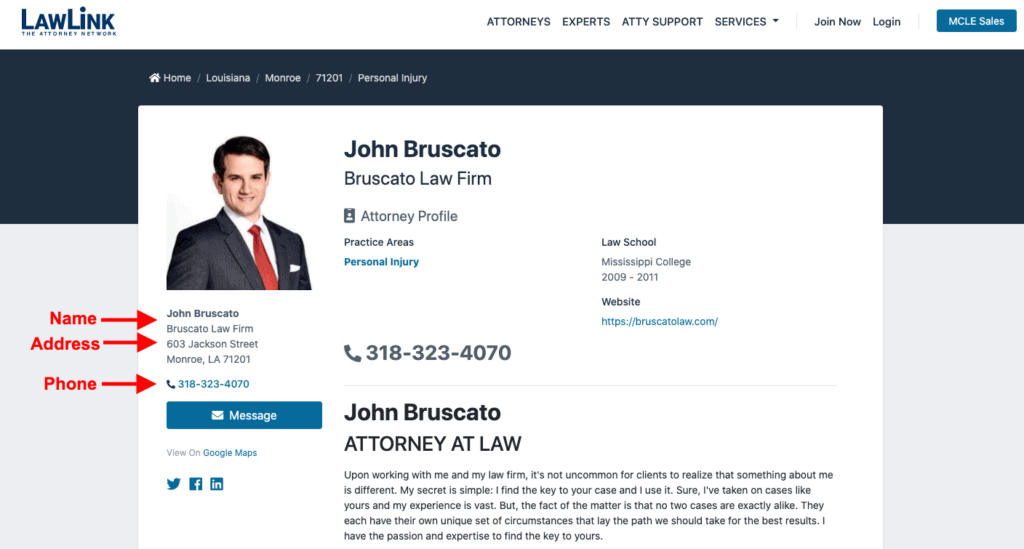 Citations most frequently take the form of legal directory listings or attorney profiles that link back to your law firm's website.
Sites like AVVO and Justia are two common examples of these directories, but there are dozens, if not hundreds more.
We created well over a dozen of these profiles for Bruscato, making sure to include the following information:
Name
Address
Phone number
At a bare minimum, you should include the NAP (name, address, and phone number) plus a link to your website to get credit.
While NAP is the minimum, we like to include as much content as possible in each citation for a unique, complete profile.
As you already learned in step 2, having unique content on your website and off-site properties is essential.
Note: Following our theme of efficiency for this case study, you want to optimize for relevance (i.e., quality) over volume (quantity). Relevance sends the proper signal that your website is indeed a valuable, relevant resource that deserves to rank well. So be somewhat choosy about which platforms you build citations on.
We Published Articles Offsite to Build Natural Links
Citation-building is the first essential ingredient of off-site law firm SEO.
The second ingredient is content.
To build the kind of relevant, natural links that Google loves, we adapted the content strategy we used for Bruscato's blog and applied it to relevant blogs and websites in the legal space.
When we approach potential partners about mentioning us in an article they wrote, or offering to create a unique post of our own, published on their site, we focus on content that is equally relevant, valuable, and in-depth as something we'd publish on the Bruscato blog.
Outcomes and Next Steps
So far, we've talked about the three steps that took Bruscato Law from a small, obscure firm in Louisiana to the top of the search results in 6 months.
To re-cap:
In step 1, we pruned thin content that was holding the site down in rankings. Cutting 80% of the dead weight was the first step towards getting back in Google's good graces. Bruscato had less content, but because it was more valuable in aggregate, this was a better position before proceeding to step 2.
In step 2, we kicked off a content marketing campaign in earnest. Given Bruscato's budget, we maintained a regular publishing cadence of 5-6 articles per month. And we're continuing at this pace today with plans to increase that cadence soon.
In step 3, we began off-site SEO. With a combination of citation-building and off-site content production, we helped build Bruscato's reputation as an industry expert by accumulating relevant, quality backlinks.
Now let's talk about the results.
Key Stats:
#1 on the map pack for "personal injury attorney Monroe la"
#4 position for "personal injury attorney Monroe"
216% increase in page views (from 3,805 → 12,039)
317% increase in Sessions (from 2,334 → 9,740)
Increased website traffic from 40 visits/month to 592 visits/month.
1,400% increase in organic traffic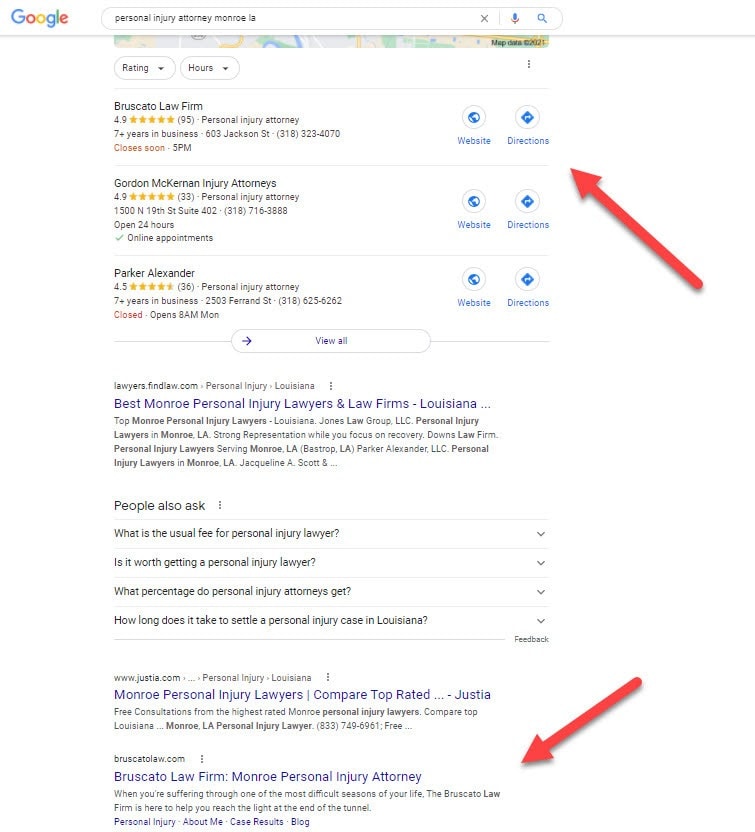 First Page Rankings for Their Most Profitable Keyword
Some firms get a little too gung-ho about growing search traffic. You'll notice that we haven't even broken 1,000 visitors with Bruscato.
But not all traffic is created equal. When the goal is business growth, we want to optimize for qualified traffic who are most likely to become leads—new clients!
Our strategy with Bruscato was focused on ranking for his most valuable keywords in the personal injury niche.
Right now, their firm ranks on page one for THE most profitable keyword: 'personal injury attorney Monroe."
Remember: to drive measurable results with SEO, you need to rank for keywords that will put real money in your pocket. That's how efficient SEO is done.


As you can see, when we first started working together, Bruscato wasn't getting any organic search traffic.
We helped Bruscato leverage a successful, efficient SEO strategy to become a real David and Goliath success story in Louisiana law firm SEO.
Because we played it by the book, we were able to grow organic search traffic to his website by over 1,400%, rank on the first page for the most profitable keyword in his practice area.
Fact: Bruscato is now a top competitor in his city, running neck-and-neck against firms who spend millions of dollars on marketing and SEO.
Many attorneys don't believe it's possible to get SEO results these days, but it's simply not true.
As you learned in this in-depth case study, Bruscato was able to get more results in less time and less budget because we helped him do SEO the right way— the efficient way.
And we're only getting started.
Interested In Getting These Results For Your Firm?
If you'd like to learn more about our efficient SEO methodology and want to see if we're a good fit to work together, click here to schedule a discovery call with the Advocate SEO team.